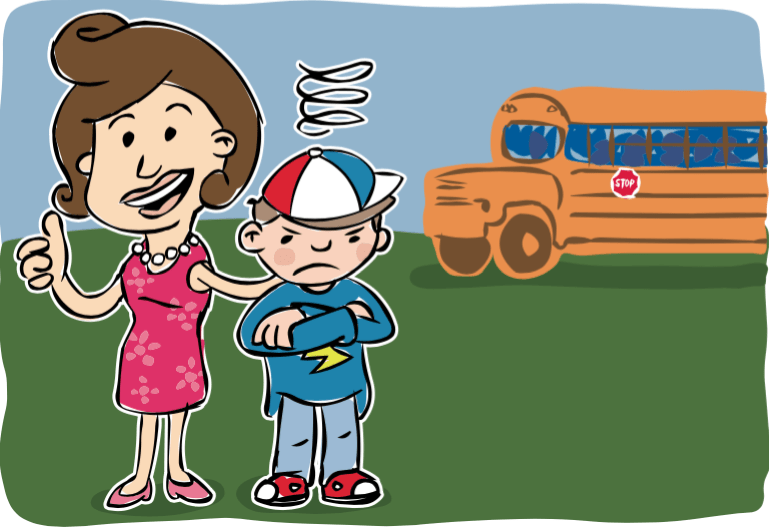 The Sole Surviving Mom at the Bus Stop
By Cheryl Maguire
"Hurry up or you will miss the bus," I hollered to my 13-year-old boy/girl twins.
Opening the front door, the icy air jolted me awake faster than a caffeinated coffee.
The three of us scurried on the snow-covered sidewalk illuminated by a streetlight. Four neighbourhood teens stood on the corner and greeted us as we approached. One of the boys pocketed his phone and asked my son a question.
I'm the last mom standing at the bus stop. It wasn't always this way. In kindergarten, three other parents waited with us. As the kids got older, the parents gradually disappeared.
My twins go to the junior/senior high school, which comprises Grades 7 to 12. This is their first year at the school and the bus arrives at 6:40 a.m. when it's cold and dark.
I often find myself wondering, "Why am I still waiting at the bus stop when they are old enough to be here without me?
Initially Driven by Fear
At first, I was motivated by fear. I envisioned my daughter crossing the street, and then because I wasn't there to warn her about a speeding car, she gets hit. She would lay motionless on the freezing asphalt, with blood oozing out every orifice, and no one to help her. I know it's ridiculous and unlikely but this recurring image drove me to keep walking with them.
Another irrational fear I have is that my children will be kidnapped by a pedophile enticing them with candy and the promise of a warm vehicle. I worried the frigid wind burning their skin would cloud their judgment. There are some days when the temperature is 0 degrees Fahrenheit—a cold so fierce that even I might be persuaded to jump into a warm dilapidated white van.
I know that only a small percentage of children are abducted by non-family members, and I've regularly witnessed my kids look both ways before crossing the street, so my fears have dissipated—yet I still continue to walk them.
A Priceless Morning Ritual
I struggled to understand my reasons for continuing to go to the bus stop. It's not that I was ever a helicopter parent. When they were younger, I allowed them to roam free, climbing on the furniture. I left them with babysitters and allowed them to go over friends' houses. Now that they are older, I even let them stay home alone.
So why couldn't I let them walk alone for ten minutes?
As we walked along the sidewalk my daughter said, "In gym class, we are doing a push-up and sit-up challenge."
"That sounds interesting. Do you want to do it?" I thought of how I hated high school gym class but now I chose to work out and do push-ups and sit-ups. I wasn't sure how she felt about it.
"Yes, I've been practicing for it."
"Do you like gym class?"
"Yes, but I don't like that we have to change our clothes."
When my twins were toddlers they literary grabbed me, pulled me, and needed me all the time. As they grew, they needed me less and less. Now when they come home from school, they both barely utter a greeting as they sprint straight to their rooms. Yet during our five-minute walk to the bus, they talk to me. They tell me about their upcoming schedule or what happened the day before.
I know that technology such as smartphones has led to people being distracted and missing out on life experiences. When I walk with my kids in the morning, I feel connected to them. They aren't distracted by screens or their activities—they are present with only me.
I've become acquainted with the neighbourhood teens. I only spend five minutes at the bus stop with them, but I've learned their interests and activities and they have provided useful information regarding upcoming school events.
Now, I look forward to walking with my kids to the bus stop, but I wondered if they felt the same way.
I asked each of them individually if they wanted me to still do it, and they both said yes. When I asked them why, they both said, "I don't know." They may not be able to verbalize it, but hopefully, they enjoy their time with me too.
I started walking to the bus stop because of fear my children might be hurt or kidnapped. I no longer consider this as I'm walking.
I'm simply grateful for the fleeting moments I can spend quality time with them.