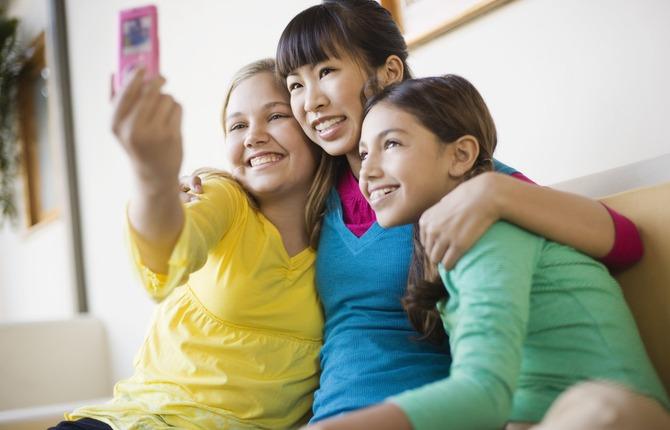 Social Media Mania
By Pam Molnar
When my daughter turned thirteen, she asked if she could have a Facebook account. My husband and I felt comfortable with the privacy settings because we used them on our own accounts. We told her that as long as she shared her passwords and friended us first, we would allow her to have an account. Within a year, she grew bored with Facebook, complaining that there were too many "old people" using it. She wanted to move on to other social media sites – some I had never heard of.
Today, our child's access to the internet is no longer limited to a computer plugged into the family room wall. According to a study done by Harvard University in 2013, almost three-quarters of teens have access to the internet via a mobile device, including cell phones or tablets. This access has thrown open the flood gates of social media use by today's iGeneration. The American Academy of Child and Adolescent Psychiatry reports that more than 60 per cent of 13-17 year olds have at least one profile on a social networking site. Social media websites are constantly evolving and teens are more in tune with these changes than their parents. Like anything our child is involved in, we want to know everything we can about social networking sites so we can help guide and protect them.
Instagram – Instagram is a free photo sharing app currently available on iPhone, iPad and iPod. For teens, it is a place to share their team photos, pics of their friends, and hundreds of "selfies". Users can choose from a variety of filters to edit or give their photos fun effects and post them instantly. Although all pictures posted to Instagram default as public, users have the ability to set their account to private. Instagram also allows members to comment or like the pics posted by the friends they follow. By setting their account to private, Instagrammers are prompted when someone wants to follow their posts and they must give permission before anyone can do so.
Snapchat – Snapchat is a mobile app available on Androids and Apple iPhones, iPods and iPads. This app allows users to snap a picture, add captions and send it to friends. Snapchat's unique feature is that a message or picture can only be viewed by the receiver for 1-10 seconds, as set by the sender, before it is deleted. While this may sound like a way to keep unflattering photos from hanging out in cyberspace forever, this does not stop pics from being captured as a screen shot. Create your base friend list by accessing your cell phone contact list. You may set your preferences to receive messages from "My Friends" only and you may block an individual from your friend list.
Kik Messenger – Kik is an instant messaging service similar to texting. Available on most operating systems, Kik users can send text messages, pics, voice messages, and other content to their friends with Kik accounts. Using a WiFi to send messages via Kik allows users to avoid text messaging rates. This app is perfect for teens who do not have unlimited texting on their plan or for those users with an iPod Touch. Kik users are identified with a user name and not their cell phone number as a privacy feature. Which means, you don't have to share your cell phone number to receive messages from someone. In your settings, you can choose to block unwanted senders or "Ignore New People" if your user name gets in the wrong hands.
YouTube – Most of us have viewed a video on YouTube at one time or another. A YouTube member can post videos – how tos, funny animals, your child's concert – to be viewed by the general public. With 72 hours of video uploaded to YouTube every minute that leaves a lot of videos open for your child to view. Thankfully, YouTube has set up safety features to protect its teenage users. When posting videos, you can restrict who views your video by making it private or unlisted. That way, the video can only be seen by those you share the link with. YouTube's Safety Mode keeps your child from viewing potentially objectionable content. For additional information, YouTube offers a Parent Resource guide that offers tips and advice on how to keep your teen safe.
Vine – Vine is a free mobile app (available on iPhone and iPods) that allows users to record and post six-second videos and share them on social networking sites like Facebook and Twitter. Like many social media sites, you can follow your friends, "like" other videos and search hashtags like #hawkswin. While most social media sites are for users 13 and older, Vine is rated 17+. Currently, there are no settings to block inappropriate videos. While most teens are only posting silly videos and following their friends, it is up to the parents to monitor what their child is doing.
Pam Molnar is a freelance writer and mother of three tech-savvy teens. She often relies on them to be her own personal geek squad.