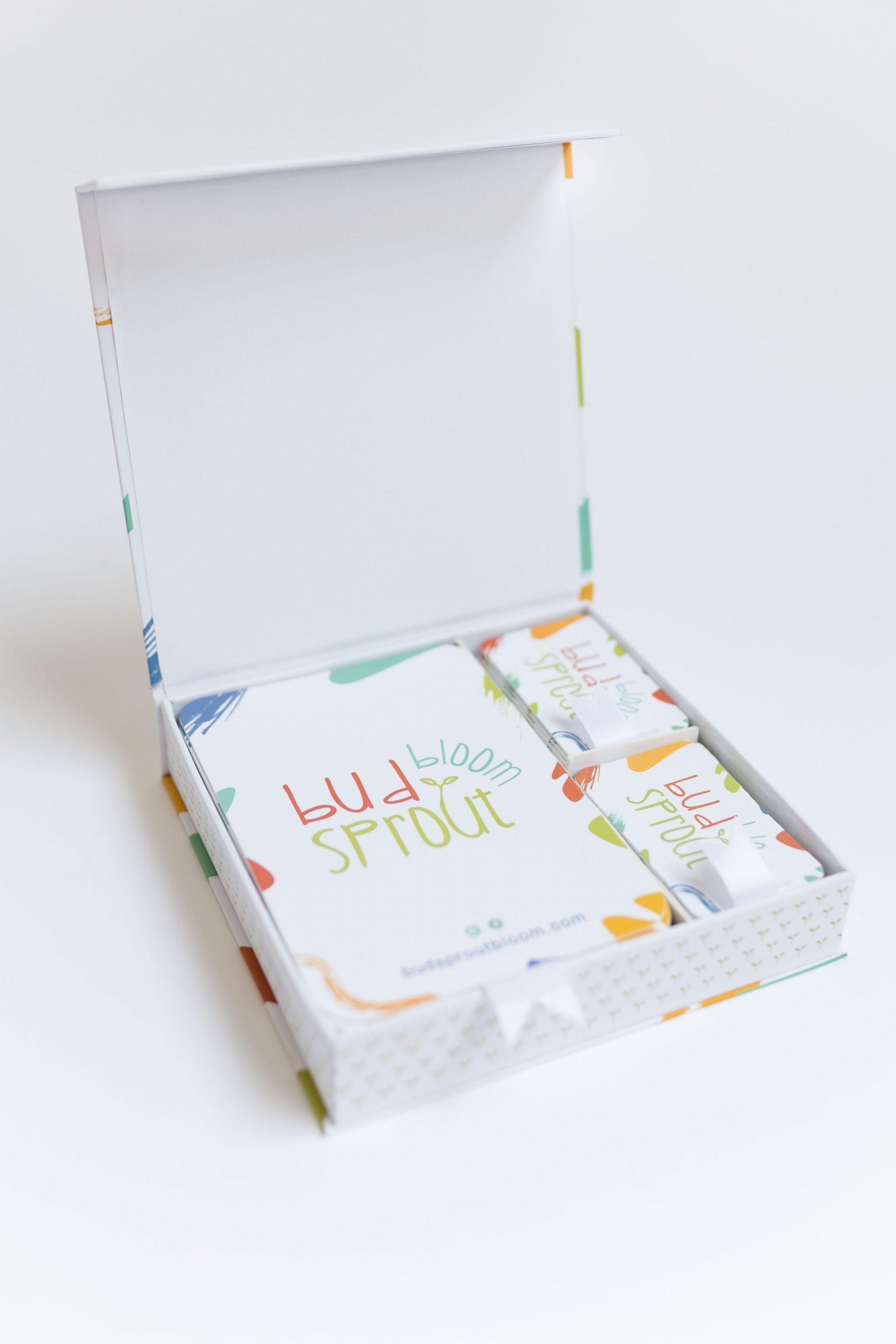 Bud Sprout Bloom Helps Parents Engage in Meaningful, Positive Conversations
By: Lorraine Pelley
Parents with young children can find it challenging to talk to their youngsters, especially about difficult or emotional events. Finding the right words to formulate questions in a positive, encouraging manner does not come easy for everyone. Bud Sprout Bloom's new product The Growing Kit can help.
Designed for children between the ages of zero to ten years, The Growing Kit consists of 60 affirmation cards. The first 20 cards are designed for parents to use with their children to help start meaningful conversations while promoting self-love and confidence. The other 40 affirmation cards are interactive cards that the parent or child can give out to loved ones, friends, a teacher, neighbour, or anyone they feel needs it.
The 20 affirmation cards include a daily affirmation, a question, and an eye-catching picture designed to help children visually identify with their feelings. By placing the kit in front of their child and asking them to pick a card, parents can let their child and lead the conversation.  The kit is easy-to-use and transferrable so it can be naturally incorporated into daily routines.
The Growing Kit was launched onto the market in September of this year when children were heading back to school for the first time since the pandemic closed school doors in March. While many parents have struggled to navigate through the COVID-19 pandemic, children have also struggled emotionally and mentally with the global and regional changes brought on by the pandemic. The Growing Kit is a useful tool that is designed to help families start conversations with their children about their feelings during these trying times.
The Growing Kit is not only an excellent tool to help parents talk to their children about the COVID-19 pandemic, it can be used anytime to encourage conversation about other issues or events affecting their child as well. Whether the child is having a bad day at school, is trying to adjust to their parent's separation or divorce, dealing with move or change of school or new daycare, or just as a way to start conversation, the Growing Kit can help children express their emotions to their parents in a positive way.
Bud Sprout Bloom founder Elisa Colella first came up with the idea two years ago. A Holistic Nutritionist, Elisa is also a mother to two young daughters. She started using daily affirmations in her own life ten years ago and knows how invaluable they are in increasing feelings of self-worth and self-love. After her first daughter was born, Elisa, wanted to design an interactive, not computer-based product that she and other parents could use to start conversations with their children.
The sensory cards are made of durable, wipeable materials with bright, gender neutral colours, and eye catching pictures. Instructions on how to use the cards are included with the kit so parents can naturally incorporate them into their daily routine. The Growing Kit can be bought on the Bud Sprout Bloom website at https://budsproutbloom.com/.