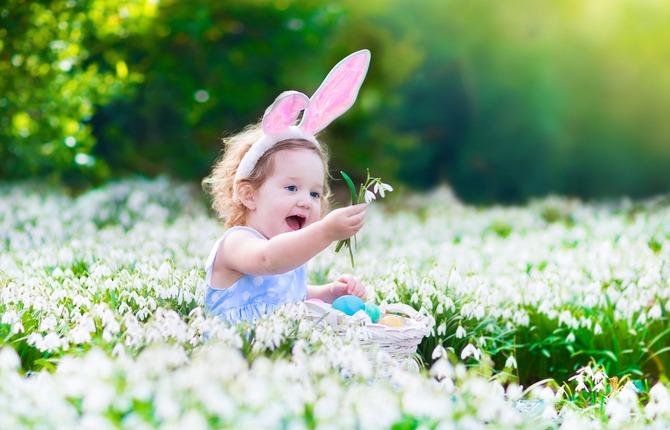 Memory makers to add to your Easter celebration
By Pam Molnar
Easter reminds us of renewed life, new beginnings and the feeling of spring in the air. It is no wonder that our commercialized celebration of the holiday includes bunnies, baskets, eggs and all things spring. This year, mix in some kid friendly fun with your traditional celebration and create memories that will last a life time.
Fun with Eggs
Make Cascarones (Confetti Eggs). Hollow out raw eggs by making a small hole in one end and letting the egg drain out into a bowl. When the eggs are empty, rinse the inside and let them dry overnight. In the morning, fill with glitter or confetti using a small funnel. Place glue around the hole on the egg and decorate the egg with coloured tissue paper. Take the eggs to the yard and try to smash them on the heads of friends and family, which signifies good luck.
Create your own egg heads. Crack and remove the top part of an egg, leaving at least 2/3 of the shell in tack. Rinse the eggs and let dry. With markers, make silly faces on the egg shells. Fill the eggs almost to the top with soil and grass seed. Place the eggs in an egg carton and keep it in a sunny spot. Water as needed and watch the grass grow to look like green hair. Cut or style as needed.
Make yarn eggs using water balloons. As you are blowing up balloons with air, insert small toys, candy or dollar coins into the balloon. Tie up as usual. Drop colourful yarn strands in glue and use fingers to wipe off excess. Wrap around the balloons crossing back and forth to make a little cage. When the yarn dries, pop the balloon and the prize remains inside the egg shaped yarn.
Be charitable
Make boo-boo bunnies for a local children's hospital or woman's shelter. You will need a washcloth, rubber band and a plastic ice cube (found on Amazon, Bed Bath and Beyond or the Dollar Store). For directions, see side bar.
Create mini Easter baskets to hand out at the senior centers. Use baskets from the Dollar Store and fill with hard candy, hand lotions, a magnifying glass, slipper socks or a large type deck of cards.
Make Easter s'mores in a jar to pass out to neighbors and friends. You will need one pint jar with lid, 1 sleeve of crushed graham crackers, 1 ¼ cups of M & M candies, 1/3 cup of brown sugar and 8 bunny peeps. Arrange dry ingredients in the jar and place bunny peeps around the jar facing out. Cover with lid or fabric and attach gift tag (see side bar) with instructions.
Do something as a family
Watch Easter shows like "It's the Easter Beagle, Charlie Brown", "Hop", "Here Comes Peter Cottontail" or "Veggie Tales – An Easter Carol". For older kids you may want to also include "Easter Parade" or "The Greatest Story Ever Told".
Plant jelly beans with your child in the garden or flower beds. When they are asleep, the jelly beans will sprout into lollipops (with a little help from Mom and Dad).
Find those Easter Baskets
Show the kids evidence of the Easter Bunny's visit by making a jelly bean trail from your child's bedroom door to their Easter Baskets. If you have pets, be sure to have them sleep with you that night to keep them from eating your trail.
Hunt for Easter Baskets by leaving clues. Start with a note on their bedroom door leading them to different clue spots around the house and let them find the Easter basket in a crazy place like inside the dryer or tucked behind the couch.
Attach a piece of different coloured yarn around each child's doorknob. Take the string down the hall and through the house wrapping it around chairs, inside closets and under couches to lead them to their Easter basket that is hidden somewhere in the house.
Pam Molnar is a freelance writer and mother of two teens and a tween. Despite their age, her growing children still enjoy these kid friendly traditions. Follow her on Etsy at PamsPartyPrintables.