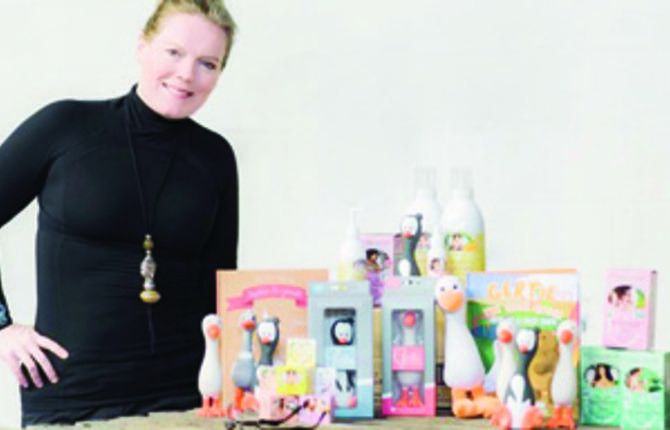 Gertie the Goose lands on teething toy shelf
By Julia Lovett
Say hello to Gertie. She is about seven inches tall, roughly shaped like a bowling pin with eyes and sports a bright orange beak and feet. She is also set to take the baby toy industry by storm.
"I wanted to design a toy that was completely sleek and simple and retro-looking and was really easy for babies to see and to grab and to chew on," said Jane Wood, the creator of Gertie the Good Goose and her friends.
She explained the little goose has only been in development for seven months and said it has been beyond her expectations.
"It's a huge thing because so many people try so many things that don't work and then when you find something that does work and it is doing exactly what you want it to, it's, I can't still believe that's it's going on."
The Dundas-based toy designer was living in England, working in the corporate world as a precious metals dealer when she started to have children, and knew she wanted to make a change.
When she moved to Canada, after trying her hand as a product distributor and having success at it in the United Kingdom, she began to develop a plan for what her business would look like in the North American market.
The Original Toy Corp. (TOT) the company she and her husband run, began to develop the plucky little toy after years of marketing and distributing Sophie the Giraffe — a long-standing go-to teether made in France that her company sold in Canada.
Wood said they wanted to make something a little safer and after ceasing sales of Sophie, went about the task of creating a brand-new friend who happens to be made of pure natural rubber, features food-grade paint, has a cute squeak and smells faintly of vanilla.
"I decided on a goose just because it kind of all came together with Gertie being the name that I liked and then Gertie the Good Goose," she said. "All of the characters have an adjective that describes them."
In fact, her creations are well-versed with alliteration. After Gertie comes Portia the Polite Penguin and Ellis the Eager Emu, who are already set to debut, with other characters in development.
Wood explained that it wasn't a simple process — it actually took about four years to find "the right people" to bring the toy to life.
"One company was going to make it out of potato product," she said, noting the company went bankrupt and though they sent her a prototype Gertie, the money she had invested — about $9,000 — was lost.
Although the process to see Gertie and the others come alive has been years in the making, the Goose alone waddled her way into Wood's head six years earlier before she hatched.
But once the bird came into being, there was still a tough learning curve. Wood explained that while the toy is designed in Canada, the manufacturing is outsourced and then sent back to TOT's Milton-based warehouse for a quality control inspection.
When the first 5,000 Gerties were received by the company, 1,167 couldn't be sold.
As it turned out, the factory did cover the loss and although she was new to the manufacturing business, her background helped support her.
"I think that's what I like about being an entrepreneur, every step of the way there's something different," she said.
Now that Gertie is on the market, the little goose has garnered the attention of practically everyone — she was featured on CBC's Working Moms, and has also appeared in Today's Parent, Canadian Family, Babyology and Angels and Urchins.
When she went into a store in Dundas to drop off some product, Wood was surprised when the store clerk said the little goose was the topic of conversation when parents came to shop for teethers.
"Talk about music to your ears, it's not like I'm trying to wipe Sophie off the planet, but Gertie was designed as a safe option so when I have people telling me this is a really safe toy and people are looking for it, who could've guessed?"
Since the goose has become a hit, Wood's company is expanding to include a storybook adventure and a plush toy that will be available for every character she creates. Gertie is also a world traveller and is now in the U.K., Australia and the United States. In fact, she'll be attending the All Baby and Child (ABC) Spring Educational Conference and Trade Show held in San Antonio, Texas after a successful launch at the ABC Kids Expo back in October.
"We had a giant … six-foot high cutout of Gertie and people would come straight over because they wanted to know what this massive goose was doing just sitting in the middle of the aisle," she said.
While there, whenever a parent would come by with a baby, Wood would give out a free goose. Then something magical happened — a baby used to the toy to teethe — exactly as they had hoped.
"We did a tonne of testing and every baby reached for Gertie over any other teether so we knew that babies were going to like her but then to see it not in your own controlled environment … words can't describe how good it feels."
So far, three characters in the Gertie universe have been created and brought to life, but more are on the way as Wood is constantly creating new friends. Morty the Magical Moose, Edie the English Elephant and Boon the Brave Bunny are on the way.
"Naming the toys was always really special and I really like naming things," said the mom of four with a laugh. "We have way too many animals and I have way too many kids because I really like to name things so I thought 'Well a good way to name stuff is just to keep creating toys."'
Gertie can be found in 90 boutiques across Canada and closer to home at Carousel Kids in Waterdown and Mrs. Greenway in Dundas. While the toy and her friends have some time to grow up, Wood explained that she is excited about where the new direction is taking her and the company and looks forward to what comes next.
"I just knew that I wanted Gertie to be born, so she was born, bless her."
– Flamborough Review