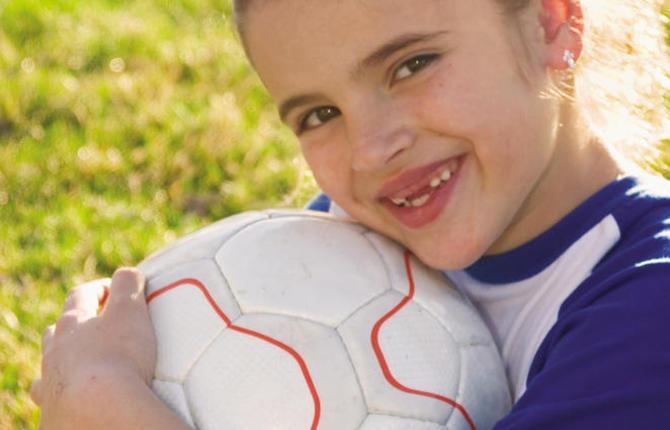 Play it safe outdoors this summer
On a typical summer day, parents may find themselves participating in more activities with their kids. As the heat draws us outdoors to take trips, explore nature and try to cool off.
And, as children head outdoors, many parents sense their children are at greater risk for injuries and worry about their outdoor safety.

"Outside of the home can be a big place for a young child, but it
doesn't have to be a dangerous place. There are things that parents can
do to prevent accidents. When it comes to any outdoor adventure, parents
should make sure that the space they are going into is safe and that
their kids understand the safety rules. Also, managing the pace of the
day, getting a good night sleep, nutrition and knowing that the space
you are in is safe, will help you relax and enjoy the day," says Chaya
Kulkarni, child development and parenting expert at Invest in Kids.
"When these basic needs are met, parents are better prepared to keep a
watchful eye on what their young child is doing at all times, and the
child will have an easier time remembering mom's and dad's rules that
will keep them safe. Additionally, by discussing each outdoor activity
with your child beforehand, and by giving a friendly reminder when
needed, you are teaching your child how to recognize and avoid unsafe
situations," says Kulkarni.
Here are Invest in Kids experts' tips to help parents keep their
youngsters safer throughout the summer, while sharing memorable outdoor
moments together:
Making the Most Out of Outdoor Playtime
* Be sure to pace the daily events. Only take on what you and your child
can handle. Doing too much will tire both of you out, and make you
grumpy and less focused. If you have more energy in the morning, take on
the more intense activities and when the day winds down, read a book, or
go for a walk.
* Find the time and space to rest. It's important that you and your
child are well-rested to face the day's activities. If there's a busy
day ahead, get to bed early and sleep in if you can. If your child takes
regular naps, be sure that he or she can still rest if you are out for
the day. Bring a blanket with you wherever you go. Find a tree at a park
to take a nap under, or bring a stroller for your child to sleep in when
she or he is tired.
* Eat on time or when hungry. When you and your child don't get enough
nutrients, you slow down, become irritable and less focused. If you want
to have a fun day, be sure to listen to your child when he or she is
hungry and stop for food or a snack.
* Have simple rules and be sure to remind your child about these rules.
Playing in the Summer Sun
* To prevent sunburn, ensure your child is wearing an appropriate hat
for outdoor play and apply sunscreen to exposed skin.
* To prevent heat-related illnesses, enjoy outdoor activities with your
child during cooler times of the day (e.g., morning or late afternoon).
* To prevent dehydration, ensure you and your child drink lots of fluids
prior to playing outside. Carry bottles of water or containers of juice
if heading to a park or a play area.
* Help your child dress for the hot weather by showing them how to
select light clothes as a way of keeping cool. Your child will learn
different ways to care for his or her body when it is hot out.
Playing Close to Home
* To keep your child safe while on the balcony, be with your child at
all times when he or she is playing and explain why he or she needs to
stay back from the railing.
* Make sure that the outdoor play area is fenced with a gate that can be
locked, or a latch that children cannot reach.
* Inspect your backyard for poisonous plants and make sure that grass
and plants are not sprayed with pesticide.
* Look out for unsafe items and products such as tools and insecticides
and make sure they are stored out of your child's reach.
Safety at the Park
* Take a few minutes to inspect outdoor play areas to ensure that they
are free of unsafe items, such as broken glass, to protect your child
from injury.
* Supervise your child closely when he or she plays in or near the
water. Children can drown in very shallow water.
* Discuss important safety rules with your child, so they can take
precautions when playing outside and tell you about unsafe situations
she notices.
* Play with your child at playgrounds with surfaces that cushion falls
(e.g., sand). Hard play surfaces can lead to serious injuries when falls
occur.
Car Safety
* Be sure that your child does not play alone in the car or is left
unattended. Cars heat up quite quickly on hot summer days, putting your
child at risk.
* Always keep your car locked and the keys in a secure place so that
your child cannot play in the car and get locked in accidentally.
* Install a trunk release mechanism to prevent your child from ever
being locked in the trunk of the car.
* Remember to monitor your children, even when packing or removing items
from the vehicle. Once you arrive at your destination, ensure that all
children leave the car safely, paying special attention to sleeping
infants.
For more summer safety tips to help you safety proof your child's
summer, visit www.investinkids/summer.