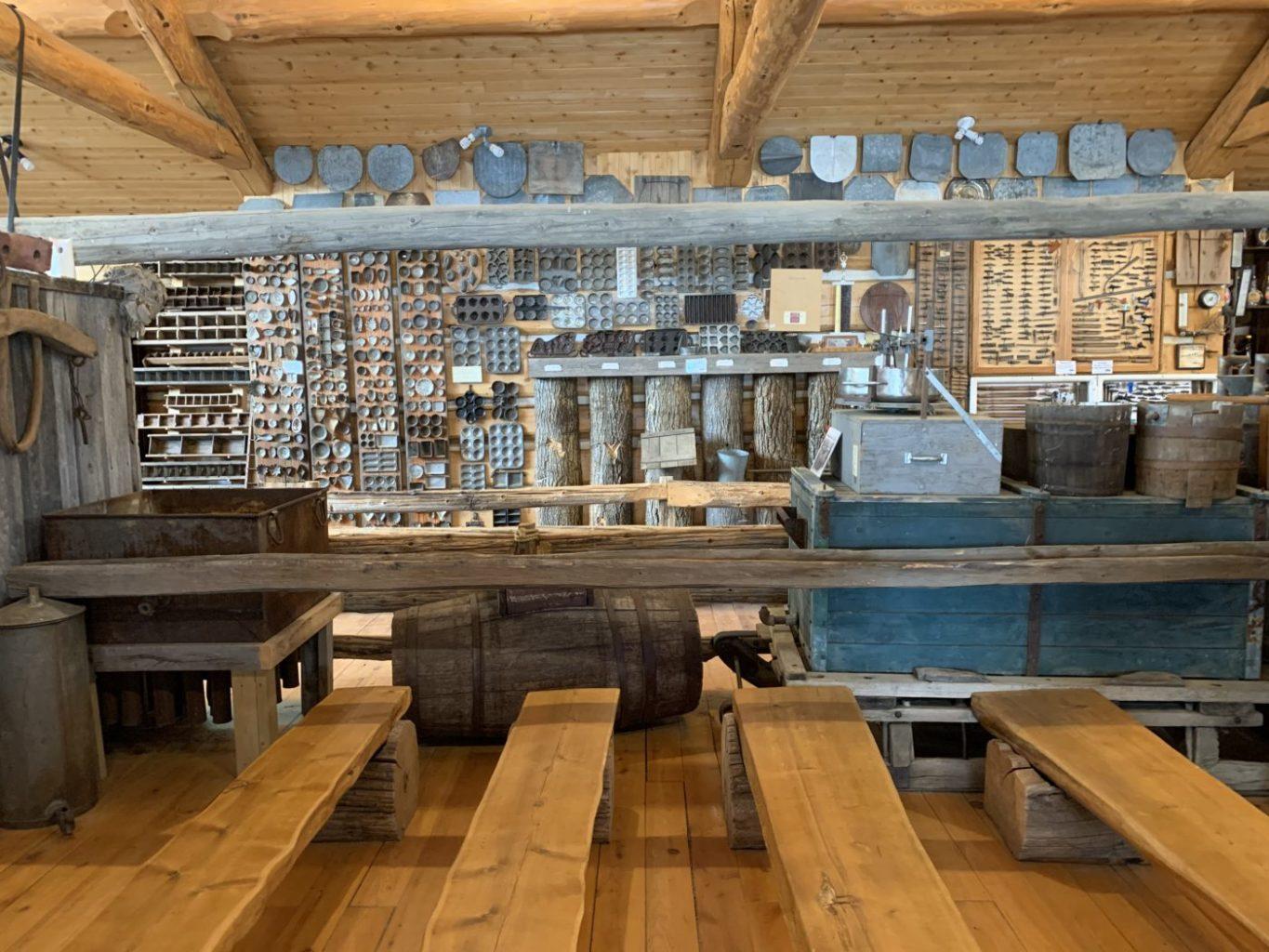 Year-round maple adventures
By Carol Patterson
The maple is on Canada's flag and on gift shop shelves, but Ontario's Lanark County – a 60-minute drive from Ottawa – is bringing maple-themed sophistication to culinary, spa and outdoor adventures. There's enough year-round activity to keep maple lovers busy all day long so I set out to see how many ways I could weave Canada's maple trees into holiday fun.
I started with a visit to Ontario's only maple sugar producer open year-round, Wheelers Pancake House & Sugar Camp. Founder Vernon Wheeler is perhaps the godfather of sugar-bushers, a Guinness World Record holder for his maple syrup artifacts, and offering family-friendly fun at the camp's playground, chainsaw display in the Forest &Farm museum, and mural depicting the history of maple syrup.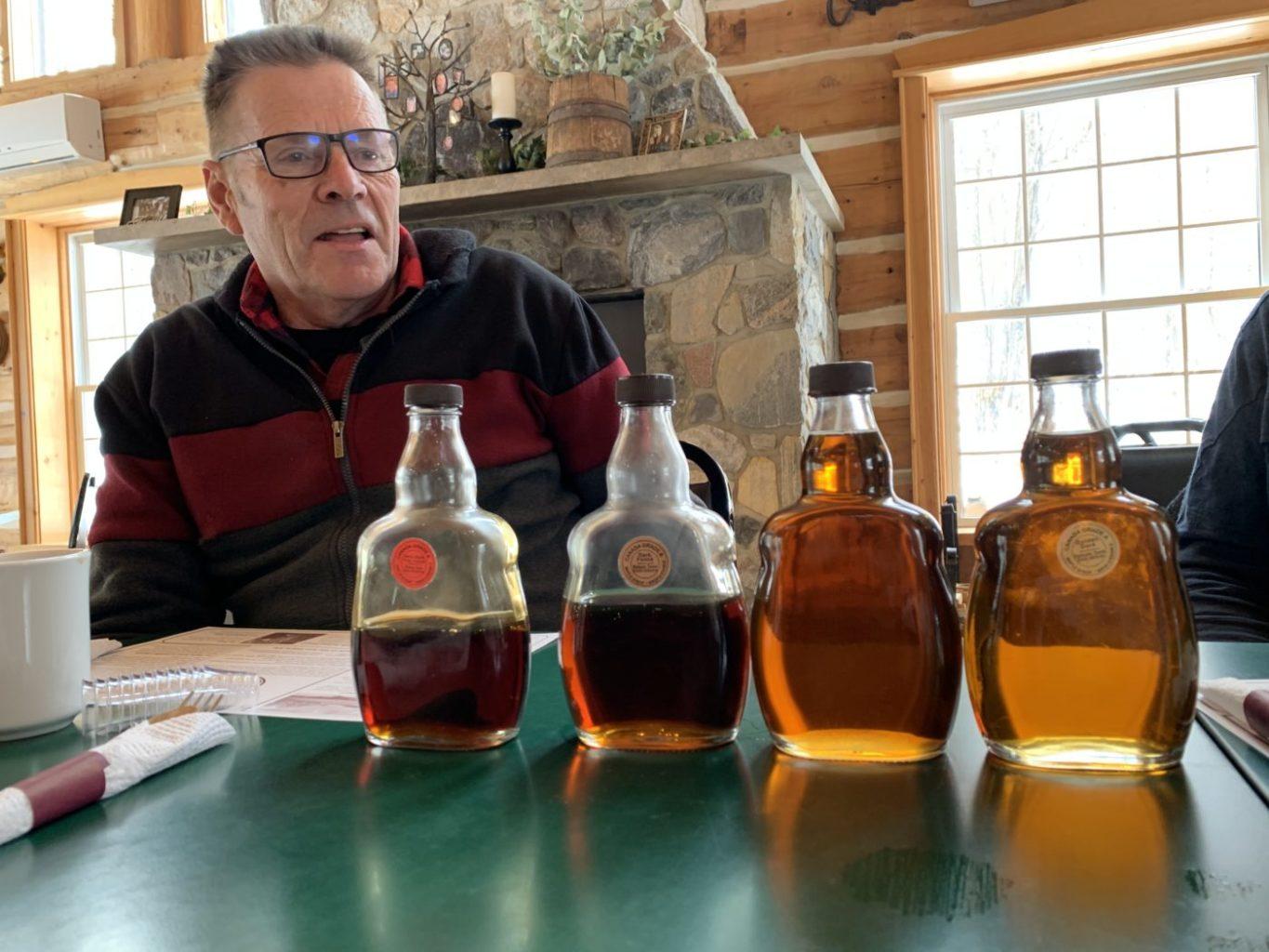 "Kids won't get a sugar high from maple syrup," he assured me as he poured samples from different colours of Grade A maple syrup to taste as I dug into a platter-size pancake and a maple-flavoured pork sausages. "There's no pesticides on trees so you're not getting chemicals like you might in honey (if bees flew over chemically sprayed crops)," Wheeler continued his sales pitch for maple syrup's health benefits.
After brunch I wandered the Wheeler nature trails for a forest bathing experience with bushcraft instructor Chad Clifford. He teaches survival skills to pilots flying in the north but today he was teaching me to read the ground in a maple forest.
Picking up a wooden flute he explained, "playing it helps people relax and tune into the forest." As the notes danced across the fresh breeze I noticed a raven flapping low over the trees. Clifford encouraged me to widen my gaze to the tracks near the trail. "If you determine what type of gait this is and measure the width of the track, we can tell what it was," he explained producing a ruler that measured and helped interpret animal tracks. Following his instructions I deduced a whitetail deer had passed by.
I left the forest relaxed and ready for Perth – one of the small cities in Lanark County. I wandered city streets, laughing at a barbershop sign that promised "Husband Day Care" before I stopped at Rocky River Cafe to nibble onion rings drizzled with maple syrup. Next was a trip to Parkside Spa for a manicure with maple scrub and lotion. I resisted the urge to lick my hands as the sweet smell wafted past my nose.
With nails polished and buffed it was time for the ultimate maple culinary challenge – five courses at The Stone Cellar each with a maple ingredient. Butternut squash soup with maple syrup was followed by salmon tartare with maple crème fraîche, then pork with maple mustard sauce appeared. I paced myself, leaving room for cheese wrapped in phyllo pastry and drizzled with – what else – maple syrup, and the final course of maple crème brûlé. The chef needs 48 hours notice to prepare the maple feast; I feared it might take me 48 hours to recover but the next day I was ready for more.
Maple syrup, like wine, takes its flavour from the soil composition so each producer offers a slightly different flavour and story. At Fulton's Pancake House matriarch Shirley Fulton explained how every member of the family has a role in the fifth-generation family business.
She pointed to a faded picture of her three children as she showed me how to stir hot syrup and turn it into granulated sugar. "When they were old enough we bought them an evaporator and they created their own Triple Trouble syrup brand," she smiled proudly, "they put themselves through university with the profits."
It seemed syrup is building futures for a new generation in Lanark County. I headed to Hummingbird Chocolate where this relatively new business surprised the world when it snapped up the planet's highest chocolate award in 2016. I spotted metal tubs spinning chocolate in the production room while I sampled their maple-infused chocolate.
Manager Stephanie Hessel stated they buy maple sugar from local producers for their chocolate.
As I headed to the airport my suitcase clinked from the syrup bottles, maple butter jars, and maple chocolate bars I'd collected but my best souvenir was the memories of all the ways you could enjoy Canada's Maple trees in Lanark County.
The author travelled to Lanark County in November 2019. She was a guest of Lanark County but these organizations did not review or approve this article.