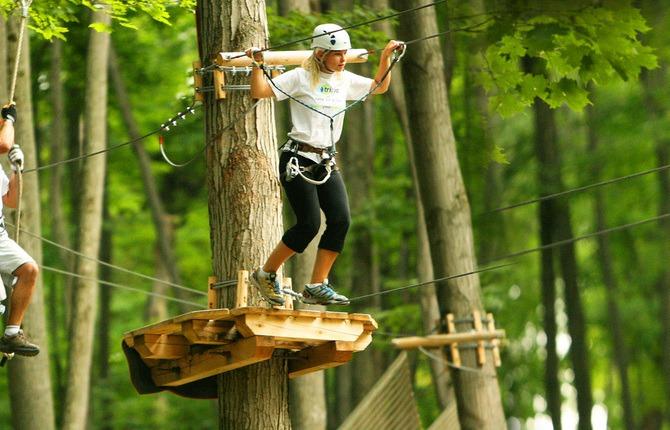 No snow required for fun at Horseshoe Resort
The slopes at Horseshoe Resort are open for an entirely different brand of fun in the summer.
Snowboarders, skiers and tubers are replaced by mountain bikers, zip liners and adventure seekers of all kinds. The resort's grassy slopes, surrounding forest, swimming pools and Adventure Park make it an ideal summer destination for families with kids of all ages.
As kids get older, it's more of a challenge to find family outings that keep everyone smiling for the day. With three teenage boys in tow, my husband and I heard no complaints on a recent media day. The organizers were right in suggesting our 17-year-old and his cousins age 12 and 14, would enjoy much of what the resort has to offer.
While the Adventure Park is geared to younger kids with its elaborate maze, play structures, gold panning waterway and bungie trampolines, the Aqua Ogo ball ride, mountain bikes and zip line suited our gang.
If you're wondering what an Aqua Ogo is, Horseshoe Resort is the only place in Canada to experience this wild ride. Riders roll down the tubing hill inside a huge ball. A smaller interior ball has a puddle of water in the bottom, reducing friction so the riders stay somewhat stable inside. It was worth the wait in line.
Our mountain bike guide Miles, took us through a section of the magnificent Copeland Forest that takes up a portion of the 700-acre resort property and beyond, into acres of Crown Land. Having met a seven-year-old at lunch who had already experienced the zip line, I was empowered to give it a try. I'm glad I did.
Other choices for big kids include horseback riding, tree-top trekking, rock climbing wall, Segway off-road tours, Hummer tours, Yamaha rides, golf on one of two 18-hole courses or the mini-golf course that appeals to all ages.
Located just north of Barrie, Horseshoe Resort is not far from the GTA and offers four-season recreation options as well as 101 newly renovated hotel rooms and 40 two-bedroom condos complete with indoor and outdoor pools and a spa.