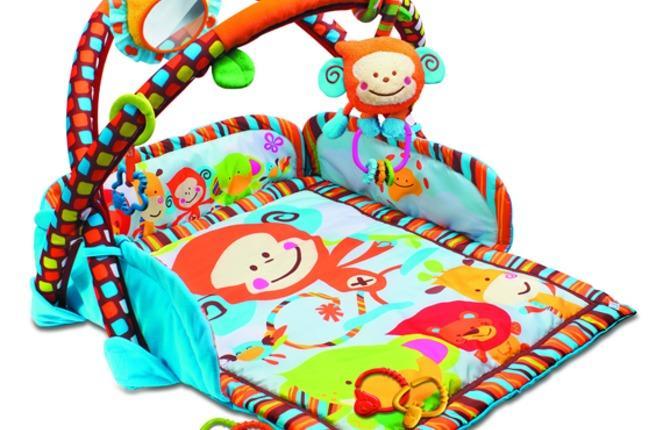 Fresh crop of baby stuff
Babies need a some specialized stuff and some other stuff that's just for fun. Here is a fresh crop of baby stuff to satisfy needs and wants.
Play with me Gym
The ideal nap companion, this specially designed gym with overhead open canopy is filled with a host of colorful dangling toys and fun bebee characters. Recommended for ages 0 to 10months. www.bkidsfun.com $69.99
Skinfix Gentle Hair & Body Wash
All-natural, tear-free and sulfate-free, this new liquid wash is extra gentle to your baby's delicate skin. Gentle Hair & Body Wash leaves skin feeling soft and won't irritate eczema, so it's the perfect cleanser to use with Gentle Eczema Balm $18.50, a spot treatment that soothes irritated dry skin on contact. SkinfixInc.com $23.99/ 12 fl oz.
Skinfix Gentle Eczema Balm
Pediatrician and dermatologist tested, this balm provides relief for red, itchy and uncomfortable eczema rashes. It's infused with colloidal oatmeal and emollient oils that calm and relieve both babies and moms. SkinfixInc.com $18.50/ 2 fl oz.
Freshly Picked Baby Moccasins
Summer means being able to enjoy your favourite fresh-picked fruits, so why not have Freshly Picked baby moccasins as well? Available in a range of delicious colours and sizes, these hand-made leather (but breathable) moccasins are the perfect summer accessories. Available at www.freshlypicked.com$60 US
Tame the Flame!
Treat your rumbly tummy or the five-alarm fire in your chest with these chewable, mint flavoured tablets. They quickly eliminate heartburn, indigestion, and upset or sour stomach. Calcium rich and dye free. Made in the USA. www.amazon.com $6.99
Guardian Angel Outlet
Designed to replace the typical plastic outlet covers this version offers uninhibited access to power whenever you need it. This easy-to-install device senses when a child's hand is nearby and will shut down power in the outlet until the danger is gone. It is shock proof, even when the outlet is in use. www.guardianangelsafety.com $22
Soft Peek-A-Boo Blocks

Little minds enter a world discovery with 9 soft blocks that rotate and open up for hours of stacking fun and surprises. The clever animal face figure designs also add an extra fascination for babies. Recommended for ages 6 months +. Available at Mastermind. bkidsfun.com $14.99
Comotomo Silicone Bottle
A baby bottle designed to mimic breastfeeding, it has a naturally shaped, silicone nipple and soft squeezable body. Great for babies who have trouble transitioning from nursing to bottle-feeding, this bottle has vents, which eliminate leaks and help prevent colic. Its wide neck accommodates cleaning without a brush. For newborns up to 3 months. www.simplygreenbaby.com $17.99
Pottery Barn Stroller Blanket
The Dot & Stripe Chamois Stroller Blanket is plush, snuggly and reversible. The polyester velboa blanket features polka dots on one side and stripes on the other. Personalization appears on the dot side of the blanket. www.potterybarn.com$40
Red Thread Collection
Connecting hearts and hopes, the Red Thread Collection from Bunnies By The Bay is a collection of soft, lovable friends that binds together toys and owners. Each Red Thread item includes a cloth tag that reads, "ARed Thread connects your heart to mine." The collection includes puppies, bunnies and bears. Available at www.bunniesbythebay.com. From $24
Evenflo Feeding Advanced Double Electric Breast Pump
A good breast pump can be a breastfeeding mom's best friend. This new model provides slouch-free pumping comfort, three sizes for perfect fit and 32 speed and suction settings. $99.99
Evenflo Classic Glass and Vented Bottle
lity. The tempered glass bottles include Proflow(tm) one-piece integrated vented nipples that rapidly vent, directing air bubbles into the bottle, not baby's tummy.(8.oz 3-pk): $9.99
Impressions Nursery Art Name
Decorate the walls of your baby's nursery with this custom wall art print showcasing the name of your precious little one. It's also a great (and personal) gift idea for someone who has recently had a baby. High-quality digital print on premium heavy matte paper. From Impressions Invitation and Design Studio www.impressionsdesign.ca. $20 to $120
Stokke Scoot
This newly designed model features an upgraded chassis, angle adjustable handle and foam filled rubber tires that enhance handling and maneuverability. It also offers three seat positions (active, rest and sleep), added ventilation and an oversized sun canopy. From $599
WaterWipes
Made of purified water 99.9 per cent and 0.1 per cent fruit extract these wipes are unscented, extra soft, non-greasy and great for diaper rash. They are free of preservatives, parabens, lanolin, alcohol, perfume/fragrance, benzoates, triclosan and glycerin. $5.99
TeetherTops
These soft, interchangeable teething toys safely attach to a baby's wrist to prevent any contact with the ground. The colourful designs are soft to the touch, made of 100 per cent machine-washable cotton, and are freezable to provide soothing relief. It comes with two detachable teething toys – BPA free. Available at www.teethertops.com. $9.79
Pottery Barn Wingback Convertible Rocker
This plush rocking chair was crafted with nursing mothers' needs in mind. The padded headrest is extra supportive, and the winged back and smaller armrests offer more shoulder and elbow space. Extra feet that allow you to convert the rocker to a traditional armchair are sold separately. Shown in Belgian Flax Linen.www.potterybarn.com $1,279
7 A.M. Enfant Nido
This car seat baby wrap, is the perfect replacement for winter coats as it provides the ultimate protection while reducing bulkiness for babies. Keeping little ones comfy, cozy and safe while out and about, the Nido features a unique and innovative back oval cutout eliminating extra layers between the child and car seat.
Impressions Personalized Growth Chart
Capture your child's growth while adding a beautiful piece of art to adorn their bedroom and creating a keepsake. Available as either removable vinyl stickers (decals) or printed on high-quality, flexible banner material adorned with decorative dowels on the top and bottom and ribbon for hanging.www.impressionsdesign.ca$65
Dedee Duck Ducky Spout

Watch babies faces light up when DeDee Duck spouts water from his mouth, flaps his wings and bobbles his head. Also comes with an octopus and whale water scooper with sprinkler hole design. Recommended for ages 12 months and up. www.bkidsfun.com $17.99
Pottery Barn Blythe Crib
This vintage-inspired crib features pin-tucked upholstery, artful molding and turned wood legs. The headboard and footboard are upholstered in white linen/cotton. Easily adapts from a crib to a toddler bed (conversion kit sold separately). www.potterybarn.com. $1,684