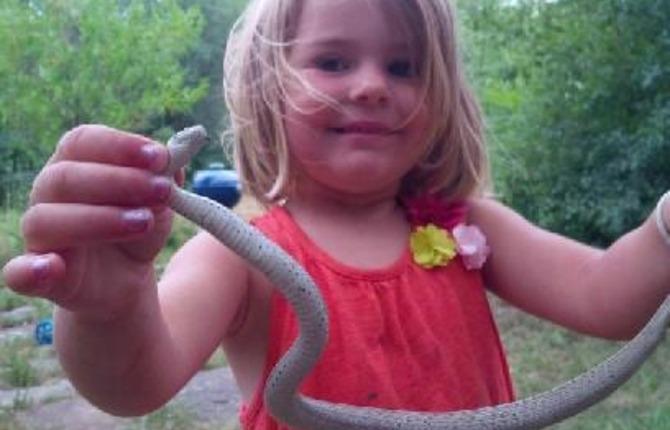 The cycle of nature
Squeak loves all things nature. At the cottage, she puts on her purple sparkly dress and some boots and heads out the door. She is a little girly but don't be fooled. If she is carrying a purse, it will probably contain her lipstick and a few dead bugs.
She is not your typical girly girl. I just love that about her personality. It comes through when she is swimming in Lake Simcoe. I usually look out for water snakes and will yell "water snake" when one is close to her. She asks, "where mommy". I reply; "Just behind you" to which she answers; "Oh that is okay. It won't hurt me" and continues swimming. She has no fear!

Squeak is the happiest when she is saving caterpillars, touching spiders, petting snakes, holding "cute" frogs, kissing hamsters, or just sitting quietly with a kitten. She loves all animals and creatures.
I often find a potato bug in my car, because she has picked it up and insisted that it is her best friend and needs to come for the ride. I secretly hope she finds a career that encompasses her passion for nature and its creatures.

Early this summer my cousin took Squeak exploring and they found, mice, salamanders, frogs and more. Squeak was in her glory. She got to hold a baby milk snake.

Another experience with this cousin this summer was less pleasant and difficult to explain to my daughter. Squeak was thrilled to meet piglets that were born on my cousin's farm. One day later, the piglet she'd particularly liked, was gone. The only black and white baby in the litter, named Lollipop, had been taken for food by a coyote.
I explained to Squeak about how the coyote took Lollipop to provide food for its coyote pups. Squeak was saddened by the loss but understood what happened. I feel as a parent these things have to be explained and it is good to be truthful. That is the cycle of nature.

http://thesummerhomestead.blogspot.ca/2013/09/the-terrible-circle-of-life.html

Shari Nelson is an advertising sales rep at City Parent and a contributor to the magazine's social media, including Facebook and Twitter. She has a background in Early Child Care Education, a 3-year-old daughter, a 9-year-old dog, and a hamster. She aspires to own chickens and a goat – maybe a farm one day, a dream she shares with her amazing and talented husband.