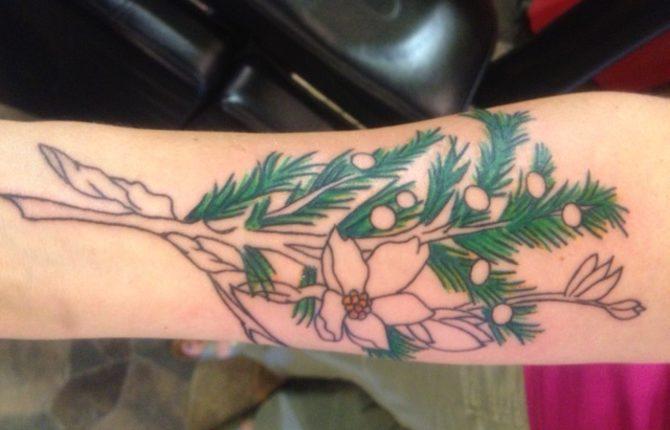 Mommy Ink
For Mother's Day, I wanted to get a tattoo that symbolized my kids. In my young and carefree days, I got my first tattoo on my lower back (a tree of life) and I always wanted to get another one.
Body art is a very personal decision. Depending where you decided to get the tattoo positioned normally determines if you want to share your decision with strangers who admire or criticize your art. The trend of fathers getting kid inspired tattoos has always been popular and the trend is now becoming mainstream and common for moms. Hearts with names, date of birth, finger prints, astrological signs, infinity symbols, even your child's first drawing – the options are endless. Of course, choosing something that is symbolic to you is the most important decision.
For me, being a garden/hort geek and lover of trees, I choose tree branches to represent my babies.
The Juniper branch represents Ian, who was born in December. Juniper trees are also a symbol of good fortune and protection against evil spirits. The tree's wood is reputed to hold powers of strength, health and peace.
The Apple branch and blossom represent Katrina, who was born in May. The apple tree in our backyard always blooms on her birthday. The apple tree is a symbol of spring and new beginnings, as well as a doorway to the realms of Faery, and the Isle of Avalon.
My tattoo is currently a work in progress. I need to let it heal before I can go back to finish the shading and colouring. When Katrina saw it and I explained what it meant, she was so happy. She now tells everyone who asks that the apple branch represents her.