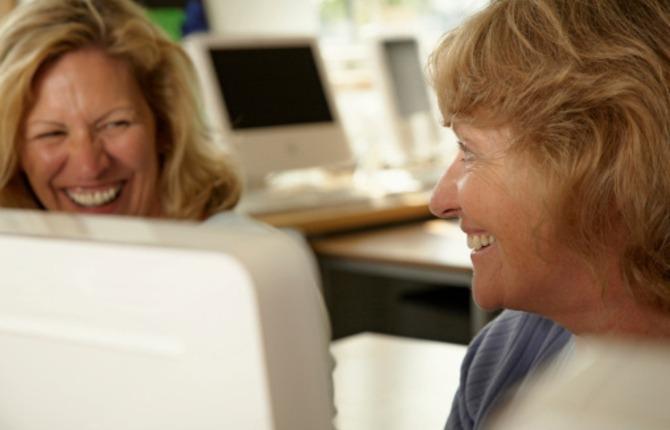 Double Click links seniors to social media
By Lisa Pires
A few weeks ago, retiree Renate Crizzle Skyped with her sister in Europe for the first time ever.
"It was just like she was next door. It was really quite amazing, said Crizzle.
Crizzle worked with computers throughout her career as a Human Resources professional, but she wanted to learn how to use social media. This desire led her to attend 'Double-Click,' a workshop at the Scarborough YMCA Centre that was organized in partnership with CARP, an organization dedicated to enhancing the lives of senior citizens.
'Double Click' separated its 40 participants into small groups that learned about social media, internet viruses, emailing and more from young teachers.
The popularity of the workshop highlights the recent surge of older Canadians joining the online world. According to Statistics Canada, internet use among seniors has risen eight per cent since 2010. Forty-eight per cent of Canadians age 65 or older were using the internet as of 2012.
Despite this rise in internet use, 66-year-old workshop participant Teresita Bautista says many of her peers stay away from social media.
"A lot of seniors are scared of Facebook," she said. "They've heard of it from their children and grandchildren but they think it's not secure."
Workshop leader Lorenzo Freeman, 25, led a session that taught participants about internet scamming with a goal of helping seniors overcome this fear.
"I received so many questions that I couldn't even get through my lesson plan," said Freeman. "At the end of the class some participants were even asking the youth leaders for their notes so they could practice at home."
Crizzle was one of those participants. Notes in hand, she installed Skype a few days later.
"Social media is going to become more and more important so if you want to keep up with new forms of communication you'll need to learn how to use them," said Crizzle. "These workshops give seniors a chance to get updated and to learn how to connect to the world and adjust to how society lives today."
That same opportunity for learning was what led Scarborough YMCA General Manager Beth Morgan to help organize Double-Click.
"We wanted the seniors to leave with a better understanding of social media and digital technology, but we also wanted them to leave feeling more comfortable with interacting with younger generations," said Scarborough YMCA General Manager Beth Morgan.
Freeman has experienced this generational discomfort firsthand.
"When I was pitching this workshop to our youth, they were a little wary at first, because some of them thought of seniors as fragile, weak and incapable of learning something new," he said. "At the same time, the seniors I have talked to have often mentioned that youth are 'bad seeds' who aren't willing to help."
But Freeman said that once the two generations came together, they both learned from one another.
Morgan hopes to keep offering life skills workshops, so older generations can continue to learn from their grandchildren's generation.
"My hope is we'll create better connections between younger and older generations and close that communication gap," she said.