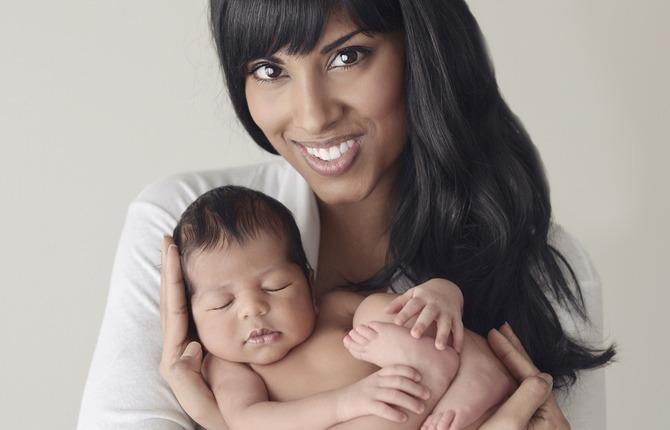 Busy mom, Saphia Khambalia, embraces the chaos
TV personality Saphia Khambalia recently shared with City Parent about her new baby and the joys of motherhood, all while juggling her TV reporting life and charitable endeavours.
When asked about her son she says, "Jacob is just the sweetest and most silly little guy. He just wants to be part of the action, so we put him in his baby carrier and have dance parties around the house and sing to him. He's taught me to stop taking life so seriously. The days can be long and all blurr into each other, it's not always pretty or perfect but motherhood is the greatest and most rewarding thing I've ever done."
You may have seen the charismatic reporter on Citytv's 6 p.m. and 11 p.m. news. Saphia, originally of Indian-East African descent, typically covers news and current affairs but is off the air for the year to be with Jacob.  However she's still in touch with the newsroom, coming-up with story ideas and staying active in her role as regional spokesperson for the Parkinson Society.
So, what is the trick to balancing her busy life? She says it's all about maximizing 'mom-time.' "Jacob and I do mommy-baby workout classes and he comes with me to my charitable events, when he can. We have fun bonding and doing things together. Plus, it's even more important now that I set the example for my child to give back and take care of yourself. Still, I struggle with balance every day, just like everyone else does. Some days I do better at some aspects, the next day maybe a few others," she says.
So does she think we can really "have it all?" Saphia answers, "I think everyone's idea of "having it all" is different. I think the trick is finding your own happy-balance then figuring out how to make it work. You can't put pressure on yourself to achieve what some else wants."
By today's standards, Saphia is a young mom, only 27. She, along with her husband live in the Oakville-Mississauga area. She says; "There is never a right or wrong time to have kids. I have friends who waited till their 40s to start a family, and have had great life experiences before diving into parenthood. Things just fell into place early when I met my husband.
For years it had just been about me and my career. Now, Jacob is the best thing that's ever happened to us." When asked what she would say to other new moms: "thinking that we should do it all, juggle everything easily, that you're less of a mother if you can't, is not fair. If our house doesn't get vacuumed right away, or if we have to pick-up food one night, that's okay.  In the end, I say embrace the chaos, the unexpected and the coffee machine!"
Saphia Khambalia reports on news and current affairs for the 6pm and 11pm news on Citytv Toronto. She's originally from Hamilton-Niagara and currently lives around the Oakville/Mississauga area with her husband, their baby Jacob and a mini-labradoodle.You can follow Saphia on Twitter @citysaphia
Photo by Delicate Impressions Photography, Clothing: Motherhood Maternity