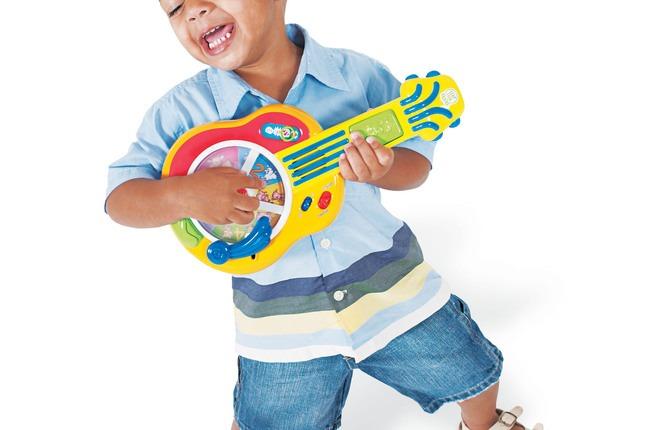 12 toys of Christmas
It's beginning to look a lot like Christmas with every toy you see. Here's a selection of what we saw and liked this year.
For the Pre-schooler – the evolution of the Rock 'n Roll
Bilingual Sounds Guitar from Leap Frog has three learning modes (Numbers, Animals and Music), will get your future rock star making music and create as well as learning numbers and animals names and sounds in English and French. $29.99
For the 'tween – the Power Tour Electric Guitar
OK, so you could buy your darling a real electric guitar, but if you suspect they really only want to play air guitar, this baby features classic Gibson guitar styling, really cool guitar features including strum bar, palm mute bar, whammy control, input/output jacks, touch sensors, multicolored LED lights and dual function knobs — and costs way, way less.(From Hasbro Canada) Suggested Retail: $59.99
For the teen – Guitar Hero iii Legends of Rock
This generation of the game may not offer up much new "game play", but it's addictive! GH3 offers new songs, new bosses and a whizzy new Gibson Les Paul-styled wireless controller (guitar.) Play on X Box 360, PS3, PS2, Wii, and even PC and Macs (though with the Gibson X-Plorer guitar). The launch was hugely successful; so don't wait till the last minute to buy. Bundled, $99 to $109. Rock Band from EA and Harmonix (who originally coded Guitar Hero) will also be out this Xmas. It offers up a whole bunch of "peripherals" like drums for the full band experience. Game only, $69. Peripherals are not wireless. (From, Activision and Red Octane)
RC DRAGONFLY
Ever wondered what it would be like to whiz around like a bug? The RC Dragonfly is the world's first remote-controlled flying insect made by the creators of the Robosapien robot! Indoors and out, control your own speed and catch the buzz with your dragonfly robot. ($69.95) Ages 8+ at Mastermind
Mighty World
These tiny figures encourage creative play in a variety of environments – construction, emergency, town life, adventure and the armed forces. Although similar to figures we've seen from other excellent toy makers, these plastic figures feature life like clothes and really nifty gear and accessories. The truck bodies can be interchanged. Sets can be combined. These figures would be fantastic for kids interested in archaeology, hiking, construction, can mechanics, baking, police, paramedics, and soldiers, and a great antidote to fashion dolls for girls. The only draw back? No girl construction or soldier figures and not enough action oriented girl figures in general. Give us a Lucy the Firefighter and Britney the moto cop, Sue the electrician and Brenda the general, and this could be the best imagination toy we've seen in a long time. Available online (www.mightyworld.com ) and at independent toy retailers like Hobby & Toy Central Turtle Pond, Toy Mountain, Treasure Island toys, The Toy Shop, Toytown, Fun to Grow On and Wowyzowy Toys.
Animalz from Hapetoys.com
These quirky, poseable critters are too cute to stay on the shelf. Made of organic maple, hand painted with engaging expressions the menagerie is meant for kids 3+, and that includes us grownups! Note to Santa, Pig and croc are my faves. $5.95 – $6.95 online at Hapetoys.com.
Littlemissmatched Socks and Mitts
Not a toy, but cool. Did you know matched socks are passé? I keep matching them out of the dryer and my kids keep mixing them up. Show your kids you are savvy in the ways of street cred style with these packs of three socks and mitts in a variety of bright and funky patterns. You could make your own sets, but LittleMissmatched has a knack for combining the coolest stripes, polka dots, puzzle pieces, hearts, leaves and more. www.littlemissmatched.com (Socks $8.95/Mitts $17.95) All Ages, at Mastermind.
Transformers Ultimate Bumblebee from Hasbro
I've seen a lot of Transformers over the years with my kids, from the Autobots to the Beast Wars/ Machines and back again. Bumblebee was one of the very first Transformers, originally a Volkswagen Beetle. Word is Volkswagen said no to product placement in the Movie and director Michael Bay had a thing against the Love Bug association of the VW anyway. At any rate, what we have in this toy is a transformable animatronics robot and approximation of the 2009 Concept Camero. This is the largest Transformers Movie toy; reactive animatronics power the movements of the head and arms while advanced sound detection systems allow the Bee to react to nearby sound and movement. He had nine different songs to share and 17 phrases. As the Autobot that befriends humans, this Transformer is a natural favourite — but at $89.99 you may wince every time your child plays with it. Maybe you should save this one for the collector and pick up a $9.99 Movie Deluxe Bumblebee for everyday play. Ages 5 and up.
Kidizoom Camera from Vtech
My kids had plastic kiddy cameras that took film as well as serious abuse. The Kidizoom can take the toddler on in terms of toughness, but because it's digital you don't end up with a developed roll of your wee one's thumb. Plus, Kidizoom includes a connector cable to plug in and watch a picture slide show, or view the movies on TV or PC as well as fun photo editing options that allow kids to distort pictures or add silly frames. Although our three- year old tester found this was too much camera for him he loved taking ''pictures''. Meanwhile older kids (aged seven or so) and adults really enjoyed it. Camera feature .3 megapixels with 1.8" color screen 16MB internal memory (stores 200+ photos or up to 5 minutes of video) Suggested Retail Price: $59.99 www.vtechkids.com
Bows & Mallows from Stortz & Associates
From the same folks that brought you the Mallow Shooter and the Mallow Blaster comes a nifty bow that flings marshmallows more than 25 feet using an air pump, indoors or out using, you guessed it, marshmallows. Age: 10+ at independent toy stores. Suggested Retail: $31.99.
Smart Cycle from Fisher Price
Ok, the notion of plunking your pre-schooler down in front of the telly to stationary pedal through an imaginary environment creeps me out a little. After all, they should be outside, playing in the park or whatever. But then, I figure how is this different from your child dancing along with Hi-5? Smart Cycle is a stationary cycle that uses TV plug-and-play technology; once connected, kids hop on and start pedaling and steering their "on-screen vehicle." With the learning software, kids can pedal through different environments in Driving Mode, play games and learn letters, numbers, shapes and colours in Learning Mode or race against others in Big Race Mode. Additional software like Dora's Friendship Adventure, Sponge Bob's Ocean Adventure and Barbie Fairytopia can also be purchased. Now if only the pedaling could actually power the television…Suggested retail price: $99.99 for the unit; $19.99 for the additional programs/Ages 3 to 6.
Barbie Girls from Mattel
We've had Webkinz, and Neopets and lately Rescireatu. On line worlds where you create your own creature or pet or space. Some were free (like Neopets) some required a purchase in order to register a pet (like Webkinz). Now Barbie Girls wants in on the act. At BarbieGirls.com, any girl can create virtual characters, design rooms, shop at the mall using virtual money called "BBucks" or just hang out and chat with virtual friends in the safe B-Chat environment using a very limited menu of expressions. With the purchase of a "Barbie Girl" device – a doll-shaped MP3 player that comes with its own accessories you can access the Secret B Chat mode. Mattel only lets girls Secret B chat with "Best Friends," friends they know in real life. The Barbie Girl MP3 player is the key to this. In addition to holding up to 120 MP3 songs, it can be plugged into a friend's PC, and then authenticates the user as a "best friend". Wired magazine likens it to an RSA token, calling it "a USB security token for girls". If you know what that is, your kid is probably already too savvy for Barbie Girls. Suggested retail price: $59.99 for the MP3 player; $9.99 for the fashion accessories pack; $9.99 for the decoration pack/Ages 6 and up.