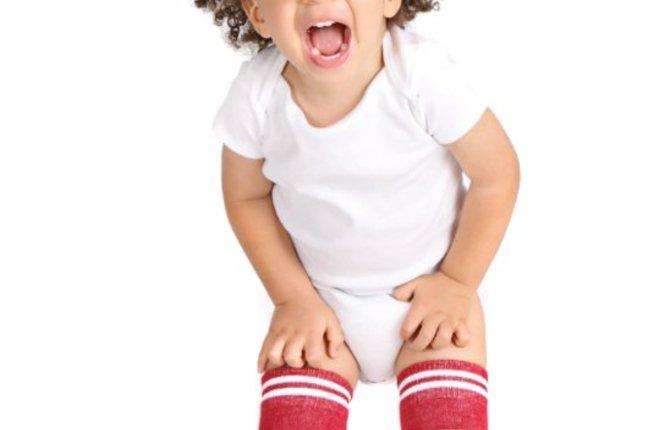 A sock above
By Christine Davis
As Canadians we are used to layering – starting from Halloween until sometimes after the May 24th long weekend. Little legs are no exception, but when single mother of two Julie Thompson went shopping with a friend for some kind of layering option for her friend's son, they found the footed options were limited to girls' tights. Thompson's older son wore pajama pants for warmth, but that left his feet exposed. She figured that if this was an issue for her friend, it was an issue for other parents, and it got her thinking about what she would do for her youngest son.
Thus Lil'tights by Skights were born.
Worn mid-thigh, they have a stay put design that doesn't cut into the skin, are slightly padded at the knee for crawlers, new walkers and kids that like to play, and the footed bottoms include anti-slip grips.
It was a year-long journey from conception to production of Lil'tights by Skights. Thompson first commissioned a US-based company to manufacture samples, which she ultimately wasn't happy with and took those samples to an Ontario manufacturer who helped make her vision a reality. Even the grips on the bottom, which say "#1 baby" are added in Ontario – a fact Thompson is proud of.
"Though originally designed to provide extra warmth for children, our tights are an excellent accessory for parents of toddlers who are currently in the potty training stage," Thompson explains. They provide for easy ups and downs of pull-ups and underwear and eliminate buttons, belts and buckles for those last-minute trips to the potty.
A number of customers have also found that Lil'tights by Skights are great for children with leg braces, providing a layer of protection between the braces, which can irritate young, sensitive skin.
Thompson says she used them on her youngest son who wouldn't sleep with blankets. As a toddler he would wake up with ice-cold feet, but would take traditional socks off. The Lil'tights aren't as easy for little fingers to remove.
And they also fit over leg casts, keeping wee toes warm when other socks can't. 
With the success of her business, Thompson was looking for a way to give back. The perfect opportunity arose when watching a TV program about The Surrey Food Bank one morning in 2014. "At the time it was the largest food bank in Canada with 14,000 clients per day, 14 per cent of whom are children and babies. They have this program called Tiny Bundles, which provides families in need with hampers filled with food, diapers and clothing." It was exactly what Thompson was looking for and since January 2015 has donated one pair of Lil'tights by Skights to the food bank for every pair sold online.
"I believe when you give back, you get back," Thompson says.
Available at a number of retail outlets, Lil'tights by Skights are also available online.