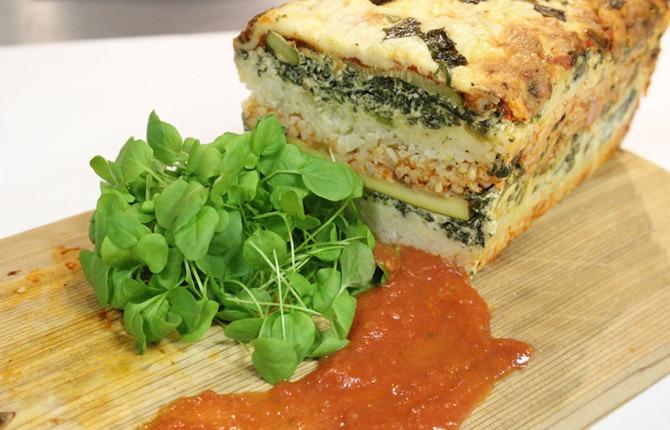 Use instant rice for quick and creative meals
Fast food is healthy when it means food that is prepared quickly at home from natural ingredients.
I usually use long grain brown rice that requires 20 minutes to prepare but there are times when a faster option is preferred. When Minute Rice introduced brown rice a few years ago, I added it to my pantry.
According to Norma D'Onofrio, senior brand manager, Minute Rice, instant rice provides the same food value as long-cooking varieties.
"Contrary to common misconceptions, instant rice is as nutritious as long cook rice," she states in a press release, explaining that instant rice is long grain rice that is simply pre-cooked, and then dried, in order to significantly cut down on the cooking time required by consumers.
The "Veggie Rice Lasagna Loaf" recipe below, created by Chef John Higgins, Director of Toronto-based George Brown Chef School is a great example of how to cut time but not flavour. The chef calls instant rice "one of the simplest go-to ingredients that can be used to quickly and easily whip up creative, family-friendly meals – even desserts."
Working with Minute Rice®100% Natural Instant Rice, for example, Chef Higgins helped create the wholesome, all-natural and easy rice lasagna dish that takes only 10 minutes to prepare for the oven. "When time is an issue, instant rice is an excellent solution for busy moms and people in a rush," said Chef Higgins, who is also a judge on the Food Network's Chopped Canada and former personal chef for the Queen Mother.
Veggie Rice Lasagna Loaf Recipe by Chef John Higgins
Prep Time: 10 min
utes
Cook Time: 20 min
utes
Servings: 6
Ingredients:
2 cups (500 ml) Minute Rice® Instant Premium Long Grain White Rice
1/4 cup (60 ml) grated Parmesan cheese, good quality, if possible
2 tbsp (30 ml) olive oil
2 bunches green onions, chopped
1 pkg (10 oz/300 g) frozen chopped spinach, thawed and squeezed well to remove liquid
2 cloves (5 g) garlic, minced
1 1/2 cups (375 ml) light ricotta or cottage cheese
1 cup (200 g) zucchini, sliced
1 jar (24 oz/700 ml) prepared marinara or home-made pasta sauce
2 cups (500 ml) shredded low fat Mozzarella cheese
2 (145g) tomatoes, sliced
Instructions:
1. Preheat oven to 350°F (180°C). Prepare rice according to package
directions. Stir in the parmesan cheese and reserve. Here are Top 10 Rice Cooking Tips.
2. Place 15 ml of the olive oil in a warm pan, then add the chopped green onions, followed by the spinach, and season with garlic. Cook for one minute. Add salt and pepper, then
allow to cool. Mix with ricotta cheese until combined.
3. Place the rest of the olive oil in a non-stick pan. Add the sliced zucchini. Cook for 10 seconds on each side. Season to taste. Remove from the pan and place on a paper towel to absorb the oil and allow to cool.
4. Spoon ¼ cup (60 ml) of the marinara sauce into a greased 8-inch (2L) square baking dish. Gently press half of the rice into the baking dish in an even layer; sprinkle with ½ cup (125 ml) mozzarella cheese. Spread half of the spinach mixture over the cheese.
5. Top with half of the tomato and zucchini slices, overlapping as needed. Spoon half of the remaining marinara sauce over the slices. Repeat the layers, ending with the sauce.
6. Sprinkle evenly with the remaining cheese and bake for 20 minutes or until bubbly and golden on top. Let stand for 5 minutes before slicing.
Per serving (1/6 of recipe): 430 calories, 18g fat, 40mg cholesterol, 770mg sodium, 45g carbohydrate, 5g fibre, 9g sugars, 23g protein
Top 10 Rice Cooking Tips from Chef J Higgins
Boil in broth: When boiling rice, substitute water for broth to add
flavour to the rice itself and your dish. Chicken broth, beef broth or vegetable
stock are excellent choices. Low-sodium broths add a punch of flavour
without the added salt.
Try coconut: Cook rice in coconut milk for a mildly sweet flavoured rice
which pairs well with curry dishes and other spicy recipes. Coconut
flavoured rice with fresh slices of mango or your kids' favourite fruit
can make a fun, healthy dessert option.
Think flavour: Add spices to the rice's cooking liquid for an aromatic and
flavourful base to your dish. Star Anise, cilantro and turmeric are good
choices, with bold, robust flavours.
Season early on: Don't leave your seasoning until the end. Introduce the
flavours of your dish early on. For maximum flavour, add the herbs or
spices your recipe calls for into the rice's cooking water.
Add veggies: Enhance your rice dish by adding frozen vegetables. Rather
than cooking the vegetables separately, though, condense your cooking time by
adding them to boiling water before you begin cooking the rice. Using
pre-cut, frozen vegetables is more convenient than cutting fresh
vegetables (while still being nutritious), especially when you are pressed for time.
Sweeten with fruit: Add dried fruit – such as craisins, raisins, dried
blueberries and currents – to your cooking water to draw out the sweet
fruit flavours which will infuse your rice with a savoury taste the whole family
will enjoy.
Try rice for breakfast: Instant rice in particular is quick and easy,
making it a convenient and nutritious family option. Add almond or soy milk, or
your kids' favourite flavoured milk, as well as dried fruits or nuts for a
complete, oatmeal-like breakfast dish which can be served hot or cold.
Prepare the rice the night before to save time in the morning.
Steep your rice: Infuse the rice with your favourite flavour of tea for a
fragrant, subtle gourmet taste. Steep a pot of tea and use the liquid to
cook your rice instead of using plain water. For those less adventurous,
start with a more simple flavour such as Earl Grey, English Breakfast or
Chamomile tea. For an economical option, use the tea bag left over from
your morning cup of tea.
Add zing with zest:For a zesty citrus spin on your rice dish, grate lemon,
lime or orange zest into the rice's cooking water as it's boiling. Be sure
to thoroughly wash your fruit with warm, soapy water before grating the
zest into the water. For a more gourmet taste sensation, try a combination of
citrus fruits in one rice dish.
Cut cooking time: Risotto is a wonderful meal or side dish option enjoyed
by all ages, but it takes time to make.  Using instant rice in a risotto dish
can cut in half the time it takes to make traditional risotto.