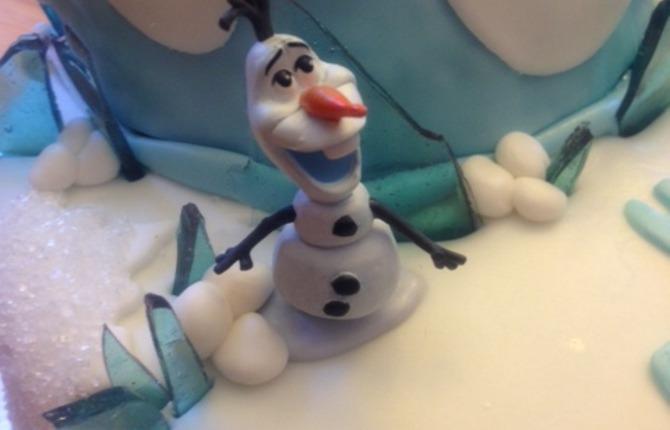 Make your own sugar ice
Do you want to build a snow man? I know other parents have been asked that question regularly but like my daughter, the kids aren't asking to go outside and play, they're singing along to one of the most popular Disney movies in years – Frozen.
I've got to admit, I really enjoyed the movie. Of course, by the time I watched it with Katrina, she already had all the songs memorized. Apparently the kids have been watching the YouTube videos at school. In true Disney fashion, the movie caters to grownups and kids alike to ensure everyone is captivated and amused. This epic adventure combines adventure, music, strong female characters and an amazing story.
I recently had a request to make a Frozen inspired cake for a little girl's sixth birthday party. Everything on the cake was edible except for the three characters. What really brought this cake together was the ice crystals, but a word of advice when it comes to making them. There are a lot of recipes available online on how to make sugar glass or ice, but not all of them will result in hard, breakable "ice".
This is my tried-and-true recipe I use whenever making sugar glass.
½ cup sugar
¼ cup corn syrup
1/8 cup water
Combine ingredients in saucepan and bring to boil until mixture reaches 295F. If you don't have a candy thermometer to measure, get a small glass of ice water. Once the mixture starts to thicken, drop a little in the water – if it hardens, it's ready. If it dissolves quickly, keep the mixture boiling.
Once it's ready, remove from heat and add food colouring – I added blue for the ice. Pour the mixture onto a foil covered baking sheet and set aside to harden, which should take about an hour. Once hard, you can break pieces off with a kitchen mallet.
The cake itself was covered with fondant and I simply pushed the ice into the cake and then put it in the fridge to set. It worked wonderfully and the birthday girl was very happy.