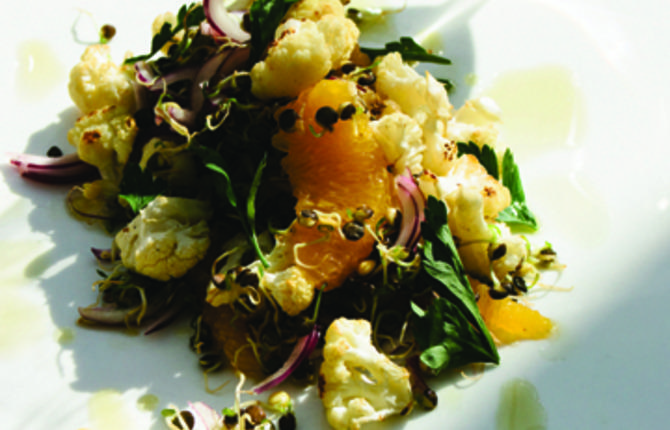 Cauliflower's year
Roasted Cauliflower Salad with sprouted lentils
Courtesy of Jonathan Korecki, Head Chef, E18teen Ottawa, ON
Yield: 4 dinner, 6 lunch
Time: 2 days advance, 20 minutes in kitchen
Ingredients:
1 head cauliflower
3 cups green lentils
2 oranges
1 lemon, juiced
1 bunch parsley
1 red onion
4 tbsps. Olive oil
Sea Salt
Lentils: Soak lentils in water at room temperature overnight. Drain and rinse lentils well, lay lentils on a paper towel lined tray and cover with plastic wrap with a few holes poked in, leave at room temperature with exposure to light. Rinse the lentils once a day, in 2 days they should be sprouted and ready to eat.
Cut cauliflower into florets and toss with 2 tbsps Olive oil and roast on a baking tray at 425 degrees F for 12 minutes. Peel and half onion lengthwise, slice along the grain thinly and let soak in cold water for 10 minutes, drain. Segment oranges into a bowl, squeezing juice from the rind and insides. Wash and pick parsley leaves.
Toss all ingredients together, and season with olive oil, lemon juice, extra orange juice, and sea salt.
Cauliflower "T-Bone"
Courtesy of Graham Pelley, Head Chef, Earth to Table Bread Bar
Guelph & Hamilton
Yield: 4 Servings
Cauliflower and curry is a pretty classic combination. The steak spice lends a nice subtle heat to the dish, while the date puree and pickles add a great sweet / sour component.
Spiced Yogurt
300g plain yogurt
1 tsp honey
1 tbsp curry powder
1 tsp tumeric
In a small pan on medium heat, lightly toast the curry powder and turmeric. Cool mixture in a medium size stainless steel bowl. Add yogurt and honey, mix well. Store in fridge until needed.
Date Puree (recipe provides for leftover puree)
300g dried dates
1 large shallot – peeled & chopped rough
300ml apple juice
150ml apple cider vinegar
15ml honey
25ml lemon juice
125ml water
1 pinch kosher salt
In a medium size pot, combine all ingredients except lemon juice. Over medium heat bring pot to a boil, reduce to a simmer and cook for 20-25 minutes until dates and shallots are soft. Transfer mixture to a blender and puree on high speed until smooth. Remove puree from blender and set aside for plating.
"Steak" Spice
2 tbsp coriander seed – whole
2 tbsp black peppercorns
1 tsp ground cardamom
½ tsp ground chili flakes
1 tsp fennel seed – whole
1 tsp cumin seed – whole
2 tbsp kosher salt
Combine all ingredients except kosher salt in a mortar & pestle and grind until a coarse steak spice is formed. Transfer to mixing bowl and add salt. Store in an airtight container until needed.
Pickled Onions & Cauliflower
20 Small cauliflower florets (left over pieces from cutting steaks)
1 red onion – julienne cut
450ml cider vinegar
250ml water
150ml sugar
50ml kosher salt
Combine vinegar, water, sugar and salt in a pot over medium heat. Bring to a boil. Remove pot from heat and pour liquid over onion and cauliflower. Allow to cool completely. Store in an airtight container in fridge for a week.

Cauliflower "T-Bone Steaks"
2 large heads cauliflower
100ml canola oil
100ml Extra Virgin Olive Oil
4 tbsp Steak Spice
5 sprigs cilantro – picked and washed, leaves only
Pre-heat the oven to 425F. Cut the cauliflower into steaks by cutting the head from bottom to top. It's easier to use the stem as a guide as you need a fair amount of stem in each steak to hold it all together. Once the steaks are cut, brush them with the olive oil and season heavily with the steak spice. In a large cast iron pan over high heat, heat the canola oil and sear the steaks turning over once golden brown on the first side. Transfer pan to the oven to continue cooking. Cook for 10-15 minutes or until steak is tender throughout. To plate the steaks – spoon date puree on to plate, drizzle a small amount of yogurt over plate. Place steaks over that. In a small mixing bowl, combine a few of the cauliflower and onion pickles, cilantro and some shaved raw cauliflower and dress with a teaspoon of olive oil and a pinch of salt. Toss lightly, place salad over steak. Serve immediately.
Cauliflower Risotto, with roasted cauliflower, pine nuts, arugula
Courtesy ofDave Lamers, Head Chef, Abruzzi Ristorante
London, ON
Roasted Cauliflower:
1 head of cauliflower, florets only
1 tbs olive oil
pinch of salt and pepper
Method:
1. take florets of cauliflower and toss in olive oil, salt and pepper
2. spread out on baking sheet and roast in oven at 375 for approx 20 mins or until florets start to caramelize, stirring occasionally.
Cauliflower Puree: (substitute for cream and butter in risotto):
Ingredients:
1 head of cauliflower
1stp salt
1L water
Method:
1.chop cauliflower and put in pot and fill with water
2. add salt and bring to boil until soft and puree in food processor until smooth, scraping down the edges of the food processor bowl to ensure there is no lumps
Risotto
Ingredients:
1-1.5L chicken or Vegetable stock, brought up to a boil
4 tbs olive oil
1 med onion finely chopped
2 stalks celery finely chopped
450G Arborio rice
1 cup dry white wine
salt and pepper to taste
Risotto Method:
1. Bring stock to boil and turn down to low heat
2. Heat olive oil in pot and sweat onion and celery, add Arborio rice and cook until rice Is coated with olive oil and starting to stick to bottom of pot.
3. deglaze with dry white wine and reduce by half
4. add enough stock to just cover rice and turn heat down to low, you want to see a very gentle simmer, stir occasionally to ensure rice is not sticking to bottom of pot. You will repeat this step 2 more times.
Toasted Pine Nuts:
¼ cup of pine nuts in a dry pan on med heat, continuously stirring until they are light brown, set aside for garnish.
To finish the dish:
Take the risotto and gently stir in the cauliflower puree, and arugula. Spoon onto plates and top with roasted cauliflower, pine nuts. Finish with shavings of fresh parmesan or pecorino cheese.