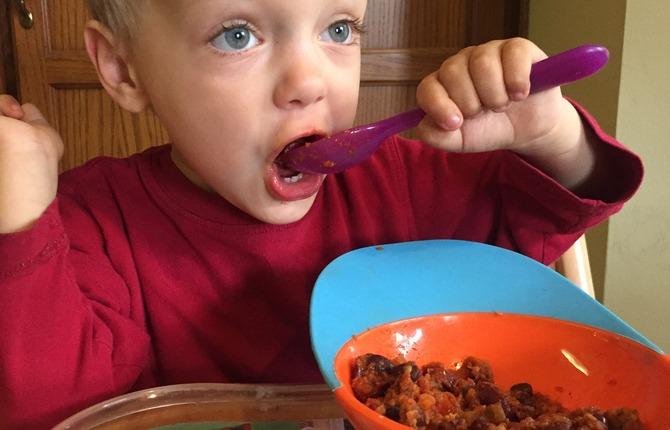 Baby food makes vegetables the centrepiece of a meal
By Christine Davis
It's the dream of likely every new parent. To have a child who isn't a picky eater. What, then, must you do to ensure this doesn't happen?
According to Jackie Kwitko, owner and operator of baby food company Fressy Bessie, it's to get them to enjoy real food right from the very first bite.
Inspired by Kwitko's daughter, Alexandra, Fressy Bessie is a name that comes from the Yiddish word to stuff your face, "to fress". And Bessie just rhymed. "It's basically like my food, fun, light and not too fussy."
The venture was a huge departure for the former CBC producer turned baby food maker. "I'd been thinking about starting my own company and I wanted to do something totally different," she says. "Talk about getting our of your comfort zone! I always loved to cook and I saw a need in this area." Kwitko was disappointed in the selection of baby food she found in grocery stores and decided to fall back on the tried and true recipes she used with Alexandra when she was a baby a decade earlier.
Crediting the fresh food she ate as an infant with her healthy eating habits today, Kwitko says she never "hid" vegetables in her daughter's food, instead making them the centrepiece of a meal – even at restaurants when she wanted nothing but noodles. "I always asked if they had vegetables they could put on top."
Today, Alexandra loves her veggies, choosing healthy options over the sweets that she knows won't make her feel well if she over indulges in them, and has happily been her mother's little science project.
The meals Alexandra ate, including Kwitko's ratatouille, lentil and spinach stew, mac and cheese with broccoli and vegan chili, are now the cornerstone of Fressy Bessie's food offerings, which start with baby purees including apple, pear, carrots, squash, sweet potato, green beans and broccoli, which is a best-seller. Each one of these baby foods are single ingredient. "I do that so children learn to love one vegetable at a time, not just for allergies," Kwitko says. "I don't make it fancy or mix it because I think that's the key to not having a picky eater." She believes in embracing the taste of something that's not overly sweet but just tastes good, and that it will open the door to healthy eating.
Also on the menu are Kwitko's hugely popular Ice Lollies – a refreshing, perfectly sized frozen treat on a stick that contains nothing but fruit. Ice Lollies are available in apple, pear, mango and tropical flavours and Kwitko also makes seasonal varieties including peach, strawberry pear, cherry pear and vampire plum with mango.
Working from a couple different commercial kitchens in the GTA, Kwitko is the buyer, chef and distributor of all Fressy Bessie goods. She scours the farmers markets she sells her food at for local, organic produce, and sources the rest from local distributors.
In addition to selling at various Toronto-area farmers markets, including Wychwood Barns and Davisville, Kwitko offers personal delivery service within a certain geographic region and sells the full line at Diapereeze in Bloor West Village. You can also find those delicious Ice Lollies at Roast butcher shop on St. Clair, Crème Fraiche on Annette Street and at Fiesta Farms.
Kwitko also sells accessories to complement her line. The washable and reusable Squishy Snack Pak allows parents to pop baby food into the convenient squeezable snack pack for on-the-go enjoyment, while the Lillypot double-boiler offers easy thawing and heating of baby food in ice cube-size slots without having to use the microwave. Both can be purchased on Fressy Bessie's website or from the stand at the markets.
While Kwitko admits that as children get older "you can't control everything," confessing to her daughter's love of sweets, "now studies have come out and say if you feed children vegetables from the first bite, you'll have a vegetable eater for the rest of their lives. If you lay the groundwork well, it pays off in the end."