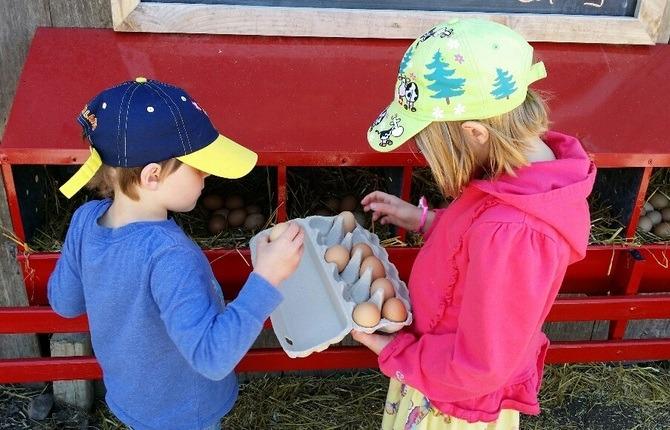 Experience Farm Crawl Hamilton
Pigs and sheep and horses, oh my! Twice a year, local farms in the Hamilton area open their doors and invite the public to explore the rural experience of operating a farm.
In 2011, the owners of ManoRun Organic Farm, Weir's Lane Lavender & Apiary and Lotsa Hostas – Jerry's Berries envisioned an event where they could share their rural experience of running a farm with the public. The following year in May, Farm Crawl welcomed 60 some odd visitors to the three farms and in July, the event attracted three times as many visitors. Held twice a year in May and July, Farm Crawl has continued to gain popularity with visitors and more farms interested in participating.
As a non-profit organization, Farm Crawl Hamilton does charge for admission, but the ticket sales covers the cost of marketing, operating and managing the event. One ticket admission gives you access to all the participating farms for the day. For kids five and under, they're free!
On May 23rd, my kids and I decided to attend Farm Crawl and we had an incredible time. With a map in hand, we spent the day exploring and travelling to four different farms – Weir's Land Lavender & Apiary, Lotsa Hostas – Jerry's Berries, ManoRun Organic Farm and Harrington Lane Farm. Not only did we get to watch piglets frolicking with their mommy, we learnt how raspberries bushes are grown, enjoyed a berry sundae, watched a beehive demonstration, listened to the bleating of sheep and goats, and picked farm fresh eggs to bring home to enjoy for breakfast the next morning. Farm Crawl Hamilton is a great family friendly event and my kids have already asked to go back in July. By the end of the day, we had a true appreciation for the hard work and dedication the farmers have for their business.
Farm Crawl Hamilton's next event will be held on July 18th, 2015.