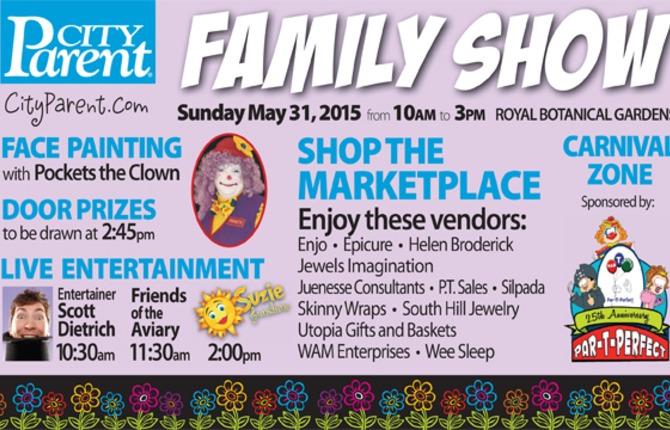 City Parent Family Show at Royal Botanical Gardens
City Parent's Family Show presents everything for families at Royal Botanical Gardens on Sunday, May 31 from 10 a.m. to 3 p.m. featuring giveaways, entertainment, free admission and parking.
Everything for families includes exhibitors offering a chance for parents to check out a variety of family-oriented products and services.
Entertainment for the day features a performance by magician Scott Dietrich at 10:30 a.m., a chance to meet some exotic birds from Friends of the Aviary at 11:30 a.m. and singer Suzie Sunshine entertaining at 2 p.m. Pockets the Clown will be painting faces all day long in the Par-t-perfect Carnival Zone.
As an added bonus, the first 750 visitors will receive a free loot bag and all there will be chances to win prizes throughout the day.
City Parent's Family Show is a fun way to spend the day at Royal Botanical Gardens both indoors and out in the gardens and natural areas. For details call 289-293-0708.
Exhibitors at the show include:
Costco
City of Hamilton (Hooked by Hollywood)
Desjardins Financial
Edward Jones
Hippi-Pops
INCH Research Lab McMaster
Kate Jones and Associates
Kinstruct Health Chirporactic
PAR-T-PERFECT
Primerica
Ross & McBride Law Firm
Schlegel Gymnastics
The Creative Hub
The Purple Puddle
YMCA Hamilton/Burlington/Brantford
Kids & Company