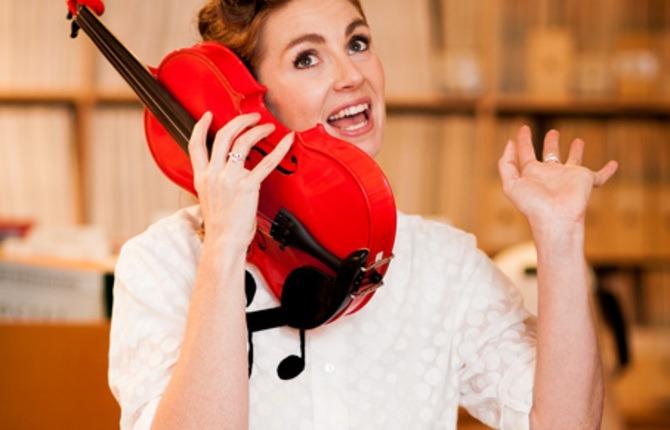 Music & Truffles
By Katelyn Dingman
"The idea is to introduce kids in a fun way to the world of classical music."
Sharing her love for music with children is what drives Music & Truffles new master of ceremonies (emcee) Joanna Kellam.
The Mooredale Concerts Music & Truffles 2015, 2016 program commenced this past November as a shortened classical musical concert catered to children between the ages of 5 and 11.
With five Sunday sessions hosted between November and April, Music & Truffles offers a one-hour interaction performance, where children have the opportunity to explore the realm of classical music through story telling.
"My role is to help the audience and musicians explore music together," said Kallam, who leads the audience through the performance. "We all learn together."
In November, the one-hour interactive version of Music & Truffles included a vivacious violins performance by Nikki Chooi and Timonthy Chooi, with Jeanie Chung accompanying on the piano.
And while these classical performers captivated the youngsters with their music, Kellam led them through the pieces, explaining the characters and conflict while encouraging them to explore the music themselves through active listening.
It's a skill Kellam herself learned at a young age.
Having a pianist father, the Music & Truffles emcee was introduced to famous classical performers like Wolfgang Amadeus Mozart and Ludwig van Beethoven early in life.
"For me, listening to classical music opened a realm of self expression," Kellam said, adding that her goal is to encourage that type of self-expression among other children, whether that means picking up a musical instrument themselves or simply having a discussion about the music they heard.
Despite her desire to get children involved in classical music, Kellam admitted that aside from listening to the music herself from a young age, the art form is still new to her.
Attending the Randolph Academy for Performing Arts, Kellam quickly developed a passion for acting, singing and dancing.
But after graduating, her career took a different path.
"I always enjoyed working with children," Kellam explained, adding that her passion for music and working with children became interwoven when she was given the opportunity to be the Music & Truffles host.
Although the program has been available for more than a decade, the goal with the introduction of the children's interactive series is to continue to expand the audience and provide live classical music to everyone, Kellam said.
The next concert will take place on Sunday, Jan.17.
For more information visit mooredaleconcerts.com