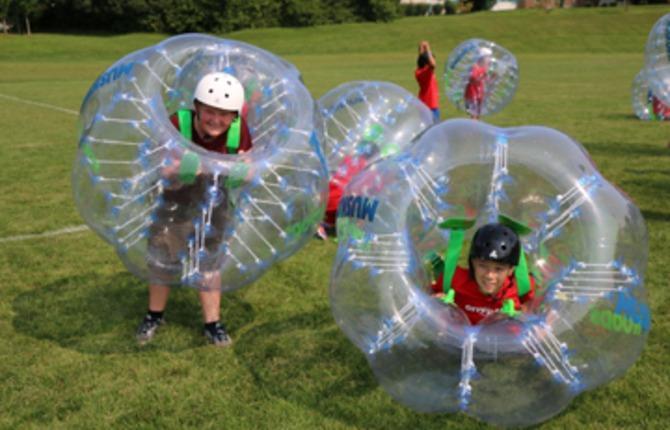 Mobile camp brings the camp experience to the city
By Vanessa Lupton
Can't make it to the lake? Muskoka Wood's new City Camp brings all of the fun to you.
City Camp is a mobile day camp in various neighbourhoods across the Greater Toronto Area geared toward kids between the ages of 6 and 12.
"We have created an unmatched day camp program that can be delivered in any community," said Jackie Carmichael, managing director of programs at Muskoka Woods. "At City Camp, we know every age group has special ideas of what makes camp unforgettable. Our staff ensure each our guests grow, learn, laugh and, most of all, have life-changing fun."
Not your average day camp, City Camp not only helps kids have unforgettable fun, but also offers a wide selection of activities including archery, giant water slides, skateboarding, paintball, arts and teambuilding activities. Learning about nature, and working on creativity-boosting activities makes every day new and exciting.
Launched across the Greater Toronto Area in 2014, this mobile camp proves that the away camp experience can happen anywhere, and that kids can still enjoy the activities that day camps aren't typically able to offer.
"We are thrilled with the warm welcome City Camp has received the past two summers," said Carmichael. "Since introducing the mobile day camp model to Canada in 2014, we have continued to expand our program offering, bringing the magic of Muskoka Woods to more kids. Not every child can make it to our resort on Lake Rosseau. City Camp is all about creating a real overnight camp experience in a day camp format."
With camp locations around the Greater Toronto Area, parents can register their campers for any of the following dates and locations. Visit http://www.muskokawoods.com/citycamp for more information on this fun-filled way for your kids to experience summer.
Newmarket July 4- 8
Stouffville July 11-15
Markham July 18-22
Burlington July 25-29
Oakville Aug 2-5
Toronto Aug 8-12
Oakville Aug 15-19