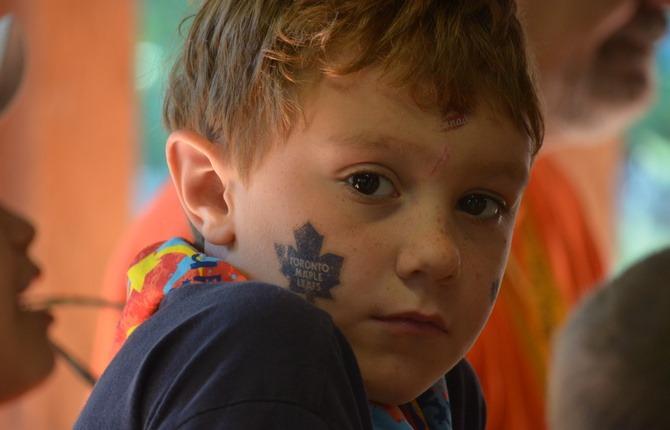 Camp Erin
When I met Sandra Strauss, Director of Camp Erin Hamilton, she was pouring over a fabulous, eight foot, bright purple tree, painted on a large canvas. It was a beautiful tree with lots of interesting branches and twigs. I had to ask what the purpose of this wonderful tree was. Sandra explained, "this is Sasha, the tree of life and an integral part of Camp Erin, the week-end Bereavement Camp for children being held at Camp Wenonah in Muskoka."
Although familiar with "Camp Erin" Hamilton, I wasn't familiar with the day to day routine and talking to Sandra gave me the perfect opportunity to learn more. Sandra explained how this tree would be part of the closing activities at the camp. Each child would immerse their hands in paint and press the imprint on the tree branches, which would represent the leaves. The name of their loved one would be written on the hand print.
Each child is referred to Camp Erin by a Hospice, Doctor, Social Worker or Bereaved Families of Ontario. These children are interviewed with their families beforehand and in most cases the child is quite excited to be going to a camp!
Swimming, archery, wall climbing and bon fires, complete with smores are included and each child receives a colourful tee shirt, head band, flash light and stuffed bear among other things. The children sleep in cabins with one or two adult buddies and take part in only the activities they feel comfortable with.
Camp Erin is a free week-end Bereavement Camp for children ages six to seventeen where normal camp activities are blended with special programs designed for children coping with death. This past camp had forty three children from Hamilton-Wentworth, Burlington, Milton and the Niagara area. A Bereavement Director and Grief Counselor are on hand as well as trained volunteers and Hospice staff to provide support. A month after the camp the children and their families once again meet with the Camp Erin staff to find out how well the camp had been received and to hear comments from the children and their families.
Original seed money for Camp Erin was provided by the Women's Golf for a Cause, at the Hamilton Golf and Country Club. Budds BMW has provided a 2013 BMW 750i to be raffled off at the Kemp Hospice Golf Tournament September 19th. Only 10,000.00 tickets will be sold and we hope to sell enough tickets to support Camp Erin for the next two years.
Sometimes when a death occurs a child's grief can be overlooked. Children are resilient and are often afraid to show their feelings upsetting the adult members of the family. This camp gives children a venue where they can share their grief with others that have suffered the same loss and will allow them a sense of closure.
For more information regarding Camp Erin go to the Dr. Bob Kemp Hospice web page at www.kemphospice.org
Jane Redmond
Volunteer Dr. Bob Kemp Hospice.