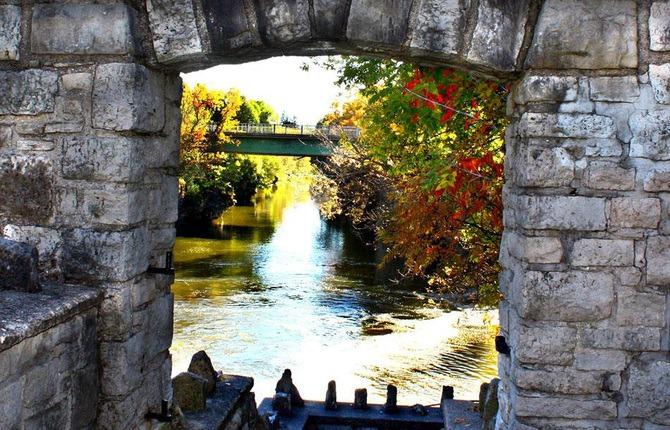 Visit Fergus and Elora or put down roots
By Jane Muller
Just a 20-minute drive north of my home base in Guelph, the Town of Fergus and its close neighbour Elora are familiar territory.
Having visited this area of Centre Wellington Township many times to hike, swim, kayak, shop and dine, would it still be possible to experience it as a tourist? A recent media tour reinforced what I knew of these small towns and revealed even more reasons why it's worth the drive from further away in the GTA. For some it's worth the commute to the GTA as families choose to move to the area for all that it has to offer including fully serviced communities, relatively low home prices and amenities both commercial and natural.
A destination for all ages, the picturesque and powerful Grand River is one of the main attractions. It flows through the heart of both Fergus and Elora, providing water sports enthusiasts, fishers, photographers, nature lovers and tourists with opportunities for everything from kayaking, white water tubing to zip lining and fly fishing. Grand River Conservation offers Elora Gorge Park with incredible river views from trails and outlooks, Belwood Lake with boating, swimming and fishing and Elora Quarry, with a two-acre swimming hole carved out of limestone and surrounded by towering cliffs and parkland.
In an urban setting, the river that once powered mills, provides a natural backdrop and amazing views from riverside eateries, bridges, parks and even, in the case of Fergus, from the deck at the back of the public library. Built in 1911, it's one of the 2,509 libraries built with funds from American tycoon Andrew Carnegie.
An extensive renovation in 2014 successfully and respectfully brought it into the current century. It's definitely worth a quick visit while exploring downtown along St. Andrew Street. Head to the back of the second floor on the riverside to visit the deck complete with bright red Muskoka chairs. In the lounge at the opposite side, check out the set of antique chairs with carved dog heads on the arms that surround a matching communal table positioned near a gas fireplace.
For a much closer look at the river, descend the limestone cliffs down the stone stairs of Templin Gardens, the centerpiece of downtown Fergus. Built in the late 1920s by John C.Templin, owner of the local newspaper, the gardens feature a stone archway, stone walls, viewing platforms and lovely gardens. The stairs are closed during the winter but the magnificence of the structures can still be enjoyed.
A nearby footbridge provides another vantage point for river views and leads to Fergus Marketplace on the River, a historic building circa 1870, that once housed the Beatty Brothers foundry, machine shop and farm implement manufacturing business. Today it's home to several retailers including Fraberts Fresh Food Market that features delicious local, freshly made food and food products.
The edible offerings at the Scottish Corner Shop on St. Andrews Street could also be deemed local. This community, with deep Scottish roots celebrates annually with the Fergus Scottish Festival and Highland Games held this year Friday to Sunday, Aug. 11, 12, 13.
Another nod to the British Isles, Bentley House Fine Teas and Tea Room, is a St.
Andrew's Street highlight. Known for scrumptious scones, a staple of afternoon tea and served with Devon cream and homemade jams,the tea room is a loose leaf tea treasury featuring dozens of varieties, more than half of which are blended locally. A varied eat-in and take-out menu includes homemade soups, freshly baked breads, meat pies and gourmet sandwiches.
As in a Scottish town, there's a downtown pub or two. With pub grub and a bounty of brews on tap, The Brew House on the Grand gives the impression that it has always occupied the historic riverside building. Originally a tannery, Dr. Abraham Groves, for whom the local hospital is named, converted it into a flour mill and later, in 1890 shared the power generated by the river to provide electricity to his hospital, the lights along the main street and several businesses.
Serving the west end of the main street is the Fergusson Room Pub at the historic Breadalbane Inn where our group happily spent the night. An impressive example of Scottish architecture, the charming inn features 11 suites, a four-suite ca
rriage house, the pub and the Scozia Italian Restaurant for fine dining. Breakfast in the conservatory is an added treat.
Just a short cab ride away, downtown Elora boasts quaint shops and eateries along the river and main street and a few pubs. With its stone walls and hip industrial inspired décor, complete with a mezanine, you'd never guess that Elora Brewing Company is located in the former Home Hardware store. Its craft beer is served along with a tasty menu of locally sourced food, live music on occasion and the Friday night that we were there, a DJ that had us up and dancing.
Scottish dancing music was found down the hill at the riverside Shepherd's Inn. Patrons can expect an entertaining, toe tapping cèilidh as well as a variety of brews on tap.
There are more than a dozen restaurants from which to choose and a year from now a former pillar of Elora dining and hospitality, the Elora mill will reopen under new ownership. Pearle Hospitality, which oversaw the renovations of old mills in Cambridge and Ancaster, is doing the same in Elora, turning the mill into a 23-room boutique hotel, featuring a restaurant and a spa. The second phase of the five-year, $120 million project includescondominium residences, a retail "village" and additional hotel space on thesouth side of the river, linked by a glass-enclosed pedestrian bridge.
The Elora Mill & Spa will provide first-class accommodation for visitors including those who take in the annual Elora Festivalsummer concert series that celebrates classical, folk, pop and jazz music with Grammy and Juno award-nominated artists. Nearby, Guelph Lake is home to the three-day Hillside Festival that for 33 years has presented innovative music, children's entertainment, food and more. This year's festival runs July 14 to 16.
Meanwhile back in Fergus,the Grand Theatre as been a fixture on St. Andrew's St. since 1928. Originally a movie theatre, today it's a premier live performance venue offering a diverse line up of events. This fall, theatre manager and Fergus native Eric Goudie will produce an original offering for the stage to complement performances like "Alice in Wonderland", "The Sting" and various tribute bands.
Fergus natives can also be found running the family businesses at Broderick's Apparel for Men, Fashions for Women that started back in 1976 by Tom Broderick. It's now owned and operated by A.J. and Karalee Broderick and continues to offer quality apparel that has kept customers coming back for decades. In true small town form, downtown merchants aren't only friendly, they are likely to know the locals who shop there.
No secret to locals but certainly a surprise to me is Fergus Tandoori Grill, serving fine
Indian cuisine. The food is fantastic but what will also bring me back is the staff. Our waiter was both helpful and hilarious, contributing to the welcoming atmosphere of this small town, downtown restaurant.
The small town vibe is evidence that despite residential growth, the foundation of the town is as solid as the limestone buildings that lend character to the downtown and established neighbourhoods. A national historic site, Wellington County Museum and Archives is the official harbinger of local history that is hinted at during a visit to Fergus and Elora.
Visitors that decide to become residents have a new development to consider. MacPherson's Strathlea Fergus has a limited number of single homes available.
"With home prices at a record high in the GTA and surrounding areas, buyers are now willing to commute to a location that is less expensive. Phase Four is a great opportunity for first time home owners who haven't been able to afford a home elsewhere, while the larger homes in previous phases are ideal for those who want to make a lateral move and pocket additional cash," says Strathlea General Manager Lynn Pasquale.
"Not only can buyers get a gorgeous home in a superior, established community, they can also enjoy the benefits of living in a welcoming, tranquil town with easy access to the amenities of larger centres, all at an affordable price point."
The new development is located on the north side of the street where two of my nieces live. They grew up just south of Fergus on my brother's 10-acre rural property. Another of his brood also lives in Fergus with her husband and two teenage boys and the youngest of his kids is set to move to Fergus with his wife and two little boys this summer. Incidentally, almost everyone we met on our downtown Fergus tour knew one of my home-grown relatives. Now that's a small town and one that I'm glad to have gotten to know better.
Photo credit: Zak Whitford – Templin Gardens river view