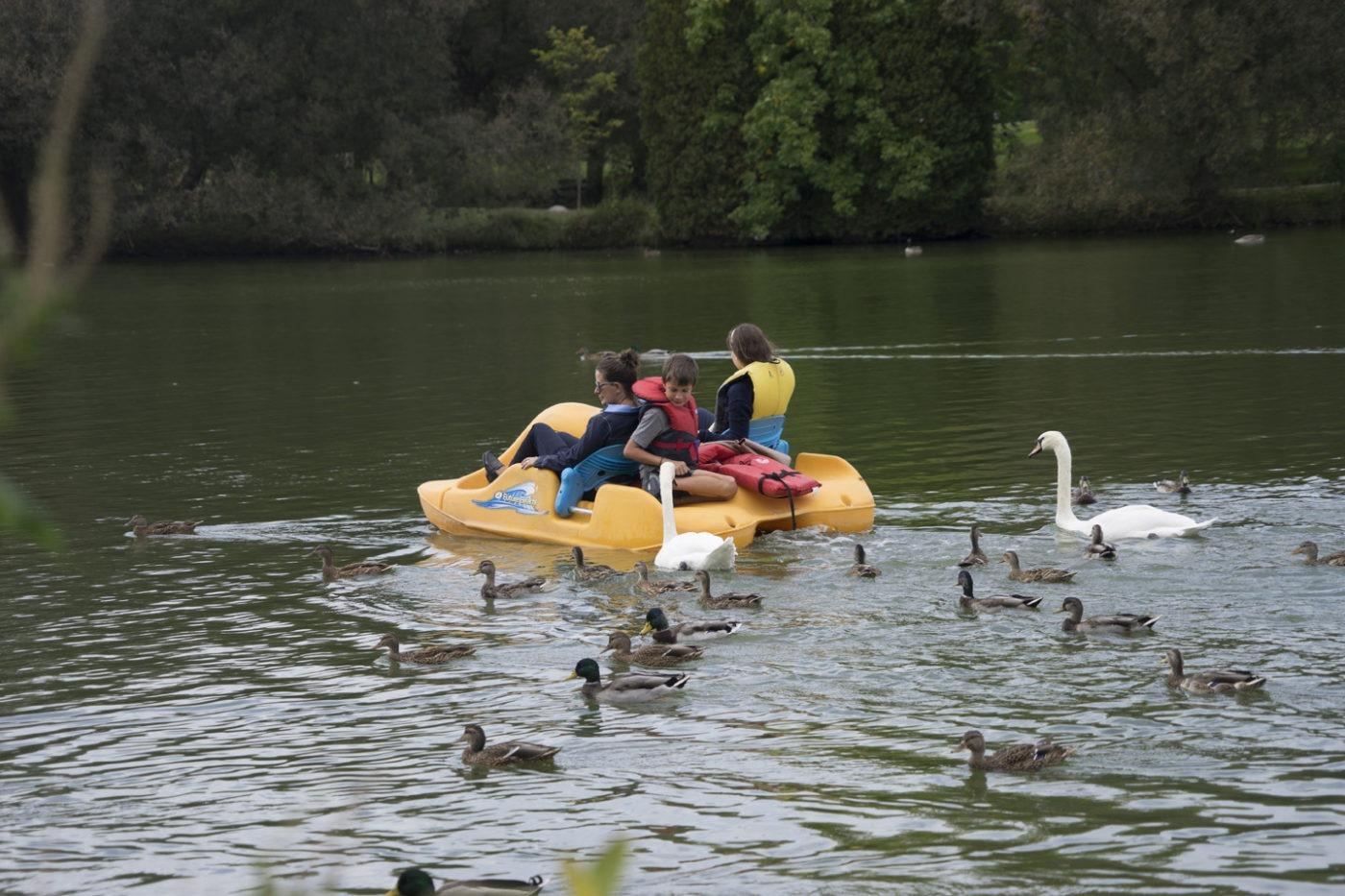 Twelve things your kids will love about Stratford
By Anne Bokma
There's something delightful about sitting in one of Canada's preeminent theatres and listening to hundreds of school kids enthusiastically chant, "Fifteen men on the dead man's chest. Yo-ho-ho, and a bottle of rum!"  It's a far cry from "Death of a Salesman", the usual adult fare staged at the Stratford Festival's Avon Theatre. Treasure Island, Robert Louis Stevenson's classic tale of pirates and buried treasure, is just one of the reasons families are making their way to Stratford this summer.
At Stratford, the play's the thing, of course. Our family managed to fit in four during a recent two-night stay: "Treasure Island", the Gilbert and Sullivan operetta, "HMS Pinafore", the 1950 Broadway hit, "Guys and Dolls", and Shakespeare's tragic teenage love story, "Romeo and Juliet".
But Stratford offers plenty of attractions for young people beyond the stage. Here are some of our faves:
Homemade cinnamon buns at Revel: This bustling coffee shop is run by the warm and welcoming Anne Campion, who serves tasty fresh baked goods from an open kitchen. (Tip: Go halfsies on these big buns and you'll still satisfy your sweet tooth.)
Thespian sightings: We spot Juliet (aka Sara Farb) sitting at the window of Revel sipping a latte. That night we'll watch her bury a dagger in her chest in Romeo and Juliet, but today she graciously poses for a photo with my two teen daughters.
Buskers at the Avon: Musicians are a longstanding tradition on the steps of Downie Street's Avon Theatre — it's where famous Stratford-born superstar Justin Bieber got his start.
25 ways to satisfy chocolate cravings: The Savour Chocolate Trail ticket was a big hit with my kids. For $25, you can wander all over town in search of six chocolate tastes from 25 local businesses. Best bets: the world famous mint smoothie bar from Rheo Thompson, truffles from Chocolate Barr's and a handcrafted chocolate cupcake from Kandy Cakes.
The cats at Watson's Chelsea Bazaar: Cats have been a longstanding attraction at this fifth-generation family business that offers an eclectic range of housewares and gifts. We popped in to pet Miss Larry, a resident feline for 16 years.
The dog at The Barkery: We're greeted enthusiastically by Tierra, a rescued Pedenco Canario, at this healthy bakery for dogs (where products are made with no artificial flavours or food colouring). We pick up a large wheat-free peanut butter bone cookie to bring home to our mutt, Darcy.
A cooking class at the Stratford Chef School: I finally get some help in the kitchen while we slice and dice together during a soup-making class under the expert direction of chef Ian Middleton. Want to make super stock? Skip the wilted greens and use only fresh ingredients, advises Middleton. And ban the bouillon cubes. (Note: There are a lot of sharp blades in this industrial workspace — most classes are geared to kids 16 and older.)
Releasing your inner Picasso at Gallery Stratford: I've been visiting Stratford for more than 30 years and never knew it had it's own art gallery, set in a wooded property just outside of town. The gallery hosts free family art sessions on Sunday afternoons. During our visit, our kids are taken with the whimsical installations of local father and son self-taught artists, Ed and Mark Czajkowski. When curator Angela Brayham tells us about Ed's nearby property with 100 sculptures and colourful mobiles tucked behind a grove of trees on a nearby country lane, we go for a drive to check it out.
A family-friendly room for the night: Stratford boasts lots of quaint B&Bs and cozy boutique inns. The Bentley Inn, with its two-level suite (twin beds on top and a queen below) works perfectly for our family of four. There's free parking, we can walk to everything and the huge pub-style eatery on the main floor serves up everything from grilled cheese to ravioli.
History lessons at the Stratford Perth Museum: This charming museum has a number of displays, including Inuit art on loan from the Art Gallery of Ontario, a pop-up display detailing the mysteries of the Franklin expedition, a dazzling display of masks from the Stratford Festival and Treasure Island-style costumes and props. A scavenger hunt links the exhibits together.
Sweet and savoury crepes at Pavillion Coffee & Crepes: 23-year-old Paul Paptolikas runs one of the best breakfast spots in town, featuring ample crepes assembled right before your eyes. The Florenzia, made with chocolate hazelnut and strawberries, is a particularly tasty concoction.
Feeding the swans: Next to Shakespeare, swans are the most recognizable symbol of Stratford. These majestic birds have been gracefully floating on the Avon River like privileged royalty ever since a pair was gifted to the city in 1918. We resolve to come back next April when 10,000 locals and tourists follow the feathery herd as they waddle their way from winter pens into the Avon during the grand Swan Parade.
Now that's a sight worthy of the stage.
Plan your trip: http://www.visitstratford.ca/