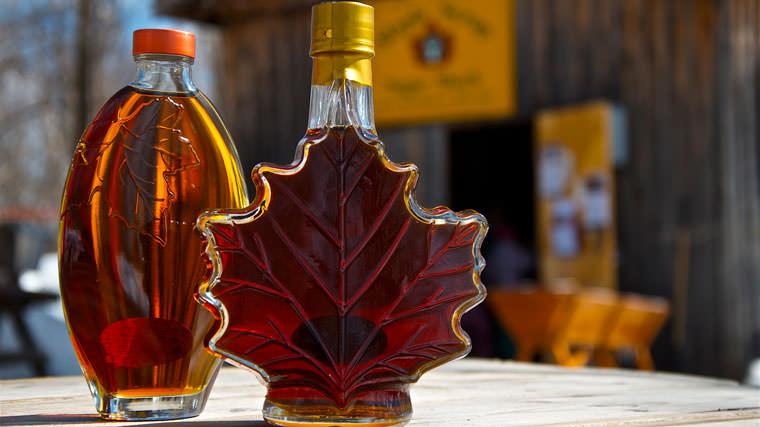 The Sweet Spot: Experience Maple Syrup Season in Muskoka
By Andrew Hind
The nights remain frosty and snow still blankets the ground, but the daytime sun has a special warmth. Icicles drip as they melt, streams begin to run and birds sing a happy song. It's that in-between time that nestles uncomfortably between winter's harsh embrace and the invigorating, life-giving arrival of spring.
It is maple syrup season, an annual tradition in rural Canada and a favourite for families eager to experience the taste of spring. There's no better place to experience the joys of this uniquely Canadian season than Muskoka, thanks to the Muskoka Maple Trail (www.muskokamaple.ca) and its 30-plus participating businesses, ranging from resorts and sugar bushes to restaurants and bakeries.
Here's how to hit the sweet spot in Muskoka this maple syrup season.
Stay
You can't do better than staying at JW Marriott The Rosseau Muskoka Resort when engaged in an exploration of region's sweet attractions. In keeping with a focus on local produce, the resort's kitchen uses locally manufactured maple syrup in a selection of delicious maple-inspired dishes specially crafted for this brief season. Maple syrup isn't just for drizzling over pancakes and waffles anymore.
"Maple syrup is very different from store bought syrup. They're not even comparable," explains Executive Chef Shaun Crymble. "Maple syrup is graded into four classes based on color and flavor, ranging 'golden, delicate taste' to 'very dark, strong taste.' We use a golden maple syrup in our cooking."
Pull yourself away from the table and Crymble's delicious maple-inspired dishes long enough to head outside. Follow the scent of wood smoke on the breeze to a bonfire crackling outside a prospector's tent. Here, you'll learn the process behind the maple sugaring process as performed by Muskoka' settlers, for whom it was an important annual task. Unlike today, comparatively little maple syrup was produced; instead, settlers used sap the sap for manufacturing maple sugar because cane sugar, which had to be imported from the Caribbean, was expensive.
With gorgeous views of Lake Rosseau, an indoor-outdoor heated pool, and soul-soothing spa, it's easy to get lulled into a sense of tranquillity at JW Marriott The Rosseau Muskoka Resort. Take leave of the comforts for just a few hours to sample what other maple delights the region offers.
Maple Trail
Throw on a jacket, hop in the car and head out on the Muskoka Maple Trail, which features more than 30 stops across the region that have embraced this sweetest of all seasons (a full list of participants can be found on the website). Stop at Muskoka Lakes Farm and Winery for their signature maple-inspired Bog to Bottle Tour to discover the secret behind their Red Maple Dessert Wine and sample maple-inspired hot bevvies. Local breweries have jumped on the maple bandwagon as well with limited edition craft brews. Events continue from March 9 to April 20.
You gotta eat. A number of restaurants take part. Three Guys and a Stove in Huntsville serve up sinfully good charred pork back ribs with their in-house Muskoka Maple BBQ sauce. Good news—you can buy a bottle to take home with you. For dessert, make a beeline for nearby Affogato Café and Gelato. You'll be torn between maple meringues and maple gelato. Or do what I did; get both.
Sugar Bush Tours
A highlight of any Muskoka Maple adventure is a visit to a working sugar bush, where you'll discover the maple harvesting process, from tap to table. Incredibly, it takes 40 to 50 litres of sap to create one litre of syrup.
Trees have been tapped at Brooklands Farms near Milford Bay since 1876, and the sugar shack is at least a century old. The flavour of Brookland's syrup is unique, attributed to the fact the sugar bush is on rocky ground surrounded by swamp, which has resulted in the sap being high in mineral, potassium and sodium content.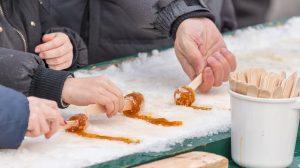 The largest sugar house in Muskoka is Sugarbush Hill, near Huntsville (which, incidentally, supplies JW Marriott The Rosseau Muskoka Resort). Owner Tom Stehr is something of a maple harvesting historian and regales visitors with endless maple facts and anecdotes.
'We're carrying on a tradition that dates back hundreds of years", he says, standing amidst the collection of historic maple syrup artifacts lining the walls of his sugar house. "Native legend says an Iroquois chief pulled his hatchet out of a maple tree where he had left it. The sweet sap trickled down into a birch bark bowl that was leaning against the tree, and that's how the native people learned to harvest maple sap."
Muskoka Maple Festival
The grand finale of the sugar season and the Muskoka Maple Festival takes place in Huntsville on April 25 (9am-5pm, admission $5, children 12 and under free). The Muskoka Maple Festival is an embracing of all things sweet and savoury, a family-friendly event that sees thousands descend on Main Street to celebrate spring. Almost a dozen local maple syrup producers converge on Huntsville to sell their wares at the Maple Market. Save lots of room as a plethora of local restaurants, bakeries and cafes serve up maple-inspired dishes and desserts.
Other attractions competing for your attention is an all-day pancake breakfast, live music, a beer garden, magic acts, arts and crafts vendors and, perhaps most thrilling of all, Tim Burr, a lumberjack entertainer who juggles chainsaws, rolls logs and balances axes on his nose.