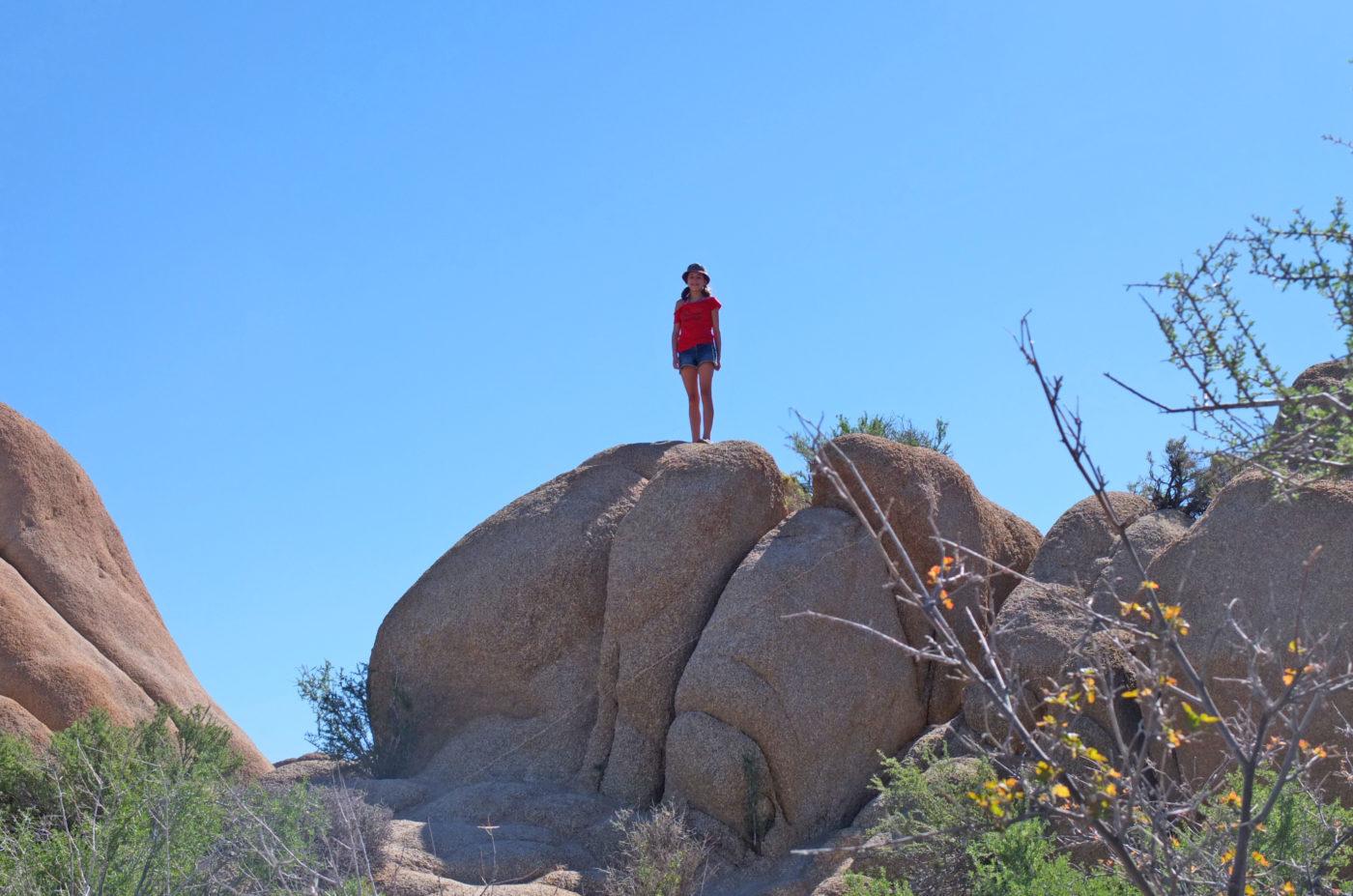 The California Desert with Family
By Diana Ballon
The desert has that expansive barren quality that makes me feel small and insignificant, like how kids probably feel much of the time, except I'm all grown up.
In California, it's a place where flat beige land bumps up against steep mountain ranges far off in the distance.
I love the desert and I hate it. I hate feeling small but I love being around something so impressive. After seeing pictures and hearing about Joshua Tree through the Irish rock band U2's infamous album of the same name, I was determined to go.
So this spring, we chose Palm Springs and Joshua Tree for the kids' March break. It's an easy trip, with direct flights to Palm Spring from Canada. And it combines a bit of everything that the four of us with diverse needs and interests might want. There's civilization in the town and surroundings of Palm Springs, and desert stillness and a quirky and artistic vibe in the nearby town of Joshua Tree.
Our family desert trip took us from hotel pools to a rotating tramway in the sky, to stark desert and bold mountains and quirky museums and cool restaurants. Here are some highlights.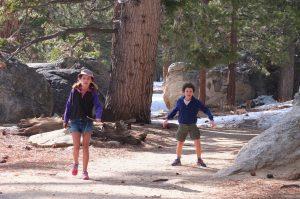 Palm Springs
The city of Palm Springs is part kitsch, part luxury, and a place of juxtapositions with sleek mid-century modern and mission-style buildings. Families like us are attracted to this place for the styley hotels with the awesome pools, warm climate, access to nature and the many desert attractions.
Hotels
Our first base camp here was the Palm Mountain Resort & Spa [www.palmmountainresort.com], a reasonably priced 142-room hotel that was like a little oasis. It was only a block from Palm Canyon Drive in the centre of town, and minutes to the Palm Springs Waterpark. But still, it was quiet: In the evening, we could have drinks around a firepit on the patio of our junior suite. And by day, we could enjoy the pool, with the San Jacinto Mountains as backdrop.
We also stayed at the V Palm Springs [http://vpalmsprings.com], which was a little further from the action, but accessible to the city centre via a free old-fashioned tramcar, the Buzz, that operates Thursdays through Sundays. It had a great poolside bar with tapas, and a small gym.
Restaurants
We discovered some great restaurants in town, but our favourite was Johnny Costa's [http://johnnycostaspalmsprings.com], an old school classic Italian restaurant reflecting the nostalgia of Palm Spring's Hollywood era from the days of Frank Sinatra and the Rat Pack—with comfy banquettes, white tablecloths and Italian music. The highlights from the meal were the antipasto, a seafood dish with clams and mussels, Caesar salad, veal parmigiana and spaghettini in a marinara sauce.
We also enjoyed very different cuisine at the Río Azul Mexican Bar & Grill [http://rioazulpalmsprings.com], which served guacamole, prepared tableside, an outstanding sopa de albondigas (meatball soup), delicious cochinita pibil (slow-roasted pork) and enchiladas del mar (seafood enchilada).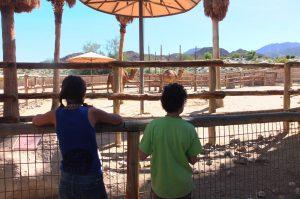 Attractions
The Living Desert in nearby Palm Desert is a zoo and gardens with cool scheduled activities throughout the day. When we were there, this included watching a cheetah run (they're egged on by some strategically thrown raw meatballs), and "chats" about wart hogs, hornbills, pronghorns and other animals from either the North American or African desert.
We also took the Palm Springs Aerial Tramway [www.pstramway.com], an 11-minute rotating tramway that quickly ascends to a height of 8,516 feet above sea level. Step out, and you are in Mount San Jacinto State Park. Here the temperature is 30 to 40 degrees cooler, so we actually walked through snow on our scenic 1.5 Desert View Trail, with five lookouts of the valleys below.
The desert
Leaving the town, we passed fields of wind turbines, which power thousands of the city's homes, we travelled for miles along Twentynine Palms Highway, surrounded by sage green and grey of desert, and passed some pretty quirky signs like the ones that said, "Dig your own cactus  – 69 cents."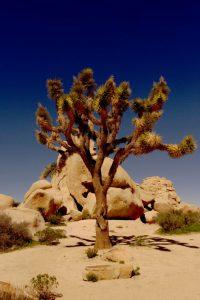 Onto Joshua Tree National Park
Before hitting the park, just under an hour's drive away, we stopped for the Hungry Cowboy breakfast at the Joshua Tree Saloon—a classic old time saloon where famous patrons like Johnny Depp and Johnny Cash once ate.
We then headed to Joshua Tree National Park, a park both majestic and singular. With more than 792,000 acres, you can pass through the Mojave, where you'll see miles of the twisted, spikey Joshua trees that this areas is known for, and the Colorado Desert, which is part of the Sonoran. With the backdrop of mountains, we drove to various pullouts, stopped the car, and took time to explore. The kids climbed massive boulders and ran along narrow dusty paths. My husband set up his tripod. And my son made a hat out of newspaper to protect him from the sun's glare. We passed campers with their tents pitched in the shade of a mountain, and rock climbers carrying mats folded on their backs.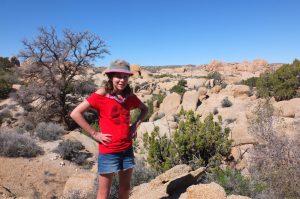 The town of Joshua Tree
After the openness of the desert, we explored the town and its rather unusual "museums"—no entry fee required.
There's the Beauty Bubble Salon and Museum, which—as its name implies—is a combination hair and beauty museum and hair salon. Its owner Jeff Hatler, America's self-proclaimed "hairstorian," showed us around his Lustre Cream Lounge—with a wall of framed Lustre shampoo ads from the forties and fifties, and handed me his "business card," a small black comb.
Then we went next door to the "World Famous Crochet Museum," (sharielf.com/museum) where all things crochet (poodles and "more cute things" collected by artist Shari Elf) are crammed into what was once a drive-through photo mat booth. Elf also sells fun silk screen clothing: it's definitely worth a visit!
And finally, after some false turns, we finally happened upon the Noah Purifoy Outdoor Desert Art Museum. Its remoteness and the dramatic landscape that surrounds this outdoor "museum" is really what both alters and defines the art pieces. Completely alone, we wandered around the dozens of large environmental structures on display made out of garbage, rusted metal, burnt wood, old toilets, blown out tires and other found objects.