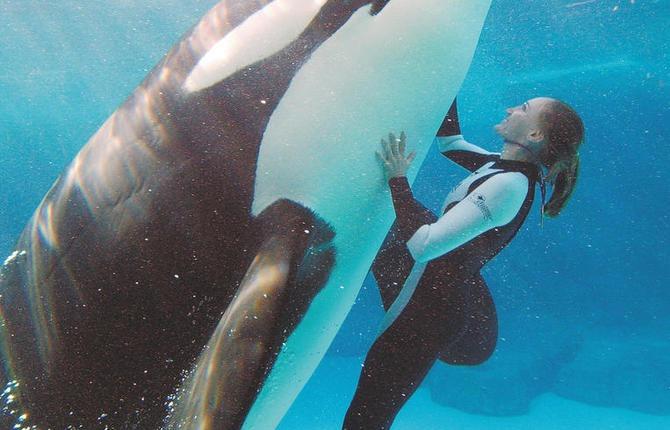 Super San Diego
Vacations are meant to give us a break from the usual routine, a chance to recharge and reconnect with our family. While we crave rest and relaxation, a destination vacation should be all about discoveries. So as tourists we are actually explorers, even though our discoveries are new only to us.
Certainly LEGOLAND® in Carlsbad just outside San Diego, California has been discovered and explored by millions before us. For the past four years it's been voted Best Children's Park in Amusement Today, a monthly trade newspaper, receiving the auspicious Golden Ticket Award. Despite the fact that our two sons have been LEGO fans since they were old enough not to put small pieces in their mouth, we were only vaguely aware that this amazing land of all things LEGO existed. The San Diego Zoo and SeaWorld – we'll get to these gems later – are more prominent on the attraction radar when it's aimed at this treasure of the California coast.
LEGO bricks are foudation for fun
Within minutes of walking through the gates, it became imperative that we spread the word about this celebration of all things LEGO. If images of various lands depicted in LEGO bricks come to mind, you're picturing just one of the building blocks of this 128-acre family theme park. Miniland USA is impressive – jaw dropping in fact – especially when one considers the thousands of hours and millions of tiny bricks that go into the creation of mini cityscapes including Washington D.C., New Orleans, New York City, Florida, San Francisco and the Southern California coastline. The latest, which was about to open when we visited last March, recreates the famous Las Vegas strip.
The street level of these tiny cities is reproduced in slightly larger scale to match the size of the people on the street, allowing a better view of the action. You also get a glimpse of the designers' sense of humour. At street level of a New York City building the view is a washroom with an occupied stall. In New Orleans at Lafayette Park, there is a baseball game in progress, and the coach of the winning team is about to get soaked with a cooler full of Gatorade! Meanwhile in downtown Washington, disaster is averted every few seconds as a worker who pops out of a manhole retreats just in time to miss being hit by a Miniland vehicle. To be part of the action, for a small fee, you can even navigate your own mini boat in the LEGOLAND Marina.
You'll recognize busts of historical figures and pop icons along the Miniland USA Block of Fame. No marble or bronze here though – just those amazing little bricks. Climb into an open boat for the Coast Cruise, a relaxing journey along the lakeshore and past world landmarks. At the Model Shop you can see LEGO Master Builders at work.
There are more than 50 rides, shows and attractions spreading out beyond Miniland, featuring themes like those found in LEGO building kits. Pirate Shores, Knight's Kingdom and Dino Island are larger-than-life recreations of ships, castles and prehistoric creatures that we're used to seeing on the floor of the family room. There are rides for thrill seekers and the cautious and each is uniquely LEGO.
Park promotions claim that heroes are wanted. Here, kids take on the roles of the little Lego people who get to put out fires, drive racecars, explore jungles and battle pirates. The boys in my family – that includes my husband and two sons – raced against other teams of firefighters to move their giant Lego fire truck along a strip of road to the ''burning'' building and douse the flames with water. It takes muscle power to move the truck and to pump the water and good aim with the hose to come out at the top of the hero heap.
The Volvo Driving School has kids racing around the streets in cars that look like the ones they are used to pushing around with their hands, a LEGO guy is at the wheel. Our sons, Ben and Sam, logged three races during our day at the park.
Get wet if you want to
In sunny California you'd expect to find some wet fun and that's what Water Works, an interactive water play area provides. The musical fountain where you hop up and down to make the instruments play is a blast. There are other ways to get wet at Legoland including the Splash Battle at Pirate Shores where teams man water cannons in their boats. Treasure Falls, a mini-flume log ride is good for a splash. Same goes for the Aquazone Wave Racer that puts riders in control of a water racer in the Imagination Zone. Bathing suites are required for Soak-N-Sail Pirate Shores with its 60 spraying and squirting devices. The tamer version for little kids is Swabbies Deck that has water jets and fun fountains.
You'll be high and dry in Knights Kingdom, home to one of the most unique rides I've seen. The Knight's Tournament is a robotic arm that takes riderx through twists and turns that only a robotic arm could accomplish. You choose the intensity of your ride experience, which includes crossing a medieval moat. Back on the ground, children can make like knights and ride a LEGO horse through an enchanted forest, complete with jousting LEGO knights.
Where LEGO comes to life
In Dino Island, Coasterasaurus twists and climbs around animated, life-sized Lego brick dinosaurs. Who needs live lions when they can be recreated with LEGO in the African-themed Safari Trek that's part of Explore Village. This area is geared to younger children and includes a play area as well as leaf-shaped boats that sail town FairyTale Brook. You can guess what the fairy tale scenes are made of.
Of course the park has to have a LEGO build sight stocked with tens of thousands of LEGO bricks for guests to get their hands into. The Big Store, that boasts the largest selection of LEGO product in the USA, as well as 24 other shops and retail carts throughout the park, will guarantee you leave with some LEGO loot. You'll find some pretty good eats at restaurants like Ristorante Brickolini or Knights' Table Barbecue but no matter where you eat, save room for dessert or a snack of Granny's Apples Fries. Do not leave Legoland without trying these battered, finely sliced Granny Smith apples that are fried until deliciously crisp, dusted with cinnamon sugar and served warm with a creamy vanilla cream dip.
Here's another insider tip. There are some truly exciting shows like the LEGO Racers 4D movie but you might take a pass on the more sedate-sounding ventriloquist show. This would be a big mistake. Stop by the Playtown Theater where Master Ventriloquist Kevin Johnson had us howling. Plan to take break and take a seat at Playtown Theatre where he stars in Comedy for Kids along with puppets Clyde and Matilda.
Book a lunch date with Shamu
You can't visit San Diego without exploring the home of Shamu, the famous killer whale. SeaWorld is the city's leading tourist attraction and shows like "Believe'' and ''Shamu Rocks,'' a nighttime show added last year, form the foundation of this top-notch marine park. You really have to see ''Believe'' to believe the multi-media show that makes the majestic whale performers even more amazing. Get more Shamu at the Close Up Pool or join the whales for lunch. The Dine With Shamu adventure gives diners a close encounter with Shamu and his trainers.
At SeaWorld the thrills have more to do with the park's inhabitants than the rides. Still, you can satisfy your need for action on the Journey to Atlantis that begins as a quiet boat ride and escalates as you encounter waterfalls that drop up to 60 feet. There's nothing sedate about the raft ride provided by Shipwreck Rapids either. Both of these are included in park admission and for the low price of $3 per ride or $5 for two rides you can glide up the Skytower for a spectacular view or check out Mission Bay from a seagull's vantage point on the Bayside Skyride.
While Shamu is SeaWorld's shining star, the supporting cast has plenty of sparkle. Admiral Biggenbottom the walrus delivers an unforgettable performance as the star of ''Clyde and Seamore's Risky Rescue''. The admiral is supported by mischievous otters and the crew of the USS Motley in a comedy with some hair-raising special effects. Arrive a half-hour early for some pre-show antics.
As much as we enjoyed the walrus on stage, it was our behind-the-scenes visit to the walrus enclosures that made the biggest impression – big being the operative word. SeaWorld offers a selection of animal interactions available for an extra fee. The Pacific walruses are part of the Wild Arctic Adventure tour. We were close enough to feel the full force of a walrus snort that packed more than enough wind-power to blow my hair back from my face. He seemed quite huge enough but our guide said he'd put on another 500 pounds over the summer. He already weighed about 2,000 pounds and was close to 10 feet in length.
We had just a taste of this adventure that would normally include donning a wetsuit and getting into the pool with the beluga whales. We fed and touched these white wonders from the edge of their pool instead.
Regular park admission gives visitors a chance to actually touch and feed some of the park inhabitants. Check out the feeding schedule in the morning when you arrive so you can be at the right place at the feeding time. California sea lions and harbour seals welcome visitors to Pacific Point with open mouths. Dolphins seem to enjoy their encounters with visitors, especially when they are tossing fish their way at Rocky Point Preserve. Here you can learn about bottlenose dolphins and California sea otters by observing them from an underwater viewing area.
We returned several times to the California Tide Pool, where you can reach in and touch an assortment of sea stars, sea urchins and other amazing inhabitants of this bountiful part of the ocean. At the Shark Encounter you'll be happy that you can't reach out and touch the sharks as you move along a 57-foot acrylic tube that runs through the habitat shared by sharks, rays and tropical fish. It's as close to deep sea diving as you can get without getting wet. Two other excellent aquariums bring more aquatic wonders into view.
Experience some SeaWorld extras
All that SeaWorld has to offer for the price of admission is incredible. The extras that range in price from $40 per person for a 10-minute dry land interaction with dolphins to $495 for the Trainer for a Day program (ages 13 and up) take the experience over the top.
We'll never forget having a dolphin lay in our arms as part of the Dolphin Interaction Program. For ages 6 and up, this program gets you in the water with the dolphins for 20 minutes after a 30-minute class that teaches dolphin anatomy, training and husbandry. The cost is $150 plus park admission so you might want to budget for the keenest member of the family. This experience was especially impressive for the budding marine biologist in our clan who loved signaling ''our'' dolphin to perform some of its trained behaviours.
The $40 Dolphin Encounter provides a great opportunity to touch, feed and make like a trainer. A lot is covered by the trainer-guide during this 10-minute session. We witnessed an ultrasound being performed on a dolphin that they were hoping was pregnant – she was. Hope we can get back there sometime to meet the new addition.
No doubt you've heard of the San Diego Zoo but you might not have heard of Balboa Park. The famous zoo is located in this exceptional urban cultural park, the largest in the United States. I'm certainly not the first to liken it to the Smithsonian; in fact it's called the ''Smithsonian of the West'' due to the close proximity of its 15 museums.
We concentrated on the museums during our brief visit to the park so you will have to count on the positive reviews of millions of zoo visitors. The 100-acre San Diego Zoo is known for the natural settings where 4,000 animals reside. Polar bears are the most unlikely residents of this sunny land but they thrive at the Polar Bear Plunge that features underwater viewing. Orangutans and siamangs inhabit the Absolutely Apes section and you can meet four pandas at the Giant Panda Research Station. Younger children will want to check out the children's zoo as well as exhibits of elephants, tigers, giraffes, reptiles and a most interesting loaf of bread that is home to mice. The walk-through aviaries are highly rated as well. It's a good idea to download the zoo map from www.sandiegozoo.org so that you can organize your visit in advance.
If you want to tour a couple of museums and the zoo in one day, it is possible with some planning. Do the zoo first since it opens at 9 a.m., before the museums. Conserve energy by taking the guided bus tour and an aerial tram ride then pick a couple of museums. Our museum selections were prioritized based on our interests but it was still hard to decide. Keep in mind that we have two sons, which might explain why we explored the Air and Space Museum, the Automotive Museum, the Hall of Champions (sports museum) and the Natural History Museum.
The Hall of Champions and the Automotive Museum are not very large so we managed to get through them fairly quickly while still absorbing much of what they had to offer. The Air and Space Museum was more extensive as was the Natural History Museum and both were well worth the time spent. All of these museums were within walking distance of each other and what a pleasant walk it is through this beautiful park. There are fountains, statues, examples of diverse architecture, lovely gardens and close to 16,000 trees. With young children in tow, you can explore a museum and then let them run wild for a bit, and perhaps have a picnic on the grounds before heading to the next one on your list.
Aircraft Carrier is a floating museum
Here's something that you might no know about San Diego. It was one of the world's largest navy ports and the cradle of naval aviation. So that's why it makes perfect sense that the USS Midway, home to the San Diego Aircraft Carrier Museum is berthed at the revitalized downtown waterfront. As much as I wanted to visit this floating tribute, the men in my life were way more enthused and they weren't disappointed.
There is no doubt that exploring the longest-serving carrier in U.S. Navy history at the side of ''Mr. Midway'' Scott McGaugh made this experience even more memorable. The museum's marketing director, McGaugh was involved in the creation of this cultural attraction and education centre from the beginning. He's the author of the only book on the Midway titled Midway Magic. He is passionate about the Midway, those who served on it, what it represents and its rightful place of prominence in San Diego.
For his book McGaugh interviewed more than 300 of her sailors and some of their voices bring life to her history during the audio tour of the museum. Their recollections give a warm human element to the cold, hard metal of the aircraft on the flight deck.
There are 22 restored aircraft in total on board and more than 50 exhibits that span the entire ship. The tour covers the barbershop, kitchens, chow line, CPO mess, sick bay, bomb elevator, hangar deck, flight deck and more. There are lots of stairs but there's also an elevator. You'll find a gift shop and restaurant on the hangar deck with an outdoor eating area.
For an additional fee ($6-$30) you can experience some of the action of which the pilots speak inside a selection of motion simulators. These things really move and are worth the extra cash, according to the boys.
The Midway sailed for 47 years, being commissioned a week after the end of World War II. Before it was decommissioned following its role as the Persian Gulf flagship in Desert Storm, more than 225,000 Americans had shared in her journey. The museum helps visitors imagine what that journey might have been like.
The journey to San Diego is one that you and your family can experience for yourselves.
Quick Bites
We sampled three family-friendly restaurants in downtown San Diego, each totally different in atmosphere and menu and each totally recommended.
Old Town Mexican Café: Complete with strolling mariachis and ample magaritas diners chose from classics like fajitas and burritos. (www.oldtownmexcafe.com)
Corvette Diner: Huge portions of American diner fare, thick milkshakes and 1950s inspired decor and staff that turn your meal into a party. There's a Corvette parked amongst the tables. You might be enticed to sing and dance with the waitresses to some golden oldies. (www.cohnrestaurants.com)
Sammy's Woodfired Pizza: This restaurant's varied menu had something for all of our tastes. The pizza is fantastic as was everything else we sampled. Plan to order the signature Messy Sundae served in a tall sundae dish with chocolate and butterscotch sauce oozing down the sides – delicious to share! (www.sammyspizza.com)
Where to stay
There are a whole lot of reasons to stay at La Costa Resort and Spa and while economy is not one of them, the payoff is in luxury and amenities. Kidtopia, a state-of-the-art centre for kids, will give you time to book into the spa, play a round of golf, lounge by one of the pools or hit the tennis courts. The children will want to be included in a visit to the Splash Landing pools with three giant waterslides and the water-play zone. This Spanish-style sprawling resort got a $40 million spruce up recently and it shows – well. Can't say enough about this place located 30 minutes from San Diego Airport set on 400 acres nestled in the coastal foothills. The rooms are so luxurious. Our suite had a balcony accessible through arched french doors that provided a view of the grounds and golf course. The closet light comes on when you open the door for goodness sake – and a chauffeured golf cart is there to take you where you need to go on the resort with a simple phone call. Check out www.lacosta.com, it's worth the virtual journey.
Boutique-style properties in and around downtown San Diego can be found for less than $100 a night. Hotel Occindental (www. hoteloccidental-sandiego.com) is located near beautiful Balboa Park and located downtown are the El Primero Boutique Hotel (www.elprimerohotel.com) and 500 West (www.500westhotel.com) along with many others.