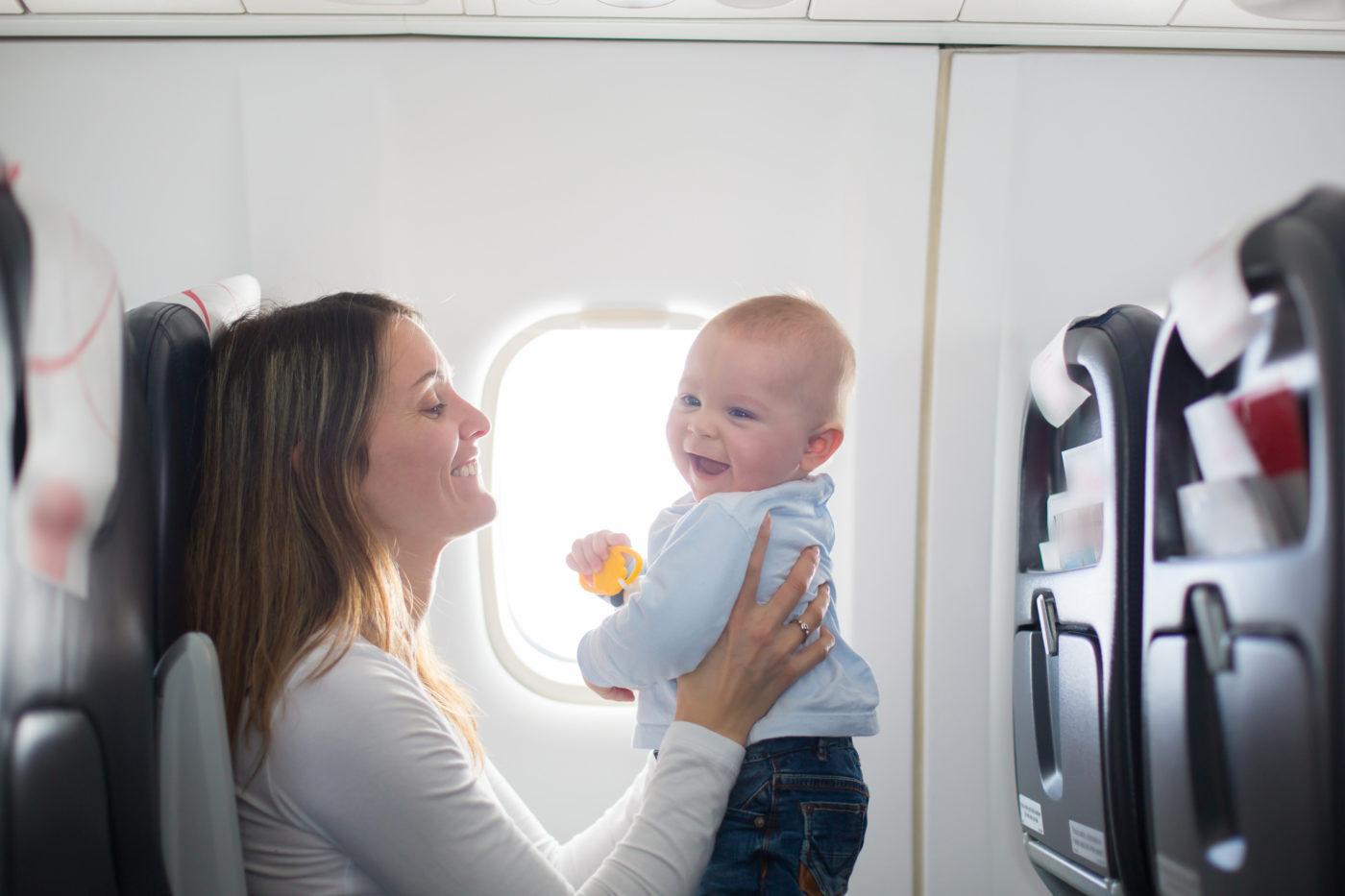 Stress-free flying with little ones
By Tanni Haas, Ph.D.
Flying with babies and toddlers can be stressful. Thankfully, there are many things you can do to  reduce some of the stress. Based on my own experiences, as well as conversations with other parents, I've pulled together a list of some favourite stress-management tips.
Pack extra diapers, wipes and outfits
Pack many more diapers, wipes and outfits than you'd normally use. You don't want to be stuck on a long flight with fewer diapers and wipes than needed. Make sure to pack plenty of plastic bags for all the dirty laundry.
Pack extra outfits for you
Don't only worry about getting the kids clean: make sure you stay clean and fresh, too. So, bring an extra outfit or two for yourself. Make sure it's not your best outfit for the trip but something loose and comfortable.
Pack entertainment
Keeping a toddler entertained can be difficult in the best of circumstances, and especially so if the flight is long. Pack plenty of entertainment – electronic games, colouring books, toys, etc. Don't feel guilty about it. Toddlers need some alone time – and so do you!
Equalizing little ears
Babies and toddlers can't chew gum. To help them equalize their ears, feed them on the ascent and descent. That'll help reduce the ear pressure and distract them from any discomfort they may experience. You can also massage their ears from behind.
Drinking fluids
Drinking also helps to equalize their ears, but don't give them too much fluid right before departure and arrival. For toddlers, insist on regular bathroom visits even if they don't want to go. It's a real hassle waiting in line at immigration and customs with a toddler who has to pee.
Seats with extra leg room
Get seats with extra leg room, if they're available and you can afford it. The extra leg room makes it easier to hold a kid on your lap, and there's more room for bulky diaper bags. If there's enough space, you can lay your baby down on top of a blanket on the space in front of you.
When to board
Families with young kids are typically allowed to board after first- and business-class passengers but before the rest of the plane. Don't feel that you must board early if it means you have to sit in a tight space with squirmy kids for longer. Wait until the last moment to board.
Pack special treats
Pack special treats, like small toys, to share with your toddler on board. If they don't want to sit still, or complain about having to buckle up, nothing can divert their attention and change their mood for the better than a little unexpected treat.
Connecting flights
Keep the number of connecting flights to a minimum. The fewer the connections, the easier it is to time the flights to coincide with your kids' nap times. The fewer the connections, the fewer the times the kids will complain about ear pain because of changes in air pressure.
Take your time
If you must reserve multiple, connecting flights, space them out so that you have plenty of time in the airport. Otherwise, you may find yourself running through airports and having to change diapers and feed the kids with little time to spare.
Changing diapers
Change your baby's diaper in the nearest airport bathroom one last time before take-off. Apply plenty of diaper cream and consider using two diapers for extra protection. The same goes for a toddler who's potty-training.
Extra seats for toddlers
If possible, buy an extra seat for your toddler, even though most airlines allow kids aged 2 or younger to fly for free if you keep them on your lap. It's much safer than holding them in your lap, and it leaves you with much more space for all of your things.
Check in baby gear
Even with all that extra space, don't try to fit in bulky baby gear like strollers and car seats. Most airlines let you check it at no extra charge. Request tags for each item and deposit them at the bottom of the gate bridge.
Tanni Haas, Ph.D. is a professor in the Department of Communication Arts, Sciences, and Disorders at The City University of New York – Brooklyn College.