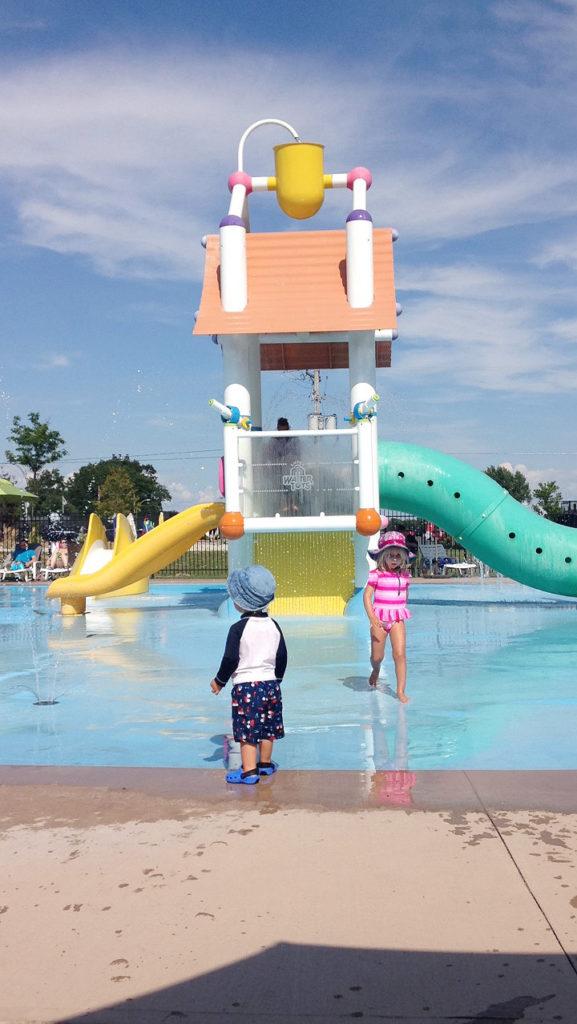 Sherkston Shores
By Christine Davis
Nestled on the shores of Lake Erie is a place unto itself. You'd barely know it was there when driving past – save for the long driveway running parallel to a quarry turned swimming hole. But when you get to the end of the driveway and through security, you find yourself in Sherkston Shores Beach Resort and Campground – a 560-acre seasonal summer property that's made for families.
It's an all ages resort that includes such amenities as a splash pad, water slides, playground, arcade and two-and-a-half miles of sandy beach.
It's a child's paradise.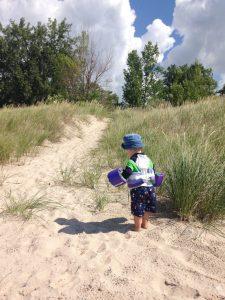 Comprising both tent and RV camping sites, rental and owned trailer cottages, the resort is currently offering the new Forest Grove redevelopment for sale with two- and three-bedroom floor plans designed with families in mind. The area within Sherkston Shores is walking distance from the FunPlex, waterpark, facilities, clubs, amenities and beaches, making it an ideal location within the resort.
Rental options include those from owners, or directly from Sherkston Shores. Like any rental, when you rent from an owner you get what you get, but renting from Sherkston Shores means you are guaranteed to have a clean, functional cottage for the duration of the stay. One caution is that direct Sherkston rentals don't come with a golf cart while some private rentals might. There is a limited number of carts that can be rented on-site, but I suggest pre-booking so you're not disappointed. While you can get around parts of the resort on foot it's so vast that driving is a necessity and at places like the beach, regular vehicle parking is still a walk away. Golf carts, however, can be driven on the sandy shores – but get there early. Owners tend to set up before breakfast and come back at their leisure leaving limited space for casual beach-goers.
The trailer cottages are small, but so efficiently designed you'll feel you're in a cottage twice the size with an outdoor deck that's perfect for dining. A small charcoal barbecue can be found at the back of the rentals alongside small fire pits, ideal for roasting marshmallows. Make sure you pack folding lawn chairs as they're not provided with Sherkston rentals. And, while you can bring all your groceries and supplies into the resort, the on-site Supermart also has just about everything you can think of if you've forgotten anything.
Nearby Ridgeway also hosts a Farmers' Market on Saturday mornings from early May through Thanksgiving, which is a great source for fresh produce and more. From 8 a.m. to 1 p.m. local farmers set up along the Friendship Trail in downtown Ridgeway selling seasonal produce, baked goods, jams, jellies and the like. Directly across the street you'll find a splash pad/water feature that's great for cooling off and playing in and tends to be a gathering spot for cyclists making a pit stop while travelling along the Niagara Waterfront Trail.
Back at Sherkston Shores there's plenty to keep the kids occupied all day. The splash pad was the highlight for my toddler while our pre-schooler, and thrill-seeker, was happy to repeatedly ride the waterslides. Keep in mind that height restrictions are in effect. Check the measurements at the bottom of the slides to avoid disappointment up top.
Of course the beach is always a draw for children and this one, which also has climbable sand dunes, is great. Shallow waters are fun for splashing in but be mindful of Lake Erie's undertow.
When it's time to get out of the sun we found the TV in the bedrooms was a help. It let the pre-schooler get some rest while lying in bed, but didn't feel like we were forcing her to nap. The rooms with bunk beds were just barely big enough for the standard sized pack and play we travel with for our toddler, and we had to unplug cords to the TV to ensure his safety.
Another great way to get out of the sun for a bit is a visit to the arcade. Load up a game card with as much as you want and the kids can have their fun riding the tiny carousel, shooting hoops, and playing other classic and newer games.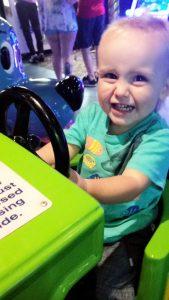 In the evening, the biggest draw is chocolate bar Bingo. You have to stock up on chocolate bars to enter, but if you win, the payout is huge – and delicious.
There's plenty more to see and do at Sherkston Shores. More than enough to keep a family with children of all ages occupied for a weekend or full week including such activities as mini golf, rock wall climbing, crafts, live entertainment and fireworks, making it a great place to make memories.