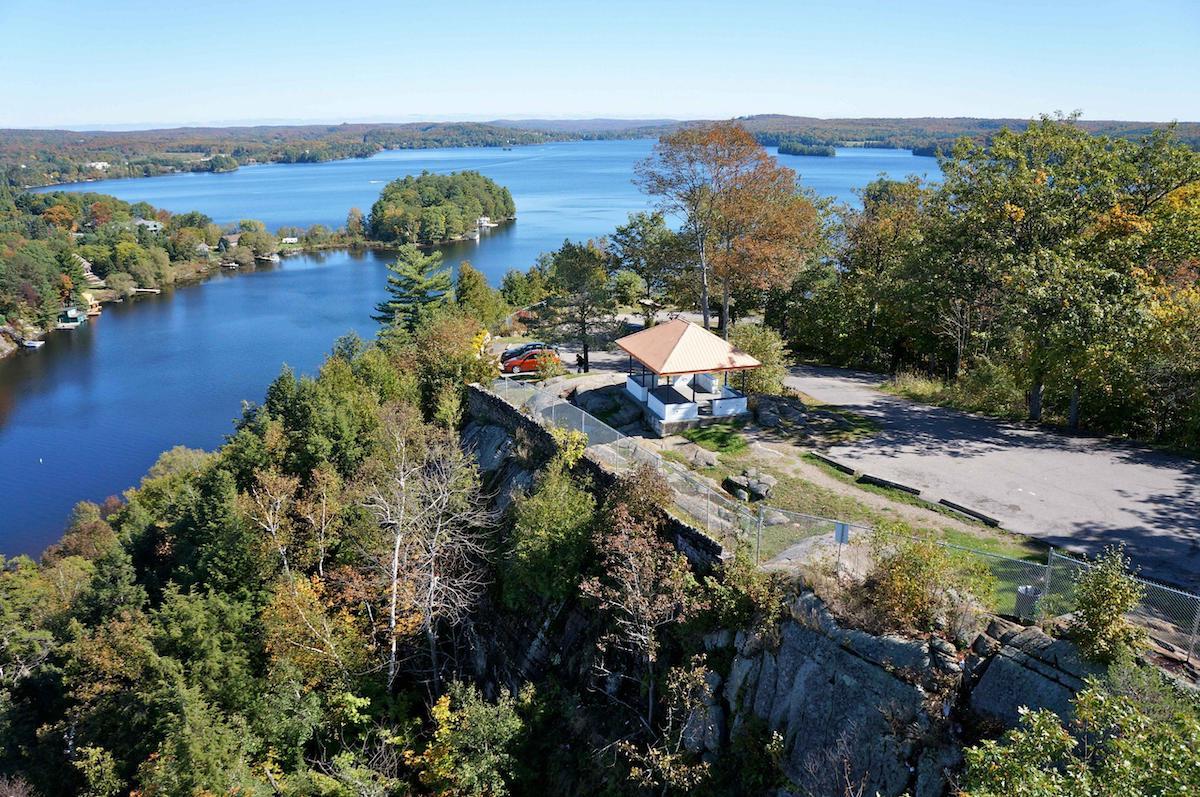 Road Trip Muskoka
There's a lot of uncertainty about the coming summer. What will be open, what events will go forward, how can we remain safe while still enjoying the season. One thing we can be sure of: as did last year, so too will people flock to Muskoka this summer. Here are four COVID-safe, child-friendly locations excerpted and abbreviated from my new book Exploring Hidden Muskoka (Folklore Press).
Hatchery Park and Falls
Location: Hatchery Road, Utterson (the park is on the left, about one kilometre/.6 miles down the road)
A century ago, dozens of sawmills operating across the region fouled lakes and streams with sawdust, destroying fish spawning grounds. In response to the crisis, the Ontario Department of Game and Fisheries developed the Skeleton Lake Fish Culture Station, which operated from 1937 until 1992. The real highlight is found at the end of a short (though uneven) trail: an attractive 8-metre (26-foot) waterfall.
Lookout Mountain
Location: Lookout Road, Huntsville
Huntsville's Lookout Mountain offers panoramic vistas looking out onto Fairy Lake. It's a great place to stop for pictures and a lunch. Now cast your mind back to the mid-19th century, when Muskoka was still wilderness not yet touched by settlers. At the base of this hill stood a trading post operated by Alexander Bailey, a Metis descended from fur traders who enjoyed excellent relations with Indigenous people of the region. Bailey once had these views all to himself.
Port Carling Locks
Location: Highway 118 as it crosses the Indian River in the heart of Port Carling
The village of Port Carling is known as The Hub of the Lakes. On any given day, dozens of watercrafts of every size, from jet skis to steamships, pass through the lock linking Lake Rosseau and Lake Muskoka. The process is exciting, so little wonder there are always eager onlookers. The lock dates to 1871 and is considered something of an engineering marvel.
Many people don't realize that there is a second lock. Built in 1921, the 'Small Lock" is on the other side of the island. Take the brief walk around the island  – there are pleasant views and informative signs – and, if its open, pop into Muskoka Lakes Museum.
Rosseau General Store
Location: Rice Street (corner of Rice Street and Highway 141, Rosseau
You're going to need snacks and drinks at some point in your journey. Maybe some magazines to keep the kids entertained. Make sure you stop at the Rosseau General Store, a Muskoka landmark that has stood at the heart of its community for 140 years and is among the oldest continuously operating general store anywhere in Ontario.
The store exudes nostalgic charm. The architecture speaks of another era, a time when horse and wagons rumbled along muddy roads and, if you listen carefully, the aged floorboards groaning underneath whisper tales of ages long past. Like the true general stores if yesteryear, it carries everything you might reasonably want to buy – browse for a bit.