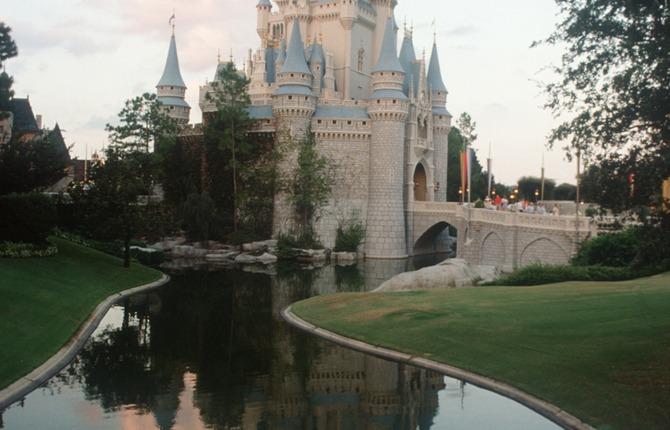 Planning a Magical First Time Experience at Disney
By Christine Davis
Disney World – it's the most magical place on earth and visiting with your young family for the first time is likely as exciting for you as it is for them. Or, if like my kids, yours don't even know what it is, it's more exciting for you.
This fall my kids and I were lucky enough to tag along with my husband on his business trip to Orlando. Lucky because he set us up in great resort while he went to work at a conference every day. But when he was done working, we wanted to take our 3-year-old daughter, Isabelle and 10-month-old son, Jack to Magic Kingdom for a day.
Planning just a one-day visit to Disney was a daunting task, but with the help of a Disney fanatic friend who visits every year, I knew we could make the most of the magical day.
The process starts with securing tickets, which you can purchase online well in advance. Disney parks offer a Fast Pass service, where you are provided with a one hour time slot to visit the experience and wait in what is usually a shorter line than the standby line. Each person in your party can book up to three experiences 30 days prior to your visit. In order to book your Fast Passes, download the My Disney Experience app to whatever device you'll be using at the park. Disney wi-fi is free and fantastic, you'll be able to connect all day to utilize the app which, in addition to being the best place to book your Fast Passes – these can also be booked at kiosks within the parks – you can view park maps, wait times, character locations, view photos taken by park photographers, book restaurant reservations and more.
When booking your Fast Pass experiences I recommend booking in the morning and following a route around the park if possible. The morning tends to be less busy and once your three Fast Passes are used you can book three more. It's important to note that you can only book more Fast Passes once those first three are used. If you get to a ride and notice there's not a long wait you can cancel your Fast Pass for it, get in the standby line and book another experience while you wait.
If enjoying a meal with some of the Disney characters is on your to-do list, these can be booked online as early as six months prior to your visit. You can book either via the app or online and sync to your other plans on the app at a later date. You'll just need your credit card to make the reservation.
I found that in the couple of months leading up to our visit there weren't many reservations to be found. However, the week of, many spaces opened up as others cancelled their plans so if you're up for a last-minute meal, this is a great option.
Packing for your day at the park should also be planned in advance, especially with little ones who require bottles, diapers and of course, don't forget a change of clothes. We brought plenty of snacks to get us through the day but forgot our sandwiches – a mistake that cost us money and time at Magic Kingdom. Portable food like crackers, cheese, fruit and veggies are easy to munch on while waiting in lines and water bottles can be refilled all over the parks. But make sure you indulge in some of the Disney fare, whether it's a smoked turkey leg, popcorn or our favourite, the infamous Disney cookies. We were told that most people like the peanut butter cookies best, but we were partial to the chocolate chunk.
Once the big day arrives, plan on it taking approximately 30 minutes to park your car – make note of what area you've parked in as you'll need this information to find your car again at the end of the day – hop on a people mover to get to the gates where you can pick up your tickets, get on the monorail to your chosen park and make it through security. Bags will be thoroughly checked for the safety of all guests – a process my husband likened to getting on a plane. The kids will need to be taken out of the stroller if you brought one, but they can also be rented at the parks for a nominal fee.
I highly recommend either bringing a stroller or renting one from Disney. Not only does it make getting from attraction to attraction easier when visiting with small children, it also makes a great place for napping, which my little Jack did a few times.
Whether you're using a stroller or not, be aware that there are literally thousands of strollers within the park at any given time. You'll need to find stroller parking at each attraction and be advised that your stroller may be moved by park staff while you're on a ride to make room for more. We were lucky in that nobody else seemed to have the exact stroller we did, making it slightly easier to find, but heard from others that the rented strollers were more difficult to find as you had to look for the one with your small nametag on it – not an easy task in a sea of strollers that all look the same otherwise.
And like any outing with your children, try not to have too many expectations of the day. We weren't sure how the kids would hold up in the heat, crowds and on all the rides. They surprised us with the most magical day we could have ever dreamed of – enjoying the rides, napping in the stroller and just generally being really well behaved. In fact, by around 4 p.m. we had done so much at Magic Kingdom we spontaneously decided to use the Park Hopper option offered on the passes given to us by Disney and took the monorail to Epcot for a couple of hours and a few more rides. A Park Hopper pass can be added to any one-day ticket at any point during the day, but be aware that you will have to go through the same security process when entering the second park.
For more information or to book this Canadian-resident offer, visit Disneyworld.ca/Tickets, call 1 (407) 939-1884 or contact your travel agent.