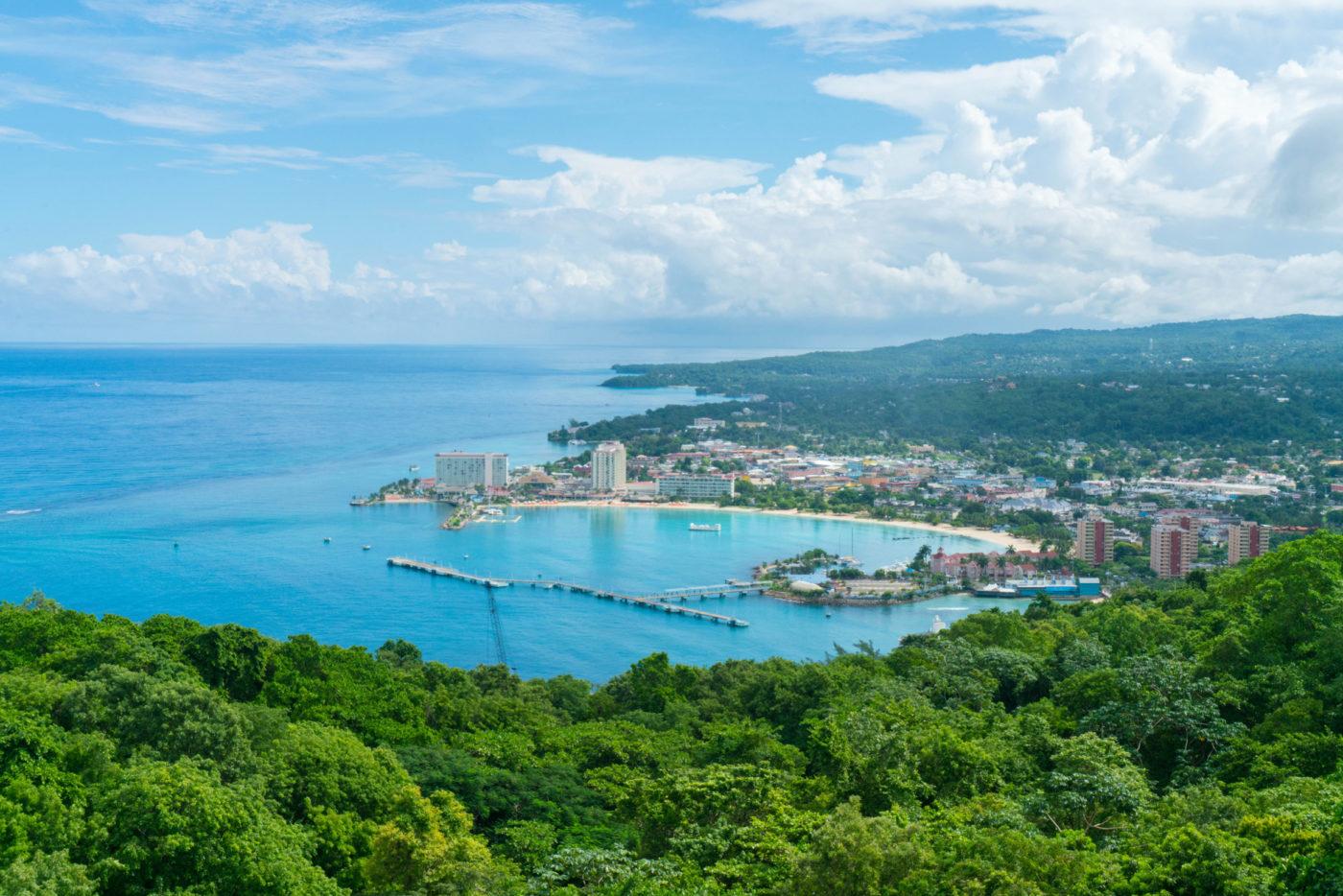 Jamaican me crazy
By Christine Davis
There's an old saying that goes: Once you have kids you no longer go on vacation, you take trips.
But what if you could take a vacation – one in which both parents and children can relax, explore and experience a different culture?
Jamaica is the place.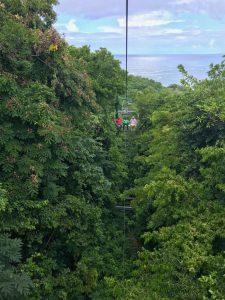 Families with young children will appreciate Franklyn D Resort (FDR), Jamaica's first all suite, all-inclusive resort for families located in Runaway Bay. It's also "the only resort in the world that provides guests with their very own dedicated vacation nanny," says the resort's assistant sales manager Trishawana Davidson.
Upon check in, families are greeted by their nanny who is professionally trained in child care, CPR and housekeeping. She is available to the family each day of their holiday at FDR from 9 a.m. until 4:40 p.m., during which time she is their assistant, caring for, entertaining and keeping the children happy, cleaning the suite and attending to all the arrangements for activities and excursions for the family.
Parents will appreciate the assistance of the nanny so they can enjoy a little alone time during their holiday. They can also take advantage of the many amenities offered at the resort, including group fitness, kayaking and snorkelling, premium bar service where you too can enjoy the best piña colada I've ever had, and twice weekly shopping excursions to Ocho Rios as well as the many other experiences the island has to offer.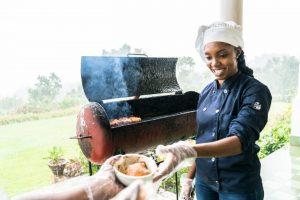 Yamman Adventure Park, formerly known as Prospect Plantation and located in nearby Ocho Rios, is a great place to experience Jamaica and immerse the family in the culture. In addition to mud buggy, open-aired carriage and horseback rides, the family can also learn to cook Jamaican fare in the Park's open-air, sea view kitchen. During this experience chef Irie teaches participants how to prepare jerk seasoning to their own individual taste, make a dipping sauce to accompany the jerk chicken, roll festival and add all the ingredients for run down and steamed callaloo for a meal that you'll then enjoy together. And you have the skills to recreate it at home.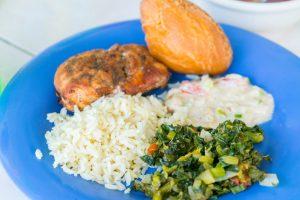 The kitchen is off the Plantation's main house, which was frequently visited by Prime Minster Justin Trudeau as a boy. His father, Pierre, was a friend of Sir Harold Mitchell who owned the property at the time.
The open-air buggy ride up to the house offers history lessons about the Plantation from a certified local guide and a chance to sample fresh coconut and coconut milk from fruit freshly plucked from a tree along the way.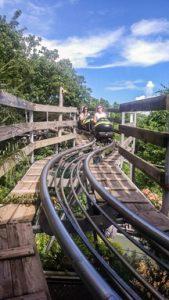 Not far from Yamman, also in Ocho Rios, is Mystic Mountain – home of the famous Jamaican bobsled experience. In addition to feeling the rhythm of the ride through the rainforest, you'll enjoy the expansive views offered by the chairlift and lookout points more than 700 feet above sea level. Mystic Mountain also offers opportunities to zip line, hike and dine in the rainforest, offering an assortment of packages to choose from. Don't miss the Hummingbird Garden where you're sure to spot the Doctor Bird, the long-tailed species that is Jamaica's national bird.
Near Ocho Rios you can also experience one of Jamaica's most famous waterfalls. Dunn's River Falls is one of the island's natural treasures and the river is one of just a few in the world that flows directly into the Caribbean Sea.
The highlight of any Dunn's River Falls excursion is climbing the falls. A guide will have your family and others in a group form a human chain to ascend more than 183 metres or 600 feet up the falls on a trek that takes between 45 to 60 minutes. The quick flowing water and slippery terrain make it important to follow directly in the guide's footsteps for a journey that's both thrilling and rewarding. You'll barely notice the height you've climbed as you're doing it, but views from the top and the hunger you're sure to experience after, are a sign of your accomplishment.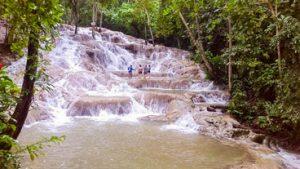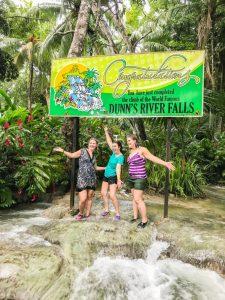 The journey up the falls is best suited to older children – climbers must be at least 36 inches tall – but the park has more to offer for the younger crowd, including a spectacular splash pad and, of course, the beach at the base of the river.
If Ocho Rios is where you'd like to make your home base during your stay on the island, the family-friendly Moon Palace resort is another good all-inclusive option.
In addition to the kids' Playroom and Wired Teen Lounge – suitable for ages 4 to 12 and 13 to 17 respectively, with children under the age of 4 welcome to the Playroom when accompanied by an adult – Moon Palace offers nannies for hire by the hour so parents can go off-property, enjoy one of the three a la carte restaurants for a romantic meal, relax on the beach and take advantage of the 35,000 square foot Awe Spa, the largest on the island and open only to guests ages 18 plus.
The spa experience is a must-do while at Moon Palace and I highly recommend dinner at Momo restaurant for an incredible pan-Asian experience with a Jamaican twist. Be sure to ask for tableside service from one of the resort's resident sommeliers who will pick the perfect wine to pair with your meal and personal palette.
Before heading home, a day spent at Chukka Good Hope is a great way for families to bond.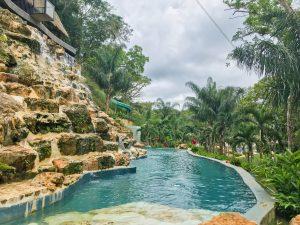 This once working village and sugar plantation is home to more than 2,000 acres of land featuring a variety of activities families can enjoy together.
I found the zip-line canopy tour to be a great beginner course that would be suitable for both children and first-time zip-liners. The river tubing experience is not to be missed as you float down the majestic Martha Brae River, learning much about the history of the land, its wildlife and people along the way.
You'll be as ready for an authentic jerk chicken lunch as I was after these two activities, a meal that parents can enjoy with Jamaica's beer, a Red Stripe, and one that will provide you with the fuel needed to enjoy the 300-foot waterslide, pool and 50-foot terraced waterfalls that you can climb up and down.
Chukka Good Hope, located in Falmouth, offers a variety of adventure packages, which can also include such options as Dune Buggy or ATV tours, Challenge Course, Gem Mining, Great House Tour and Appleton Rum Tasting. It's an experience that you'll need a full day to enjoy, so don't expect to want to leave early to head elsewhere on the island.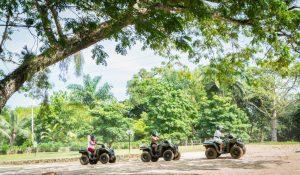 Doing any of these excursions is best experienced by hiring a Jamaican Tourism Board-approved driver to help you explore the island. Not only will they keep you and your belongings safe, they'll provide answers to any questions you may have about Jamaica.
A tour guide and DJ at heart, my driver, Willie Burgess from Paradise Travels in Jamaica, was a fountain of island knowledge. Driving with him afforded us a private tour of the real Jamaica backed by an authentic island soundtrack. That tour included stops at multiple fruit stands, the Ocho Rios night market and favourite local restaurants Scotchie's for jerk chicken and pork and Juici Patties for Jamaican patties served on a bun called coco bread.
Paradise Travels in Jamaica drivers can be hired for a day or more, offering groups of all sizes comfortable travel around the island. They even have car seats for the youngest travellers.
Whether you eat, drink, tour or relax away your time in Jamaica, you're sure to have had not only a trip, but also a vacation.
Photos by Vanessa Hunt