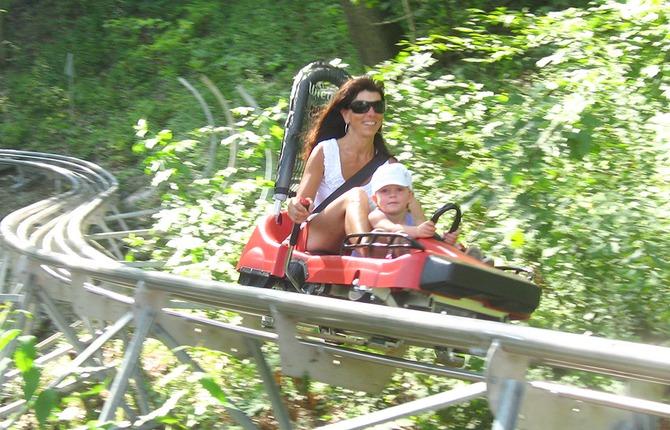 Family vacation or family adventure, there is a difference
Crossing the line from rest and recreation to exploring new and exhilarating pursuits is a leap worth taking. The jumping off point for our recent adventure was Ellicottville, a village in up-state New York that's long been popular with skiers and snowboaders.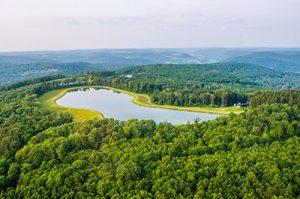 Less than an hour's drive south of Buffalo, the slopes at Ellicottville were green stripes dividing sections of forest-covered hills that dominate the landscape. There is no need for snow to find adventure here during what used to be the area's off-season. The reason for our visit, organized by Ellicottville Chamber of Commerce, was to experience what contributes to its year-round appeal.
An adventure hub, Holiday Valley Resort is transformed once the snow melts from its 58 slopes and trails. Golfers instead of skiers and boarders are being challenged by the hills. Hidden in the woods that separate the runs, are challenges of a higher level at the Sky High Adventure Park. Way up in the tree-tops, steel cables, ropes and lumber combine with obstacle course engineering to create the third largest aerial park in the United States.
High trees adventure
Rated for ages seven and up, it's a brave and daring seven-year-old that crosses from tree-to-tree on bridges that can be little more than a steel cable suspended several metres from the ground. That's what makes it an adventure and for the more adventuresome, the 13 colour-coded courses take trekkers higher into the trees as the levels progress.
As with any activity, consider your child's abilities and temperament before signing up. Even though I don't like climbing tall ladders and stay away from "thrilling" amusement rides, the allure of safely traversing the treetops outweighed any fears. Besides, there are three yellow routes to get you started. The bridges are still challenging and there are several zip lines along the routes but the tree platforms aren't as high as the green, blue and double black.
Outfitted with a fall restraint harness, carabiners, zip-line trolley and work gloves, the adventure beings with training at two on-ground stations. Staff members are positioned throughout the park and are also there to help at the starting area.
The double clip system ensures that climbers are always attached to a line in case of a slip. During our tour and three-hour trek, we didn't see anyone test the fall restraint system except to use it when zip-lining or descending down a line.
One run over from the Aerial Park, a tall, straight tree with grey bumps dotting its trunk, introduces the Climbing Forest. In the woods behind it are trees that offer a 3D version of a climbing wall, some reaching as high as 13.7 metres (45 feet). One of only three in the US, the Climbing Forest accommodates climbers as young as 5, weighing at least 30 pounds. There are 10 trees with colour coding for difficulty from very easy to very challenging.
Jane Eshbaugh, Director of Marketing at Holiday Valley Resort says little climbers have no trouble reaching the top of even the highest climbing trees.
Coaster for chickens and crazies
Another thrill on the hill takes advantage of the slope and the woods. Unlike the aerial park and Climbing Forest, the Sky High Mountain Coaster runs even when the snow flies. The beauty of this twisted and twirled metal beast is that the rider controls the speed. Chickens like me can ease around the sharp turns by pulling back on the braking system, while coaster crazies like my husband can go full throttle. Little kids can ride with an adult and graduate to solo trips at age 8 and at 106.6 centimetres (42 inches) in height. Buy two tickets each. The second time down you'll be more relaxed and do less braking.
Visitors can climb the hill in a more conventional way aboard the chairlift. The laid-back ride to the top lands a short walk from the shores of a 14-acre man-made lake, complete with a small beach area. Hike the path around the lake and take in the expansive hilltop views.
Spruce Lake isn't the only spot for a dip, the resort has three outdoor pools open to the public for a reasonable fee. There's a lap pool, a toddler pool and an activity pool featuring a diving board and slide. There's lots of space for lounging a food and drink are available at the Cabana Bar and McCarty Cafe. It's a great opportunity to enjoy the luxury of the resort even if you are staying off-site in one of the many condos or a bed and breakfast or the Wingate by Wyndham, a four-storey three-star hotel located a short drive away in the heart of the village. There the pool is indoors to serve guests year-round.
Yee-haw moments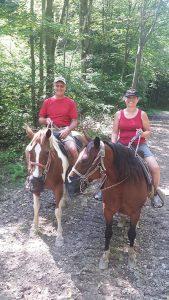 Also available to visitors year-round is horseback riding in the foothills of the Allegheny Mountains. The forests were in full leaf, the streams were running and the sun was warm when our posse of eight headed out from The Crosspatch Ranch, located just 9 kilometres from the village. Jim Little, who owns the ranch with his wife Dolly, was one of our four guides and filled us in on the history of some of their 35 horses as our mounts walked calmly in single file.
It was low key but an adventure none-the-less, complete with cowboys and cowgirls. It's obvious that the horses, most of them rescued by the Littles, are loved and are well cared for. They are also well-behaved and that's important, especially if young children are along for the ride.
The youngest rider of the two in our group had a guide to lead her horse and both of the kids wore a helmet in accordance with the State law that requires helmets for riders age 14 and under. A leisurely one-hour trail ride like ours is just one of the ride options available throughout the year and in the winter, sleigh rides provide visitors with an old-fashioned way to experience the snow.
Fisheye lens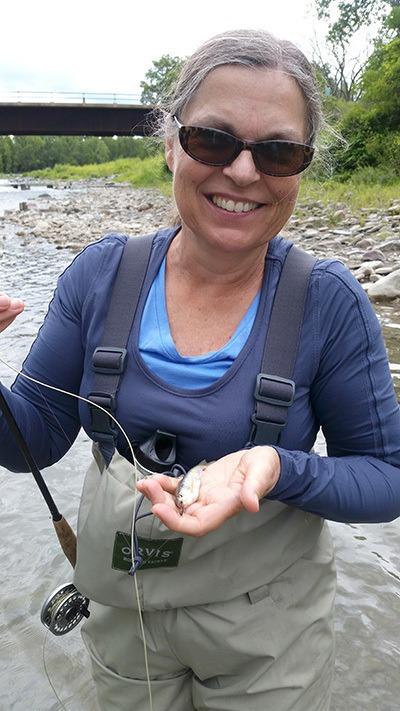 I would have viewed the streams that our horses crossed differently if our ride had been scheduled after our fly-fishing adventure. Since spending the day with Julie Szur, an expert guide and fly fishing aficionado, my husband and I look at rivers and streams with an eye for where trout might hang out.
The creeks are abundant in the area and are ideal for this family-friendly sport. We purchased one-day fishing licenses at Walmart in nearby Springville for $10 USD but kids under age 16 don't need one.
A fly-fishing adventure begins as you try to entice the fish with carefully chosen and skillfully tied flies. The anticipation keeps you poised to spring into action when there's a nibble, then a bite. We experienced several of those bursts of excitement and even though our catches were tiny, we did see a big, beautiful trout swim enticingly past our boots.
Since it was a hot sunny day, the fish weren't interested in eating and they didn't respond to our guide's calls of "come on fish". Hunger and a major, sudden downpour forced an end to our expedition on the Cattaraugus Creek. A fly fisher for most of her life, Julie and her golden retriever Brook share fishing adventures with many groups and individuals but she speaks most compassionately about the women dealing with cancer who she takes out for some respite on area streams. Her grandchildren are also among her fishing companions.
"Kids should be enjoying the outdoors," she says.
That's what several children and their parents were doing when we checked out Griffis Sculpture Park, nestled in the hills a short scenic drive north of Ellicottville. A trail winds through the woods past various metal sculptures. There are a couple of clearings where kids can run and climb inside sculptures that look like primitive space craft or marvel at the huge praying mantis and spider. A pond surrounded by statues of naked women is an unexpected sight at the end of the trail but not x-rated.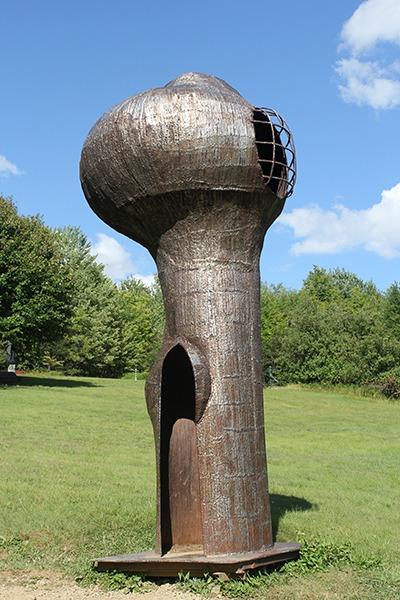 Sweet street
The end of this short hike seemed like the perfect time for another piece of chocolate covered sponge candy from Watson's Chocolates. There was a box with a dwindling selection of mixed dark and milk chocolate covered sponge candy in our cooler. It's one of many tempting confections at the shop on Ellicottville's quaint main street that is also a destination for an ice cream cone on a hot summer day.
When it's time for a meal, the village features an amazing selection of restaurants, many with outdoor seating. Among the dining establishments are shops including Kazoo II where an eclectic collection of gift items includes treasures that will help kids remember their Ellicottville adventure after the chocolates and sweets are long gone.
Adventure Guide
Sky High Adventure Park
Open May through October
716-699-HIGH
Holiday Valley Resort
716-699-2345
www.holidayvalley.com
The Crosspatch Ranch
Prices start at $25 for an hour ride.
716-938-6313
www.thecrosspatch.com
Griffis Sculpture Park
Located within the 450-acre Ashford Hollow Park
716-667-2808
griffispark.org
Watson's Chocolates
Home of world famous sponge candy.
1-888-875-6643
www.watsonschocolates.com