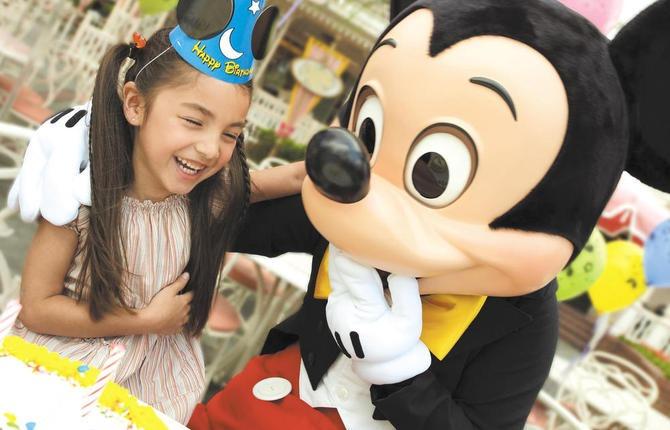 Disney's the place for a celebration
How many times has a trip to Disney World been the wish made as birthday candles are blown out? To actually blow out those candles while visiting Disney World for free is a wish that will be granted to anyone who applies in 2009. These magical birthday gifts of free park admission are part of Disney's new ''What Will You Celebrate'' promotion kicking off this month.
A vacation at Walt Disney World Resort in Florida is in the plans of many Canadian families and it's likely that more than half of them will build their visit around a celebration. It seems that celebration vacations are a growing trend and Disney World in particular plays host to more than its share of such events. Disney World is where families gather to mark milestones like birthdays, triumphs, anniversaries, graduations, first visits and other special times in their lives.
''What Will You Celebrate'' makes those visits even more memorable with over 250 experiences from which to choose. See what a little fairy dust creates at the Bibbidi Bobbidi Boutique, dine with your favourite Disney characters or take your mates on a kids' pirate adventure. Book a horse-drawn carriage ride around Fort Wilderness Campground, mount up for a trail ride, take part in a sunrise safari or reel in a big bass. Pick a theme and carry it through your visit, from staying in specially decorated accommodations, to choosing the right rides, attractions and merchandize. If your occasion demands a custom cake, flowers, balloons and other party particulars, Disney advance planners can make all of the arrangements. Table-service restaurants offer special dining service for your celebrations too.
Celebrations require planning and new web tools will simplify the process while inspiring some amazing ideas. Check out www.disneyparks.com, for an online celebration planner. Begin by indicating the nature of your celebration vacation and the planner will tantalize you with choices.
If you are celebrating a birthday, be sure to pick up a birthday button when you arrive. The cast members will make your day extra special. You can make yourself even more conspicuous by donning a birthday cake hat complete with blinking candle lights on top. Among the birthday-oriented merchandize are bath and hand towels embroidered with Mickey's profile and the words ''It's my birthday''. Have a set hanging in the bathroom of your resort room on the special day.
Christmas has just passed but you could make this your 2009 celebration vacation. Disney World marks Christmas as only Disney World can. There is even snow flying in the balmy air during the holiday show. Cinderella's castle is always a highlight but it has never looked more amazing than at Christmas when more than 200,000 tiny white lights give the illusion of ice encrusting its walls and turrets – an incredible sight after sunset.