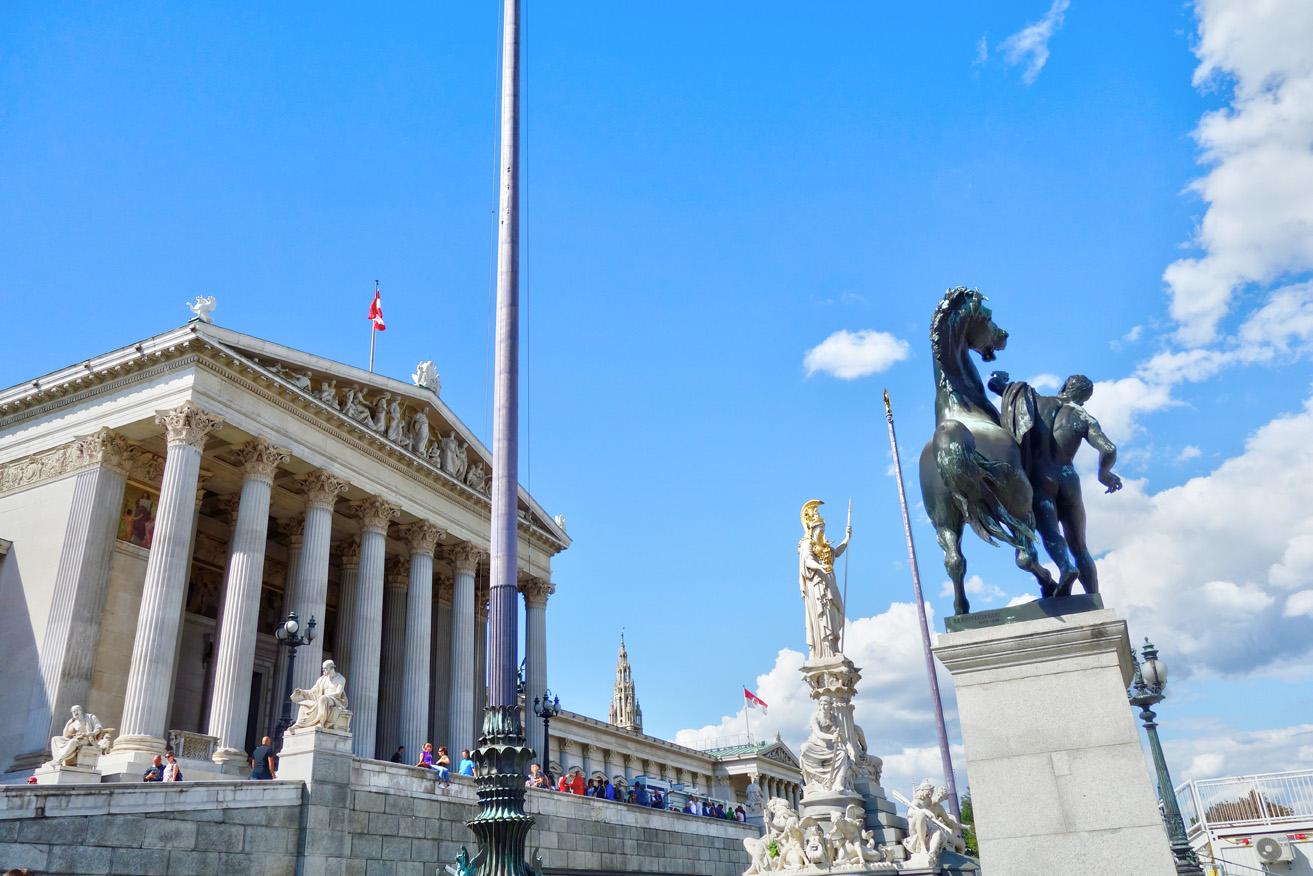 Discovering Vienna's Love of Life with The Love of My Life
By Dee-Anne Wessel
As we touch down at Vienna International Airport, my first thought is that we've come a long way and I'm not just talking distance. On this our 30th Anniversary, we aren't as financially strapped as we were when we honeymooned at my in-law's trailer in Northern Ontario, but we face other equally daunting challenges including supporting our kids and aging parents. While we won't pass up the opportunity to catch a glimpse of Gustav Klimt's world-famous painting "The Kiss" or take in a classical music concert, the focus of our visit is to have a brief reprieve from our responsibilities and to experience Gemutlichkeit, the sense of well-being the Austrians excel at, which encompasses a feeling of coziness, contentment, comfort and relaxation.
Coziness                                                                                                                                             
Our home away from home is grätzlhotel Karmelitermarkt. A few years ago, innovative architects came up with the brilliant concept of transforming empty retail shops citywide into individual hotel suites that tell the story of their former use. Closely connected to each neighbourhood, the hotel offers recommendations and special discounts with nearby shops, restaurants and markets.
One of the founding architects, Theresia Kohlmayr tells us that this model has been a win-win for all involved. "Guests can cocoon like they are in their own homes while being steps from everything they need. Residents are very happy that the neighbourhood has a better feeling now that the vacant stores are being occupied and the surrounding bars, cafes and shops are benefitting from increased business from the tourists."                                                                           
A few days before our arrival we are emailed a code to enter the key box at a communal door that dispenses both our room key and a fob which grants us access to an inner courtyard and free bikes to tour the city. Our room, one of seven at this location, is "the lamplighter" which features a collection of vintage lighting and an impressive lamp installation made up of an eclectic array of light shades. The suite's clever design features include high ceilings; a kitchenette with vintage dishes, a Nespresso maker, quality teas and a minibar; a large dining table and seating area; a comfortable bed with curtain partitions for additional privacy; large shower with rain head; ample shelves for storage; and bathrobes and slippers. A stone's throw to Karmelitermarkt, we can start our day with warm bread, local jam and fresh fruit.
Contentment and Comfort
At the beginning of each trip we like to book a tour with a local guide who can give us insider tips on things to do during our stay. Alexa Brauner takes us on a half day walking tour of Vienna that includes famous sights such as the theatre hall for the Vienna Boys' Choir and the Johann Strauss Apartment, but my favourite experience is having my first melange (a version of a cappuccino) served on a tiny silver tray with a glass of water at Café Ansari, a modern version of a traditional Viennese coffeehouse. Over decadent desserts, the conversation turns to the challenges we are facing at home and Alexa advises us, "You do what you can, but in the end, you still have to live your life."                                                                                                   
Another wonderful recommendation is Vollpension, a café that looks just like your grandmother's living room – only a bit hipper – with vintage furniture alongside neon ovens. An inter-generational café that specializes in small plates and breakfast, grandmas bake and host while young people work as baristas and cooks. We meet with CEO Hannah Lux and Judith, one of the grannies employed at the café. They explain that the beauty of their model is that it gives the older generation who may be isolated and struggling financially the opportunity to interact and share their passion for baking with young people who in turn benefit from the wisdom and experience of their elders. As Hannah observes, "The mix of young and old makes this place magic. The intergenerational friendships allow people to connect and slow down in a world of craziness."
Relaxation
The most convenient way to discover Vienna is to access the city's 1,300 km of cycle paths and if you need to rent bikes, both Pedal Power and Citybike Vienna are good options. For those who prefer to explore on foot, Vienna has more than 850 parks that are perfect for taking a stroll. We do both and one afternoon happen upon Rathaus (City Hall) whose neo-Gothic style provides an impressive backdrop for the Vienna Film Festival that is in full swing. The large square is packed with locals of all ages enjoying live music, international food and drink served up by a variety of area restaurants and later, a recorded concert (Leonard Cohen in Dublin) projected onto a massive screen. Throughout the year, the square is an important meeting place hosting events such as The Vienna Film Festival and the city's largest Christmas Market.                                    
There is truly no better way to relax than by enjoying a glass of wine and Vienna provides many unique venues to do so including heurigen, traditional wine taverns in the winemaking villages outside the city. After being dropped off at a central location, we trek through steeply inclined vineyards (heels were a mistake) before arriving at our heuriger where we enjoy an unforgettable evening of local wine and home style cooking served at communal wooden tables on an outdoor patio before moving to a more comfortable area with reclining chairs to further enjoy the stunning views of the city below.
We experience a more formal approach to wine tasting when we tour the spectacular themed wine cellars located in the historical vaults of the Palais Coburg. The collection of 60,000 rare wines (the oldest being from the year 1727) as well as exceptional reasonably priced wines, is among the best in the world and has received numerous awards.
Gemutlichkeit
Another favourite spot for locals to grab a drink and unwind is 25hours Hotel in the Museumsquartier.  Throughout the hotel the vibe is fun and funky from its neon welcome sign stating, "We are all mad here" to its rooftop bar that features flea market sourced furniture. Surrounded by the sounds of animated conversation and laughter, we enjoy breathtaking views of the Ringstrasse and Austrian Parliament Building and realize that this is truly the embodiment of Gemutlichkeit. We raise our glasses and drink a toast to Vienna for reminding us that no matter what challenges we're faced with, it's important to take time to enjoy life.
If You Go:
Vienna Tourist Board www.vienna.info
grätzlhotel: www.graetzlhotel.com
Palais Coburg: www.palais-coburg.com
Music Film Festival: www.filmfestival-rathausplatz.at/en/