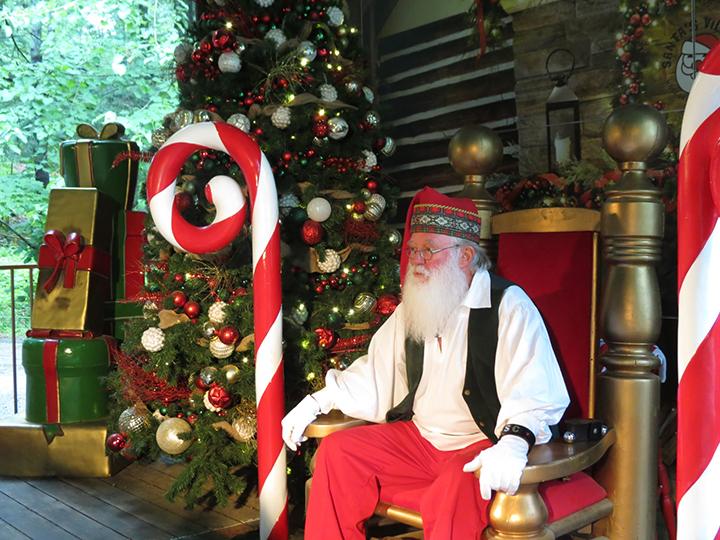 Destinations – Holly Jolly New Additions to Santa's Village
Santa's elves have been busy. Not only have they been tirelessly crafting toys at their North Pole workshop for good little girls and boys (and really, aren't they all good?), but they've pulled double shifts the last two years, working extra hours at Santa's Village, St. Nick's summer home in Bracebridge, Ontario.
Santa's Village has entertained millions since elves in curly toes first greeted the public in 1955. While the good cheer has remained consistent over the years, the park has evolved with the times, altering attractions to keep pace with technology and children's changing interests. Over the last two years, elves have worked at a frenzied pace adding new attractions to make the park more immersive, more exciting, and more welcoming for visitors – children and their parents alike.
The Candy Cane Express has been giving guests leisurely rides around the park, gaily blowing its steam whistle, almost from the day Santa's Village first opened. After six decades, the train was growing a bit weary with age. Santa decided it had earned a quiet retirement and replaced the original Candy Cane Express with a new, larger model. Same fun ride, same pleasing views, more comfort.
A petting farm has likewise been a part of Santa's Village from its earliest days. It's still there, but now with a welcome jolt of energy thanks to the addition of Santa's Farmyard Tractor Tour. Children take the wheel of a tractor and drive along a 270-m track, weavi
ng among farm animals and whimsical displays.
With these two additions, Santa's Village now boasts a dozen rides – more than enough for a holly-jolly day of fun.
One of the elves' most impressive projects is the revitalized gift shop, through which you pass as you enter the park. This building dates to opening day in 1955 (when it served as the admissions building), so it was important to Santa and park owners that it be preserved. But everyone agreed it needed a facelift to better display the elves' handiwork – everything from toys and decorations to souvenirs. Make sure to sit at the table, write a note to Santa, and drop it in the letterbox.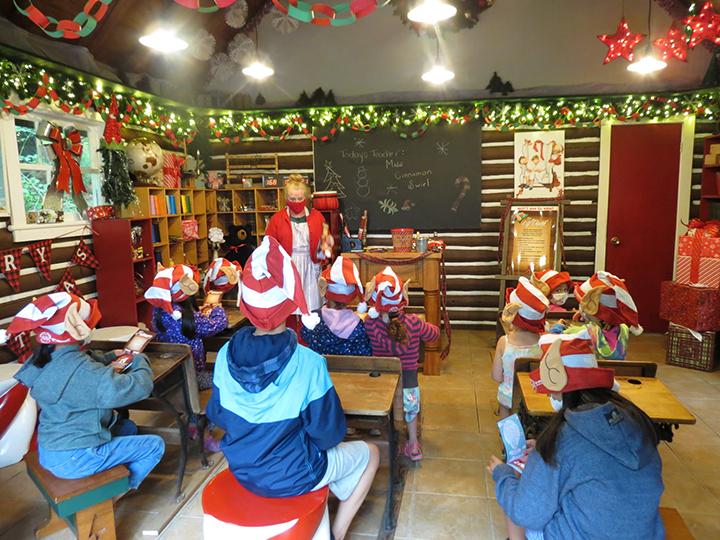 Also new is Elf School, where a teacher (kindly Miss Cinnamon Swirl on the day we visited) educates kids on how to wiggle their ears, chuckle warmly, and other important things like that. Everyone gets an elf hat – complete with ears – and a booklet that sends them on a scavenger hunt throughout the park.
In previous years, Santa would greet children within the comfort of his cottage. No longer, now he waves a warm hello and chats with little ones in a COVID-safe outdoor setting. The historic cottage has been put to good use as a museum tracing the park's six decades of spreading yuletide cheer year-round. Check out 1950s eras Mad Hatter's Menu prices (25-cent milk shakes? Yes please).
Elsewhere, we find Ralphie's Rifle Range, named, of course, for the main character in The Christmas Story, and Snowbo and Arrows, a child-safe archery range whose name honors the parks original mascot. If you have some energy, take a 45-minute hike through the Enchanted Forest and cross a 200-foot suspension bridge.
These new additions, coupled with existing attractions, ensure that even the most jaded Scrooge will be filled with a little bit of Christmas magic when they visit Santa's Village. santasvillage.ca