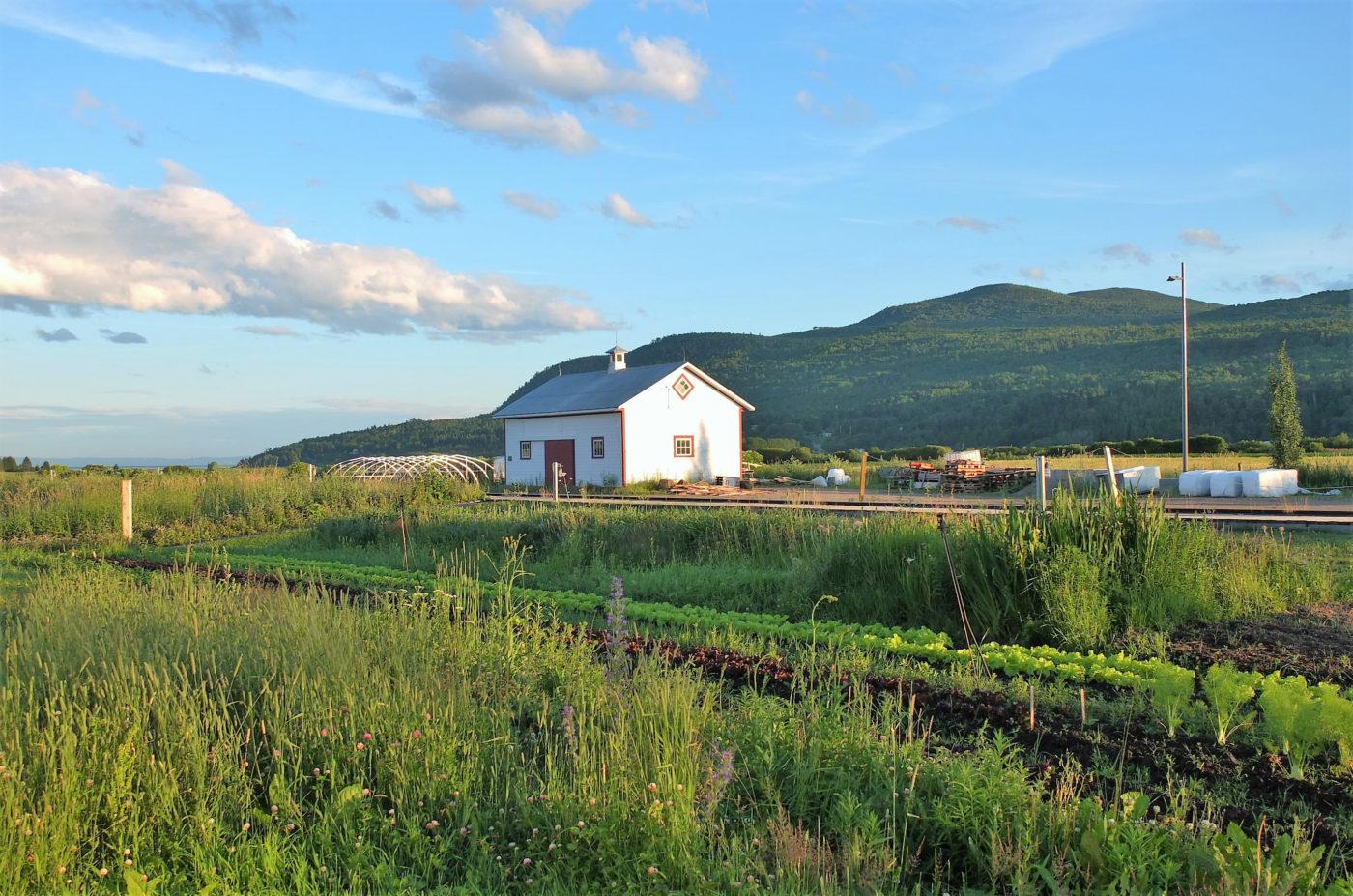 Between steep mountains and deep blue sea: Charlevoix is a place of beauty
Story and photos by Diana Ballon
Ah Charlevoix. Here is a place you can go to be seduced by beauty, immersed in culture, inspired by the art, and sated by its bounty.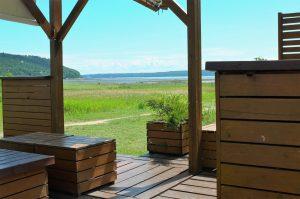 If you live in central Canada, the seduction can occur not far from home. Drive a mere hour northeast of Quebec City, or take the Train de Charlevoix, and traverse between mountain and sea. You will travel past brilliant green countryside with horses grazing and through quaint villages populated by colourful Quebecois homes, many with traditional mansard roofs—under a skyline broken by rounded silos and pointy church steeples—the mundane and the spiritual in stark competition.
I thought this region was my personal secret, but clearly I am not the only to succumb to its beauty. The 56-km St. Lawrence Route from Baie-St.-Paul to La Malbaie was rated one of the most scenic drives in Canada by USA Today in 2017. And tourists flock from all over the world to stay in its many auberges, to follow its Flavour Trail (this is a true foodie destination)—and to be inspired by the region's artwork.
Charlevoix is also distinguished by its steep cliffs, valleys and hillsides, mountains and lakes. Designated a world biosphere reserve, it was formed by a 15-billion ton meteorite travelling at a speed of 15 km a second that crashed to the ground 400 million years ago.
Our family decided to spend several days there last summer to explore the region, enjoying what was antithetical to family travel when I grew up, when luxury and kids were like oil and water: the two could never mix.
Baie-Saint-Paul
Our first stop, the charming town of Baie-Saint-Paul, is purported to have Canada's highest concentration of handicraft boutiques and art galleries.

We stayed at Le Germain Charlevoix, an architectural masterpiece, its sleek contemporary urban style butting up against rustic farm elements.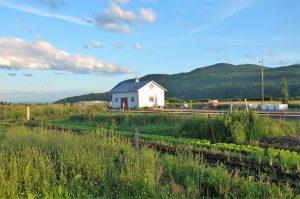 In our second-floor family suite, the oversized window look out onto green pastures with bleeting sheep. I loved the colourful accents in our room—the wooden green rocking chair in the corner, the red step stool in the bathroom—and the puffy white duvet on the bed. And I loved falling asleep to the swishing water from the whirlpool in the Nordic spa below our window, illuminated by a full moon.
Although there's romantic potential at Le Germain, the hotel also caters to families. Daily activities may include outdoor movies, campfires and animal farm tours; swimming in the beautiful outdoor pool; and eating at Le Bercail restaurant, a more casual alternative to the higher end Les Labours.
To explore the area, you can rent e-bikes with Éco-Mobilité—located on site—to discover the Flavour Trail, an agrotourism trail that takes you through the region tasting local craft beers, artisanal cider and the region's tomato wine; sample organic meats; and tour the farms and meet with the producers.
On our tour, stop #1 was Azulée, where we meet the lovely Louise Vidricaire, the region's only certified organic lavender grower.
"I've kept a low profile," she says humbly. "I needed to put my energy into the plants, into being hands on." As she speaks, she bends down to pick the lavender, rubbing it around in her fingers to let us smell its sweet aroma—her broad brimmed hat, tanned face and purple shirt making her seem part of the fields around her.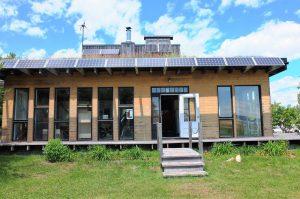 After Azulée, we head to Habitat 07, an ecological house that was built for a meager $77,000 as part of a contest. Here guides are on hand to raise awareness about sustainable development: we learn about its construction, from the straw insulation behind the walls to the sheep wool insulation under the concrete floor, the table made from an old hospital gurney, the solar panels, and the taps in the bathroom originally from a ship.
Our next stop is lunch at Le Diapason, a charming café owned by Alsatian chef Steve Michel and his partner, singer Ève Soulard. Here my husband and I had a delicious tuna tartare and the kids gorged on pork poutine. We then head to La Maison d'Affinage Maurice Dufour, an award-winning cheese producer, where we sampled some mighty fine cheese, including their famous Le Migneron, a semi-soft buttery cheese with a hint of hazelnut; their well-balanced semi-soft blue veined Le Ciel de Charlevoix and the delectable Le Secret de Maurice, a sheep's milk cheese with a moldy outer rind and oozing interior. They are also building a distillery where they will use whey from sheep and cow's milk to make alcohol: that's for our next trip.
And finally, we stop at La Ferme Basque, where owner Isabelle Mihura introduced us to their many duck-centred products, including foie gras, pâté, mousse and rillettes.
That night we eat at the Mouton Noir, which has arguably the best setting in town —its deck overlooks the river—and where I had the enormous and delicious award-winning pork pie.
Hiking Mont du Lac des Cygnes
The next day, we drive to Parc National des Grands-Jardins were we took the scenic 4.8 km trail to the summit of Mount du Lac des Cygnes. There we ate our sandwiches and a delicious jarred tiramisu as part of a box lunch from the Germain enjoying sweeping vistas of surrounding forests.
La Malbaie
Then we turn away from the pastoral and head to the Maison du Bootlegger, a Quebec home that a rich American had completely dismantled, moved here and reassembled, piece by piece, in the 1940s. 
It's now a labyrinth of sliding doors with hidden passageways, chairs constructed of wood boxes at the bottom to hide alcohol in — everything to slow down the "church police," says our guide Lucas, explaining that Prohibition actually existed in Charlevoix until 1964. (Although we didn't eat here, you can also come for a dinner, tour, rock 'n roll show and drinks, but book well ahead, says Lucas—and be ready to party!)
Out next two nights we spend at the luxurious Auberge des Falaises. Although the nearby Fairmont Manoir Richelieu (the "castle on the hill") is the most known accommodations in the area, the Falaises is one of many lovely smaller inns in the area: I chose it from the photo on their site and I wasn't disappointed. Walking through the door to our room, I dropped my bags, to gaze out at the impressive floor-to-ceiling view of the water. My husband and kids and I also loved the Nordic spa (which is available to guests of all ages).
Ile-aux-Coudres
Our last day in this area we spent taking the short ferry from nearby Saint-Joseph-de-la-Rive to Ile-aux-Coudres, a small tranquil island—population 1,200—in the St. Lawrence.
There we rented bikes at Centre Vélo-Coudres—a tandem for my husband and son and solo bikes for my daughter and me— to bike the 23 km loop around the island. This is the perfect cycling adventure with kids because there are many cool spots to visit along the way. And if sheer beauty acts as a propeller for the occasional hill, this is an easy bike ride—with beautiful vistas of the water, and distant shoreline.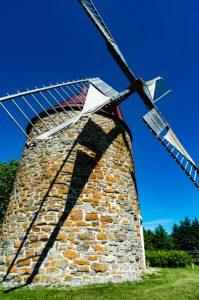 We stopped first at the Cidrerie Vergers Pednault, a cider house with 100-year-old orchards and many delicious ciders to sample—made from various fruits, including plums, Saskatoon berries, apples and pears—and sparkling juices for the kids. 
Stop #2 was lunch at the Auberge la Fascine [www.aubergelafascine.com], an auberge with seven rooms, a bar with local entertainment in the evenings, a boutique and a bistro where we had delicious paninis and pizza on the outdoor terrace. We then stopped for coffees and desserts at the Boulangerie Bouchard: this bakery not only offers a spectacular view from its terrace, but some tasty treats that included their tarte au sucre (sugar pie) and pet de soeur (nun's fart, which is a pastry roll).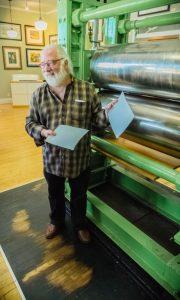 Our final stop before boarding the ferry again was Les Moulins de l'Isle-aux-Coudres, the only place in North America where you can find a water and windmill in one location. Here we got to tour the museum, which is set in a traditional miller's house, and watch how millstones are used to grind wheat and buckwheat into flour.
Saint-Joseph-de-la-Rive
We then raced back on the ferry to make it to the Papeterie Saint Gilles in Saint-Joseph-de la Rive on the other side. This is an economuseum where you have the rare opportunity to see how cotton paper is made from discarded thread through a painstaking process involving wetting, sieving, cutting and pressing, similar to one used in the 17th and 18th century. It is also a gallery and boutique with its original paper products on display. 
Quebec City
On our return from Charlevoix, we spent our final night at the beautiful Auberge Saint Antoine, a Relais & Chateau property in the Old Port, and one of my favourite spots in Quebec City. I love everything here—from the impeccable service, to the cool artifacts from the French and English regimes that line its walls, to the heated bathroom floor in our room and the delectable eggs benedict with duck and wild mushrooms that we ate at Chez Muffy, in what was formerly a riverside warehouse.
It was a fine way to end our trip, epitomizing everything we have loved about Charlevoix—delicious food, interesting history, friendly people and of course a view of the St. Lawrence from our window.