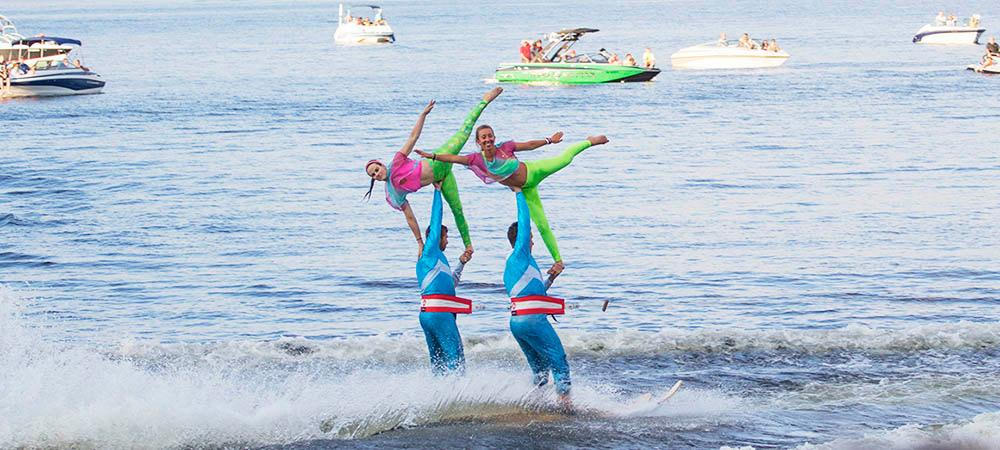 Away from the Lake: Summer Events in Cottage Country
Summer days at the cottage, resort, or camp are blissful. But there are times when you want to, you know, do something. Thankfully, there are plenty of family-friendly summer events throughout cottage country.
SWS Water Ski Shows
(Windsor Park, Bala)
Grab a lawn chair or blanket and head to Windsor Park in Bala any Tuesday night throughout the summer to experience a Muskoka tradition. For six decades SWS, Canada's largest watersports company, has been wowing audiences with their water ski shows that blend athleticism, skill, and humor. Best of all, it's free.
Canada Day at Muskoka Heritage Place
(July 1, Muskoka Heritage Place, Huntsville)
With more than a dozen heritage buildings hailing from across the region, the recreated pioneer village at Muskoka Heritage Place is one of my favourite places on any day. But it really comes alive on Canada Day with live music, a strawberry social, pioneer demonstrations by costumed interpreters (the blacksmith hammering in his forge always draws a crowd), lots of hands-on activities to engage young minds, and rides aboard the Portage Flyer train. Admission from 9-11 a.m. is free.
Loggers Day
(July 29, 10 a.m. to 3 p.m., Algonquin Park)
Many people are surprised to learn of Algonquin Park's long history of logging, dating back nearly two centuries.
Loggers Day is a fun and immersive event that brings to vivid life this aspect of Algonquin's past through demonstrations (square logging and cross-saw cutting), live shanty music, and the opportunity to sample an old-time loggers' lunch (12:00 to 2:00pm, while quantities last, $10 per person). It's a great excuse to explore the Algonquin Logging Museum, which includes a recreated shanty, log chutes, old stables, a blacksmith shop, and a rare steam-powered 'alligator' (a tug that could portage across land between lakes and river).
Midnight Madness Bracebridge
(Aug. 4; Bracebridge; downtownbracebridge.com)
Muskoka's premier summer street festival returns to downtown Bracebridge. So, here's the plan: spend the day at Santa's Village, just outside of town, and the spend the evening (6-11 p.m.) enjoying all that Midnight Madness has to offer. There's a lot: with live entertainment by local artists, delicious food, great shopping with special sales, and the Memorial Park Kids Zone to entertain young ones ($5 per child).
Ships and Sails
(Aug. 19-20, Nancy Island Historic Site, Wasaga Beach)
Few recall that there was a small but significant battle at Wasaga Beach during the War of 1812, during which ship HMS Nancy was burned to the waterline and sank. The vessel's fire-blackened hull serves as the centrepiece of Nancy Island Historic Site, which is transported back to that era every summer for two days the Ships and Sails event. Experience the life of a sailor in 1812 and discover what life was like on a ship. Watch cannon and musketry demonstrations. Ride in voyageur canoes. Try your hand at any number of children's activities and games. Admission by donation.