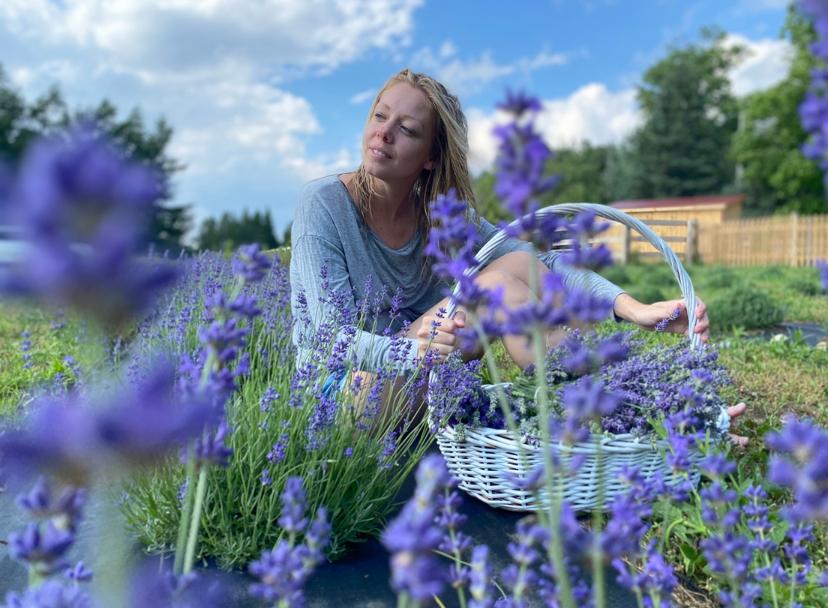 A Cut Above: Avalon Lavender Farm
When you think about lavender, it's the sun-kissed hills of France that springs to mind. But you don't have to go nearly so far away to enjoy the delicate scents and heavenly hues of this purple herb that heralds the start of summer.
Instead, head to Mono Hills and newly opened Avalon Lavender Farm. Here, on a sunny summer day, you'll find owner Dawn Rebel hard at work among the 30,000 lavender plants, enjoying the soothing floral smell that carries on the warm breeze. "We're really looking forward to welcoming the public because it will represent the fruition of our dream," she explains.    
Neither Dawn nor her husband have any agricultural background prior to embarking on the journey of establishing what is now Ontario's largest lavender farm. She was in political communications, he in law. "We moved here in 2019 so that we and our children would be closer to nature," Dawn explains. "I make a lot of my own products and love lavender, so the idea of a lavender farm sort of organically evolved."
After several years of slowly watching the lavender develop into lush, purple shrubs, Dawn is eager for guests to finally descend on the farm. People can walk the fields on self-guided tours, enjoying the sights and smells while reading signage that describes the seven varieties of lavender grown on site and their myriad uses. Extend your meandering by strolling along the sedate shores of the Nottawasaga River.
A focal point of Avalon is the restored two-story 1891 Heritage Barn, which serves as a boutique selling products made with farm-grown lavender such as candles, hand soaps, and teas. Children, conversely, will be drawn to the barnyard animals, including six rescue horses and ponies ("each with their own unique personalities," Dawn laughs), free range hens, and a flock of ducks with their own river-side cottage.
Avalon hosts a calendar of events throughout the summer, including family-friendly markets with local vendors and live music; curated workshops, such as a 'cut your own' experience where one leaves with a lavender bouquet for drying; and field yoga in a Celtic-style stone circle reminiscent of those found in the glens of Scotland ('the circle is made with rocks found around the property and is an homage to my Scottish roots,' Dawn explains).
There's enough at Avalon to keep you enthralled for an entire afternoon. Which is exactly the idea. "The goal is for people to linger and deepen their own connection to nature," Dawn explains. Times are booked in advance to ensure the experience isn't ruined by a mass of visitors.
Fields of sun-kissed purple under azure summers skies – Avalon Lavender Farm begs to be explored. But at soothing pace. 
Just the Facts
347036 Mono Centre Road, Mono
$14, kids under 5 free.
Tickets must be pre-booked through the website: avalonlavenderfarm.ca
avalonlavenderfarm@gmail.com