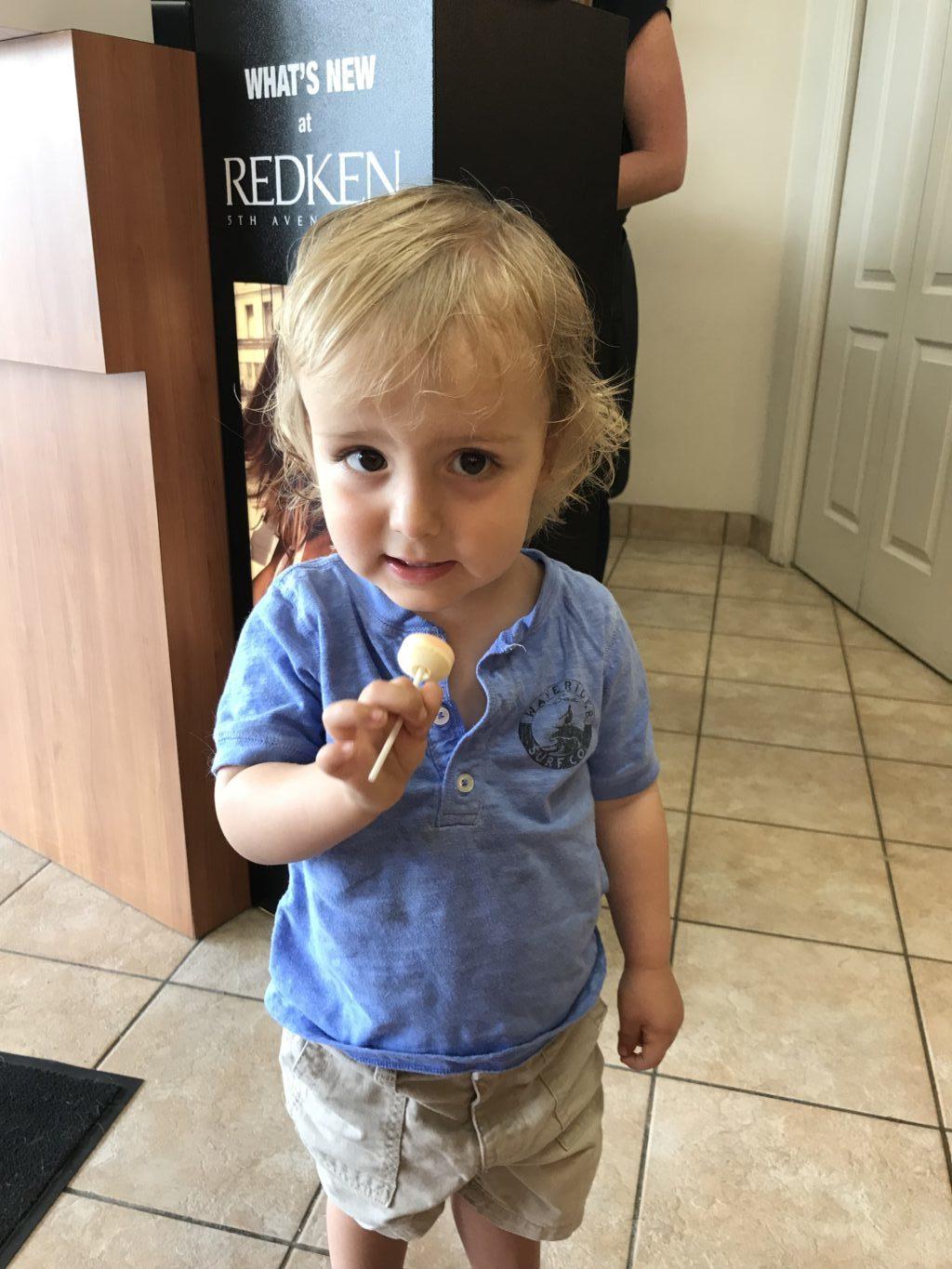 Baby's first haircut
By Christine Davis
There's something about cutting your baby's hair for the first time that's rather emotional. Whether you're worried about changing the way he or she looks, or don't want to lose those beautiful baby curls forever, like I did with my son, a baby's first haircut is sort of monumental.
My Jack was hardly a baby by the time I took him for his first cut in May. At almost two-and-a-half, he had a mullet to be envied. His older cousin called it "flow". But when he was referred to as "she" three times in one week, I knew it was time to trim it up.
Jack is a little apprehensive when it comes to trying new things. By a little, I mean a lot. So I knew this wasn't going to be the easy experience I had with his older sister, Isabelle, who happily sat in the chair, with her cape on, while her hair was trimmed and blow-dried. Jack's experience was a screaming match of "no, no, no" and arms flailing – all while sitting on my lap. I wore the cape, not him, and did my best to keep him still with arms held tight so the scissors wouldn't accidentally take off a finger instead of his gorgeous curls.
When it comes to that first haircut, it's best to be prepared that this kind of thing could happen. Go to someone you trust and who is used to giving small children haircuts. You don't want someone inexperienced who doesn't know all the tricks to get the job done safely. I took both of my kids to my own hairdresser who I've known for more than 20 years (and who threatened to stop doing my hair if I didn't bring my kids to her for their first cuts!).
Go with a style in mind. If you're worried about changing your child's look, this is especially important. If you don't want a buzz cut, or bangs, say so. This is another reason why you want someone you trust cutting your little one's hair. As much as Jack needed to lose his mullet, he also needed to stay shaggy, and my stylist respected that.
Bring a baggie or envelope to catch those lost locks so you can keep them in baby's first curl box. Why? I don't know. But each of my kids has one and the sentimental mother in me is glad they do.
Make sure your phone is charged so you can take plenty of photos: if you have the opportunity. I've only got a before and after shot with Jack because I was busy tying him up, but Isabelle has a lovely collection of first haircut shots. If you can, bring a second set of hands – parent, grandparent – to enjoy the experience and help take some action shots.
Finally, congratulate your child for a job well done. Treats are appreciated. My salon offers ring pops and lollypops but just in case yours doesn't, pack something your child can enjoy afterwards.