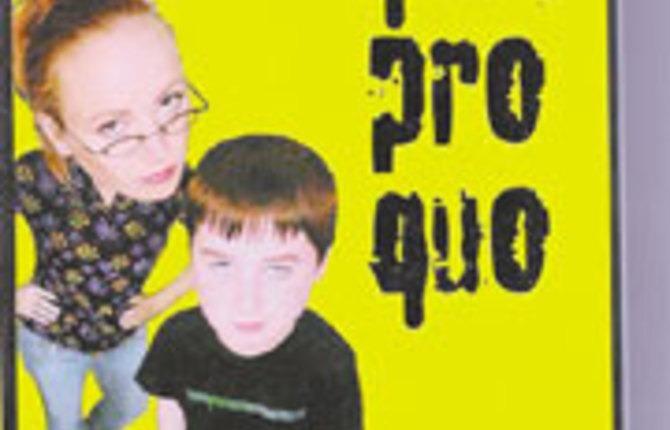 Teen voices heard in stories of personal discovery
Capturing in print the sound and sensibilities of today's teenagers is not easy. Some writers have a wonderful ear for the edgy, irreverent and often shockingly perceptive way teens think and talk. Here are a few who strike exactly the right note.
In Better Than Blonde (Puffin, $14.00) Teresa Toten explores the next phase of Sophie's growing up. In Me and the Blondes Sophie managed both to win a place for herself with the in-group "blondes" at her new high school and hide the fact that her father was in jail for murder. Papa has now been exonerated and is home, but all is not perfect because he is still drinking. At school Sophie and her friends are basketball stars and, finally, she's noticed by the handsome Luke. But trouble lurks. Each of the blondes has a secret: Madison is ashamed of the birth family Sophie helped her locate and Kit may or may not still be bulimic, but it is Sarah's problem that appalls Sophie. Despite what they've "learned" from reading steamy romances, when Sarah admits to Sophie that she suspects she's pregnant, Sophie realizes how ignorant and immature they all really are when it comes to real life.
Sophie's first person voice swings convincingly between the smart-mouthed knowingness of 15 and the scared little girl she still is deep down. Adding hilarity and worldliness are the Aunties with their European preoccupation with perfect make-up and the need for push-up bras. But it is Sophie's vulnerability and shock as she faces up to the weaknesses of the two important males in her life that moves this story to its bittersweet and at the same time hopeful ending.
Vicki Grant's protagonist in Quid Pro Quo (Orca, $8.95) seems to be all smart-mouth, but Cyril turns out to be smart on other fronts as well. The 14-year-old son of single mother Andi, 29 ("You do the math."), he has spent the past three years prepping his mother for her law school exams. Boring as it was, that knowledge becomes vital when Cyril's mother (now articling) vanishes and he discovers she's uncovered a real estate fraud that has put her life in danger.
This fast-moving adventure culminates in Cyril and his skate-boarding buddy Kendall storming an abandoned yacht club to rescue his kidnapped mother, her store-front lawyer employer, the man wrongly accused of burning down the building next-door and the kidnapper's illegal immigrant housekeeper. But the excitement and the hilarity are on the surface. Underneath Cyril is amazed to learn that someone who seems like a really nice guy can turn out to be a crook, and the person he hates most in the world can turn out to be a hero.
In The Isabel Factor (Kids Can Press, $19.95) by Gayle Friesen, Anna is also about to learn that people can't be pigeonholed, not even people you've known since first grade. That's how long Anna and Zoë have been best friends, and for all that time Zoë has been the leader, the risk taker, the winner. This summer they will both be CITs at a camp they've attended for years. It should be the best summer ever, but the week before they leave, Zoë breaks her arm and Anna is suddenly on her own. On the ferry Anna meets Isabel and is both intrigued and repelled by Isabel's multi-coloured hair, stand-offish attitude and penchant for telling the truth no matter how much havoc it will cause. At camp Anna is made assistant to the swimming instructor, but her initial crush on the gorgeous Karim soon turns to loathing at his sarcastic remarks, particularly the one about always being a second-best swimmer because she has always let Zoë win. She is just learning to cope with Isobel, Karim and their cabin team leader and CEO-in-the-making, Heather, when Zoë arrives at camp, her cast wrapped in plastic and her need to bring Anna back to heel obvious.
Unlike the previous three titles, the pace of Martha Brooks's Mystik Lake (Groundwood, $14.95) is langorous and elegiac. The story unfolds from the points of view of Odella now17, who has worked hard to keep secret from her father her mother, Sally's, drinking, and Great-Aunt Gloria, who is the keeper of much darker secrets than Odella's.
Odella has grown up puzzled by her mother's elusiveness. Why is Sally always slightly distanced from her husband and her children? Through snapshots of both Odella's and Sally's childhoods the reader at first suspects that all the family problems stem from Sally's feelings of guilt when, at 16, she is the only survivor of a carload of teens that plunged through the ice of Mistik Lake. But the waters of the past are murkier than that and before she understands her family history, Odella is almost destroyed by a secret about her own beginnings.
Martha Brooks doesn't judge the failings of her characters harshly. Rather she lovingly reveals the hidden forces that drive them. This title, as with the others reviewed this month, demonstrate how we are all shaped by complex motivations that often take us years to understand.