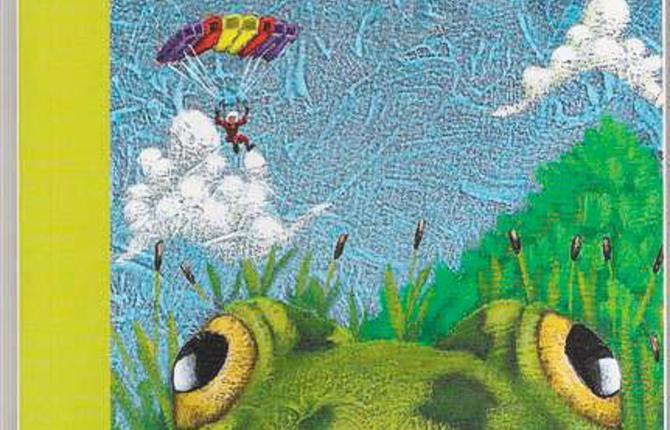 Time to move on to chapter books
By January many new readers have consolidated their skills enough to want the challenge of reading a whole book. Many publishers have obliged with short, action- packed stories liberally sprinkled with illustrations to help comprehension.
For the 7-9 age group, the Orca Echoes series ($6.95 each) covers a wide interest range. Mary Labatt's A Puppy Is for Loving is a gentle family story that will be particulary attractive to girls. Elizabeth knows that her Grandma's farm is a magical place but who would have expected such a surprise? Elsie, the border collie, is about to give birth. When four gorgeous puppies arrive Elizabeth learns how important it is to find just the right home for each.
In Cheetah by Wendy A. Lewis, Mia loves animals so much she'd like to be one. Face painted with spots and stripes, she prowls around the house. When she finds a leopard frog in a pond Dad says she can keep the frog for a week. In that short time Mia learns a lot about keeping wild animals in captivity.
Boys like constant action in their stories. In Caroline Adderson's I, Bruno our hero has such an active imagination that he finds dragons to slay on every street, including one that gushes water when a workman takes a wrench to it.
For faster action try Sigmund Brouwer's series of four stories about the Howling Timberwolves hockey team. In Timberwolf Hunt Johnny Maverick is desperate to help his team to the playoffs. When someone steals a skate from the team's worst player he thinks that this may be the break they need. But is it fair play? There's more horse play in Timberwolf Trap. Johnny can't figure out why his father seems to be playing a joke on their coach, but when Dad says "Watch, listen and learn," he uses that advice to rid the team of "the smelly socks of death."
For readers who like humour, Pat Skene delivers clever stories in well-crafted rhyming couplets. In What a HippopotaMess! Pete and Sal, hippopotami with a tendency to tease, follow our hero home. They squash chairs and makes nuisances of themselves until our hero, in desperation, dials up the zoo. In Rhyme Stones Cecil, who is afraid of the dark, has to crawl into a cave to rescue his puppy. There he discovers the wonders of spelunking among stalagmites. After each story the author conducts interviews with the main characters so that we find out more, respectively, about hippopotami and spelunking. Each book contains six short rhyming stories and interviews.
The Magic Tree House Series by Mary Pope Osborne has been around for a long time but always delivers a satisfying story. In episode #33, Monday With a Mad Genius (Random House, $15.99) Jack and Annie are on a quest to find the four secrets of happiness. This time their sorcerer friends Teddy and Kathleen take them to medieval Italy to spend the day working with Leonardo da Vinci. Finally, at the end of the day, as they watch him paint the Mona Lisa, the children learn what Leonardo considers his secret of happiness. Now they have just three more secrets to discover.
Judy Blume, famous for her pre-teen books, is now writing for younger readers. Soupy Saturdays with the Pain and the Great One (Delacorte Press, ($16.99) offers seven short stories about eight-year-old Abigail (aka The Great One) and her six-year-old brother Jacob (aka The Pain). Guess who chose the nicknames! In the first story Dad takes them to the barber for haircuts. But this time Jacob is wearing earmuffs and wails as soon as the scissors appear. When Abigail discovers he's afraid his ears will be cut off, she comes up with an ingenious solution.
Eight-to-ten-year-olds will enjoy the goofy humour in Hazel Hutchins's TJ and the Quiz Kids (Orca Books, $7.95). TJ doesn't have a particularly good memory for facts so he's astounded when the principal asks him to be on the school's Quiz Kids team. As the principal points out, he has done many projects with Seymour who knows more oddball facts than anyone in the school, but Seymour is too excitable to be trusted as the buzzer pusher. So TJ agrees to be "trained" by Seymour in oddball facts. Then he discovers the meaning of the phrase "stage fright." Is he going to let the school down?
For the same age group Norma Fox Mazer's Ten Ways to Make My Sister Disappear (Scholastic, $20.99) shows how hard it is being the younger sister. This year Sprig is 10 so maybe she'll finally catch up to 12-year-old Dakota. When Dakota seems to be as bossy and perfect as usual, Sprig begins to fantasize about having no sister in her life. But maybe 10 is a magic year after all because events help Sprig to see her sister in a new light.
All of these books have well-written and involving stories. At the same time they are short enough to provide the satisfaction of finishing a chapter book in jig time.