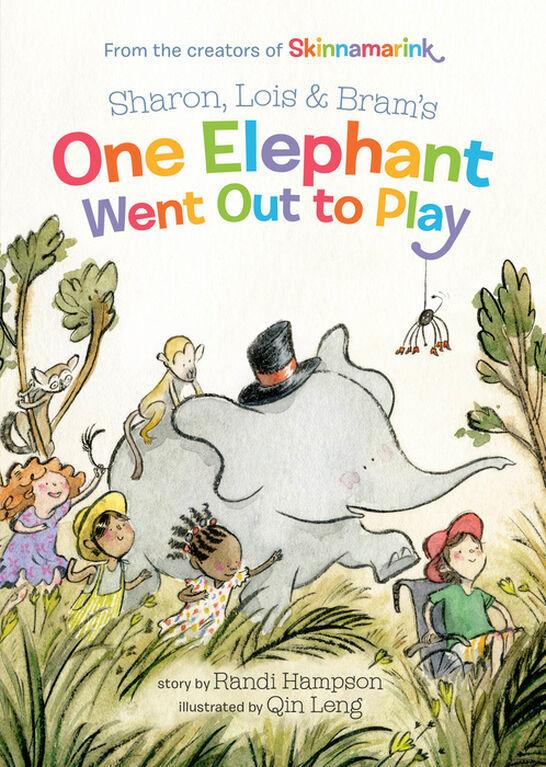 The Skinny Sharon, Lois & Bram
"Skinnamarinky dinky dink
Skinnamarinky do
I love you."
Made you hum, right? Well, you're not alone. This classic song, made famous by Sharon, Lois & Bram, was sung, acted out and became an anthem of sorts for generations of kids, parents, and grandparents. And those kids are now themselves parents and continue the tradition, with their children singing along and reading the award-winning picture book, Skinnamarink as a treasured family tradition.
Finally, a new picture book based on the classic counting song made famous by this beloved trio of children's entertainers (and featured theme on The Elephant Show) hits bookstores this month. The book, One Elephant Went Out to Play, is co-written by Sharon Hampson's daughter Randi Hampson. She joined her mother's performances after Lois Lilienstein died, and following a final tour with Sharon and Bram before Bram Morrison retired from touring.
This time, Sharon, Lois & Bram, invites readers to join them in a musical story about a magical spider web. A diverse cast of kids in whimsical costumes join in the fun on the spider web – including a glamorous giraffe, a cranky crocodile, a silly snake, and five monkeys. After the 10th animal is invited onto the web, EVERYONE is invited to the party – but is the spider's web strong enough?
"ONE elephant went out to play
upon a spider's web one day.
She had such enormous fun
that she called for her baby elephant to come."
The jungle animals come alive in this magically illustrated book by award-winning designer and illustrator Qin Leng. While the elephant invites more friends (kids and menageries of jungle animals) to be part of the fun, monkeys swing from the carefully spun threads of the spider's web, blowing trumpets and banging cymbals, making it a real party atmosphere.
The book's release also includes a new single, "One Elephant Went Out to Play (All Friends Version)," which will be available digitally on all streaming platforms. This catchy new version, released by Red Brick Songs, takes the reader on a musical journey to accompany and sing along with the book. Recorded by Sharon, Bram & Randi and produced by Randi Hampson and Glenn Morley, this new version captures the energy and joy of childhood as the children and animals play, sing, and dance together on a giant spider web! What could be more fun?
What about a concert?
Sharon, Bram & Randi have just announced a concert at Toronto's iconic Massey Hall on November 5, called "Skinnamarink: A Celebration of Sharon, Lois & Bram," featuring Sharon, Bram, Randi, and a bunch of special guests!
What better way to share a special moment with your kids – and for parents to rekindle childhood memories.
"I love you in the morning
And in the afternoon
I love you in the evening
Underneath the moon."

For upcoming events check out: sharonloisandbram.com