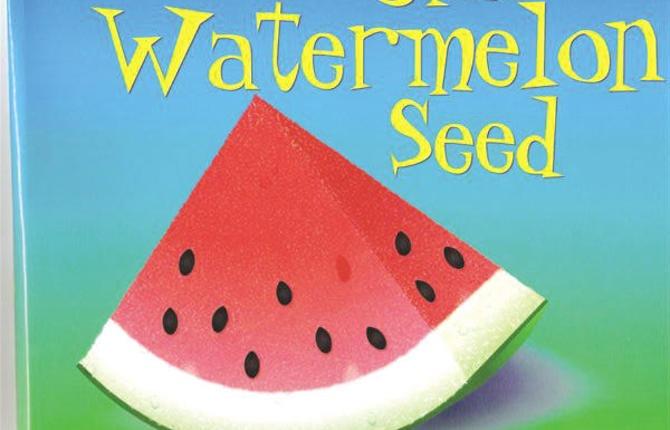 Summer reading to make you smile
Long summer days give us time for contemplation as well as play. These new titles take us into summer with a smile.
For a start let's tag along with author Carolyn Beck and illustrator Andrea Beck as they take us through Buttercup's Lovely Day (Orca, $19.95). In musical rhyming couplets that are perfect for reading aloud, Buttercup muses on life. "I love this day," she says, her eyes closed in contentment as she munches, "the grass at my knees,/the buzz of the bees,/the fluzz of the flies,/ switching my tail,/ and making pies." The author has a lovely way with evocative words –"fluzz" perfectly describes the sound of pesky flies—but she doesn't omit other realities of life, such as the pies Buttercup leaves behind her. Driving through the countryside we've all seen cows standing or lying in vibrant green pastures under clear blue skies. As the day shades toward night, the illustrations darken, but Buttercup's mood doesn't. She also loves the night, a "star-blasted vast / of deep blue," and wonders "Is the moon a bucket filled to the top? / Is it brimming with milk? / Did it spill? Did it slop?" Buttercup sees the world from a cow's perspective but her existential musings make this a perfect book to encourage summer dreaming.
In Naomi's Tree (Fitzhenry & Whiteside, $19.95) Joy Kogawa tells the true story of a cherry tree grown in a Vancouver garden from a seed brought to Canada in a Japanese bride's kimono sleeve. By the time Naomi is born, the tree is old enough to provide fruit. She and her family enjoy its bounty year after year until the sad day when all Japanese people are sent away from the coast. Many, many years later, when Naomi and her brother are very old, they visit the city by the sea again and finally find their house, with the tree still blooming in the backyard. Ruth Ohi's pastel illustrations sensitively evoke the love the family feels for their beautiful tree.
The love of growing things also permeates Celia Barker Lottridge's One Watermelon Seed (Fitzhenry & Whiteside, $17.95) As Max and Josephine plant their garden we count with them: one watermelon seed, two pumpkin seeds, up to 10 corn seeds. They weed and water and at the end of the season they harvest 10 watermelons, 20 pumpkins, many, many more vegetables and finally thousands of crunchy puffs from the popcorn. This delightful book works on many levels from simple counting to learning colours to beginning gardening. Karen Patkau's computer-generated illustrations with their simple lines and pulsing colours stimulate the urge to get out in the garden and begin digging.
Building also is a summer activity. What could be more fun than watching all that digging, sawing and hammering? In The House That Max Built (Tundra, $18.95), folk artist Maxwell Newhouse takes us through the process from selecting the lot, drawing the plans and digging the basement, all the way to laying the flooring, painting and finally landscaping. His vibrant colours and simple style will appeal to the same young readers who such love classics as Virginia Lee Burton's The Little House.
Since summer often includes walks in the forest it can be useful to understand the value of the trees we're enjoying. Forestry A-Z (Fitzhenry & Whiteside, $19.95) uses photographs by Bob Warick combined with short paragraphs by Kathleen Cook Waldron and Ann Walsh to cover life in the forest from tree planting to logging, covering such topics as the use of trees to stop erosion or the use of fire to prepare the ground for planting. As they explore tree culture from A to Z the authors are careful to provide enough information to stimulate interest without overloading young readers with too many facts.
For the youngest book lovers Marthe Jocelyn has created four board books that take us through the seasons, starting with Ready For Summer. Using her signature collage art, she shows us the clothing our protagonist might wear on a hot day: playsuit, hat, sandals, sundress? How about nothing at all? Naming our clothes continues through Ready for Fall, Winter, Spring (Tundra, $7.98 each). Also in board book format is a reprint of Jocelyn's earlier title A Day With Nellie (Tundra, $8.99), which follows one little girl through a day of fun from waking up, to playing, to finally cuddling up with Daddy for a bedtime story.
For fun on rainy days try making Bead Loom Bracelets (Klutz, $24.95). The package includes a small, fold-out loom, enough beads and thread to make seven bracelets and an instruction booklet with easy-to-follow instructions and illustrations. For vacation travel time, Klutz also has Trip-tivities ($6.99) two booklets full of puzzles and games. Sharpened pencil provided.
Whatever summer brings in the way of energetic outdoor fun, it should also include some quiet moments with good books.