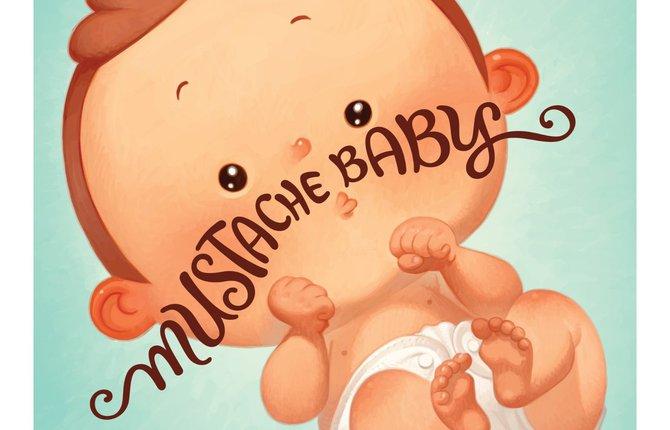 On the bookshelf
If You Hold a Seed
By Elly MacKay
A simple story about the magic of planting a seed and seeing it grow, the complexity comes with MacKay's beautiful layered artwork. Readers will linger on each page long after the line of text is read aloud. There is a warm golden tone throughout the pages creating an almost nostalgic atmosphere as a little boy grows through the years and passing seasons. Ages 4 to 7. Publisher Running Press Kids. $19.95 hardcover
Mustache Baby
By Bridget Heos, Illustrator Joy Ang
Baby Billy is born with a mustache. His family copes quite well with his substantial facial hair and the roles for which it suits him in his imaginary-play sessions. He's a cowboy and a cop with a good-guy cookie duster that is until Billy's mustache starts to curl up at the ends in a villainous fashion. This book will turn up the corners of the reader's mouth with its humour and cartoonish artwork. A fun gift for a dad with a mustache. Ages 4 to 8. Publisher Houghton Mifflin Harcourt $19.95 hardcover
The Pocket Mommy
By Rachel Eugster, Illustrator Tom Goldsmith
Who says Mommy can't come to Kindergarten with a reluctant child? Samuel discovers it is possible when his mom hands him a pretend, tiny mommy that can fit in his pocket. By the end of the day, Samuel wishes she had stayed in his pocket. Turns out that little boys don't need a mommy in the classroom especially when her efforts to be helpful turn into disaster. The tale will tickle those who are facing the challenge of letting go. Ages 4 to 6. Publisher Tundra Books. $17.99 hardcover
Alien Invaders
By Jane Drake and Ann Love, Illustrator Mark Thurman
Here's some great summer reading that will connect kids to nature and increase their awareness of the negative impact humans can have on the environment. The effects of invaders including killer toads, feral felines, brown tree snakes and multiple invaders in the Great Lakes and Lake Victoria are explored by the authors, environmentalists Jane Drake and Ann Love. The journey they guide goes back to take us on the days of sailing ships and shipboard rats to the fungus that sparked the Irish potato famine to the beautiful but deadly purple loosestrife strangling native wetlands. There's lots to learn and even ways to help. Ages 4 to 7. Publisher Tundra Books. $9.99 soft cover
Happy Birdday Tacky!
By Helen Lester, Illustrator Lynn Munsinger
More babies are born in July than any other month so it's a good time to introduce a couple of birthday books. The first is about a group of well-intentioned friends who organize the perfect 'birdday" party for Tacky the penguin. They've looked after every detail but that doesn't guarantee perfection as mishap after mishap occurs. It's the birdday boy who rallies the partiers and saves the birdday. He proves that good cheer and happy, dancing feet can set a party on the path to perfection. Ages 4 to 8. Publisher Houghton Mufflin Books. $19.95
What a Party!
By Ana Maria Machado, IllustratorHélèneMoreau
Here's the invitation that sets in motion a birthday party that's tossed together like salad ingredients and pleases everyone who jumps into the bowl. "Come to my party. It's my birthday. Bring along whoever you want and whatever you like to eat." A distracted mom lets her son run with it and ends up hosting a really big party with lots of interesting food and guests that include a parrot, salsa dancers and a reggae band. The party atmosphere is set with the bright and happy illustrations that go along with a very happy birthday celebration. Take up the invitation to read this book by an award-winning author. Ages 4 to 7. Publisher Groundwood $18.95 hardcover
In The Bag
By Monica Kulling, Illustrator David Parkins
Part of Tundra's Great Idea Series of early-reader biographies, this book features the fascinating Margaret Knight. As a girl living in 1850 America, she loved to make things with wood and made the best kites and sleds in town. Her father died when she was only three and at the age of 12 she was working at the local cotton mill, alongside her two older brothers. A workplace accident that involved a worker being injured when a shuttle came loose from the giant loom inspired her to invent a stop-motion device. She devoted her life to inventing, and is best known for the practical paper bag. The author does a wonderful job of bringing "Mattie" to life. Age 5 to 8 Publisher Tundra Books. $8.99 soft cover
It's a Snap
By Monica Kulling, Illustrator Bill Slavin
This light-hearted introduction to the father of photography George Eastman and photography in general is presented in this picture book, early-reader biography. Part of the Great Idea Series, children will be engaged by the informative text and lively illustrations. The story unfolds in 1877, as George explores his new hobby. It these early days of photography, it was not easy to capture and reproduce an image but thanks to George's ingenuity, the Brownie camera was born. Ages 4 to 8. Tundra Books $8.99 soft cover