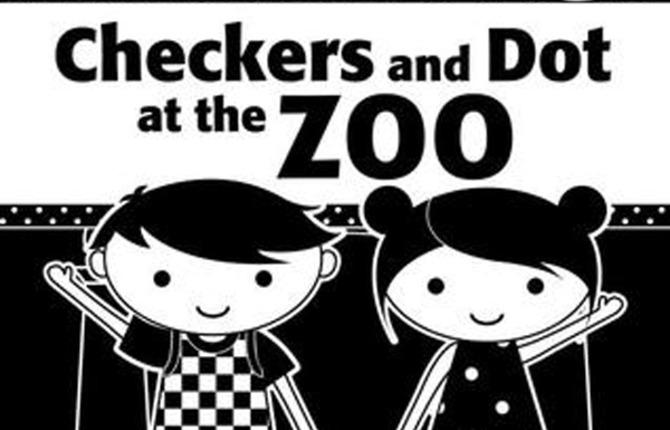 On the bookshelf
Checkers and Dot at the Zoo
By J. Torres, Illustrator J. Lum
These two characters lead the way to some interesting places in this distinctive series of board books featuring high-contrast patterned art. The black and white theme is ideal for developing eyes and the rhyming text is fun to read aloud. Follow Checker and Dot as they explore the zoo and check out the rest of the series featuring the cute little pair. Ages 0 to 4. Publisher, Tundra Books. $8.99 board book
Nana's Summer Surprise
By Heather Hartt-Sussman, Illustrator Georgina Graham
Many children face the uncomfortable situation the protagonist in this story experiences in having to share a beloved adult with a new family member. Planning Nana's surprise birthday party at the cottage, bring the pair together. The illustrations are as fun as a week at the cottage. A great summer read at home or by the lake. Ages 4 to 7 Publisher, Tundra Books. $19.99 Hardcover
Exclamation Mark
By Amy Krouse, Illustrator Tom Lichtenheld
Is being an exclamation mark a life sentence or an exciting ending to everything? The New York Times bestselling team tell a tale about fitting in, standing up and finding the perfect place to be with a little help from friends. Simply told, this is a wonderful story to add to a child's book collection. Publisher, Scholastic. $19.99 hardcover
Listen to the Birds: An Introduction to Classical Music
By Ana Gerhard, Illustrator Cecilia Varela
This picture book-CD, is a non-fiction guide that explores classical works inspired by the birds. It's promoted as an excellent addition to the classroom, but parents dedicated to their children's musical education will appreciate the thoughtful collection of beautiful compositions. The 20 excerpts are from the notable works by composers including Vivaldi, Mozart, Tchaikovsky, to name a few. Available on May 28. Ages 7-9. Publisher, The Secret Mountain. $22.95 hardcover with CD
Better to Wish
By Ann M. Martin
From the creator of The Baby-Sitters Club comes the first book in a new series of four, telling the stories of four young girls growing up. In this installment, readers follow Abbey, a young girl living with her family during the 1930s, dealing with changes to which kids today can still relate. Written in a style that is sweet and simple, this book is great for young readers who are looking for their first chapter book. Ages 8 to 12. Publisher Scholastic Canada, $18.99 hardcover.
The Little Prince
By Antoine de Saint-Exupéry
If you haven't read The Little Prince, know that it's not just for kids. A new translation of the classic, published to commemorate its 100th anniversary is a great way to acquaint or reacquaint yourself and share it with a child in your life. Richard Howard's new translation of the beloved classic-published to commemorate the 100th anniversary of Antoine de Saint-Exupéry's birth-beautifully reflects Saint-Exupéry's unique and gifted style.
The artwork in this new edition has been restored to match Saint-Exupéry's original artwork. Ages 11 and up. Publisher, Harcourt, $11 paperback
Millions for a Song
By AndréVanesse
For kids who dream of becoming rock stars, this is a fun story following the journey of a budding Quebec rock band. As a translation of a French novel, English readers are given a look into an unusual lifestyle that is both different from and the same as their own. This novel is great for readers who are looking to enjoy a different kind of chapter book. Ages 8 to 12. Publisher Red Deer press, $9.95 paperback.
Lenny Cyrus, School Virus
By Joe Schreiber, Illustrator Matt Smith
First loves and crushes can often be one-sided, due in part to the awkwardness of many 14-years-olds. Boy genius Lenny Cyrus believes he's found a way into the heart of Zooey Andrews. His method involves shrinking down to the size of an amoeba, combining with a gelatin capsule and having a friend drop it into Zooey's soft drink. Once inside he plans to find out what makes her tick and use that information to win her over once he re-emerges as big Lenny. This fun novel is suited to middle grade kids who have a grasp of anatomy including parts like the ovaries. Publisher Houghton Mifflin Harcourt, $18.95 hardcover
The Beautiful and the Cursed
By Page Morgan
Young teens that love fantasy and romance will be satisfied by this dark and intriguing adventure. The story follows young Ingrid Waverly, living in the late Victorian era, and her quest to solve a mystery concerning her missing brother and the gargoyles of gothic Paris. Readers will relate to and admire the heroine. It's an engaging mystery that will have readers coming back for a sequel. Ages 12 & up. Publisher Doubleday Canada, $21 hardcover.