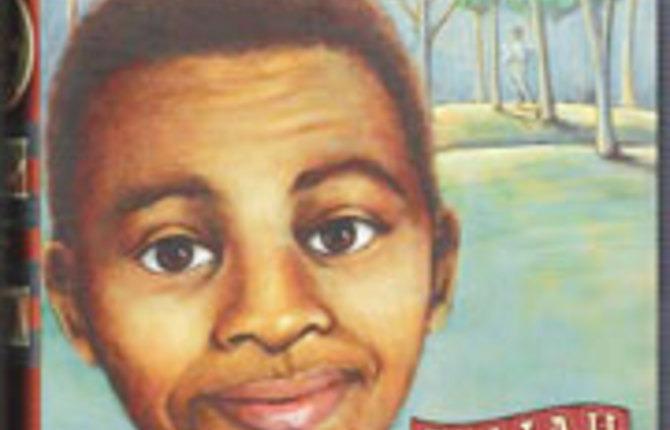 Gripping suspense grabs onto kids
Adventure stories for kids come in many guises, but all have one thing in common: at one point in the story, if not more, the action becomes heart-stoppingly suspenseful.  Just what boys love.
Christopher Paul Curtis is a master storyteller who grabs the reader's attention with laughter and ends by moving him to tears. Eleven-year-old Elijah of Buxton (Scholastic, $19.99) and his family live in Buxton, a real community, which was the most successful settlement of escaped slaves in Canada West in the mid-1850s. Elijah, born free, has led a carefree life. He knows little about the misery and fear the adults in the community have gone through in their former lives. But when a new resident, the slick-talking, self-styled  "Preacher," steals money a neighbour has laboriously been earning to buy his family's freedom, Elijah finds himself on a journey that takes him into mortal danger and shows that he is truly the stuff of heroes. Even though you will begin this book laughing out loud at Elijah's antics you will end with a lump in your throat when he saves a beautiful baby girl (even though he fails to save her parents) from a life of slavery.
A world-famous character has his defining coming-of-age moment in Shane Peacock's Eye of the Crow: The Boy Sherlock Holmes, His First Case (Tundra Books, $24.99).  As the story opens, a 13-year-old boy, truant from school, is wandering the teeming streets of Victorian London. Because he has been from birth "an observing machine," when he comes to the alley in Whitechapel where a grisly murder recently occurred, he notices some anomalies, mostly to do with the crows circling above. His curiosity gets him involved in the case of the unfortunate Arab butcher's boy, about to hang for the crime—gets him, in fact accused of being an accessory. He could easily escape, but a burning sense of justice, taught to him by his genteel but poor parents, makes him put his own life at risk to discover the truth. As Sherlock pieces together the clues that lead to the murderer, the reader meets many characters that foreshadow the adult Sherlock's adventures including the bumbling police detective LeStrade, with a son waiting for his job, and the gang of Irregulars, street urchins who teach the boy Sherlock the art of disguise. They are led by Malefactor, a boy with all Sherlock's skill at deduction but who has embraced criminality because he lacks Sherlock's sense of fairness and decency. And why does a brilliant boy like Sherlock stand outside society looking on? Shane Peacock posits a brilliant father, denied a university professorship because he is Jewish and a mother who abandons her career as a singer and "marries down" for love. An intriguing backstory, but it is the tension and drama of the fast-moving plot that keeps the reader turning pages.
Moving closer to modern day, Into The Ravine (Tundra Books, $12.99) by Richard Scrimger is set in the Highland Creek Ravine running along the eastern edge of Toronto. Three friends conceive every boy's most desired adventure—a rafting journey down the creek to the lake. One summer Saturday they start off with nothing but fun in mind. By the end of the day they've crashed a society party, been threatened by wealthy teenaged thugs, met a homeless person who used to be a human cannonball, been arrested, and helped the police capture a gang of jewel smugglers. Not bad for one very long day. And in Scrimger's inimitable style, the fast-talking, wise-cracking Jules keeps us bubbling with laughter as he narrates the extraordinary day when he and his friends, Chris, the incredible athlete and the zombie-obsessed Cory leave childhood behind.
For much younger readers, Natalie Babbitt's Jack Plank Tells Tales (Scholastic, $19.95) takes us out to sea with Jack, a failed pirate who is no good at rattling his sword and making people give up their valuables but can mesmerize listeners with swashbuckling tales about the life as a pirate. This is an amusing, non-threatening, introduction to life on the high seas.
And Martin Bridge is back. In Out of Orbit (Kids Can Press, $16.95) Jessica Scott Kerrin once again shows that even though a boy is only eight, he can still have real-life adventures that are exciting, amusing and thought-provoking. This time out Martin confronts the class fibber who has a flashier astronaut outfit that Martin's. When Martin tries to imitate his favourite superhero he ends up needing stitches. How come that never happens to cartoon characters? he wonders. Martin's adventures always lead to interesting insights into how life really works.
All of these stories, despite their fast-paced drama, are full of wit, and great compassion for the human condition. And they are not, of course, just for boys, but for all readers who appreciated well-told tales.