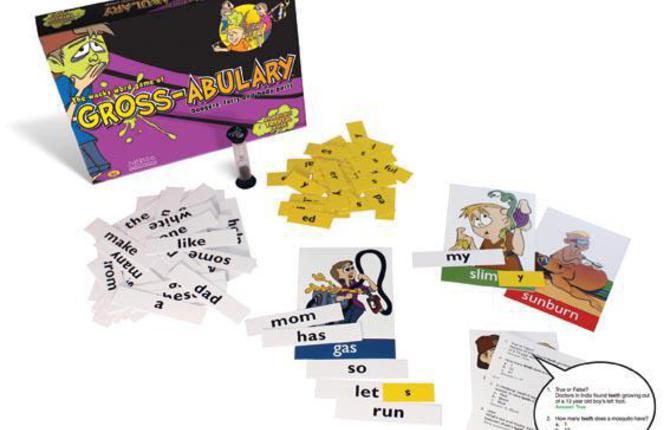 Cool Stuff Holiday Toys
1. Gross-abulary
Gross-abulary is a word game for the whole family. The objective of is to earn the most points by creating sentences or phrases using a combination of humorous Picture and Word cards. There's a Word Wizard who determines who the winner of the round is and then a chance to answer some funny trivia questions. www.grossabulary.com
2. Finishing School
Finishing School, named for the social training that completes the education experience, addresses etiquette and social graces. Respect for others is the foundation of this game. Ages 5+.
www.finishingschoolgame.com
3. 3D Magic
3D Magic is a new dimension in activity boards that transforms pictures into glowing, 3D images that come to life as vibrant multi-dimensional creations. www.3-dmagic.com.
4. Rubik's Race
Rubik's Race is a re-introduction of the original '80s game inspired by the world's most popular, hand-held puzzle. Rubik's Race challenges players to get their brain and fingers racing and go head-to-head with their opponent to match the pattern of nine coloured squares. Ages 5+. At major retailers.
5. Rockin' Rider
Rockin' Rider has a collection of play horses for children ages 18 months to 3 years that they can ride. The horse features sound effects and sings a pony song. www.teknektoys.com
6. Hot Wheels Wall Tracks
The coolest new place to play is on the wall. Hot Wheels Wall Tracks brings stunts, speed, turns and tricks to new heights. Kids can experience track play from an entirely new perspective – and change stunts as they change their rooms. Use the enclosed 3M Command Strips to create a variety of interchangeable stunts with one set. Includes one die-cast Hot Wheels car. At major retailers.7. Nanoblocks
You don't have to be a kid to appreciate Nanoblocks from RP Toys. What sets Nanoblocks apart is their size – not only do most finished projects fit in the palm of a hand, but their micro-sized 3D construction also offers an unprecedented level of detail, realistically replicating world famous landmarks, exotic animals and other popular items. Ages 8+. At specialty toy stores.
8. Teacup Piggies and Piglets
Teacup Piggies and Teacup Piglets from RP Toys are miniature versions of the real animals. Each comes with its own teacup, accessories and birth certificate, and speaks 25 expressions. Baby-sized Teacup Piglets, come with their own carrying tote and nine expressions. When you talk to it, touch its nose or feed it a bottle, the toy responds. If it says it's tired, that means time for a rest in the teacup or tote. If you wake it up too early, however, it may whine: "Why are you waking me up?" www.teacup-pets.com
9. Barbie Designable Hair Doll
Barbie Designable Hair Extensions is a new way to customize and create techy, cool, fun and fashionable hair extensions. Girls can wear their unique styles themselves, attach to Barbie or share with friends. Includes doll, 16 hair extensions, and six clips. Extension pack includes eight hair extensions and two clips. At major retailers
10. Monopoly: Cars 2
Monopoly: Cars 2 Edition is unlike any Monopoly game seen yet. The game board has been made into a round racetrack that also serves as the game dice in this exciting take on the classic game. This child-friendly edition of gives the younger real estate moguls in training a chance to face off and race to the finish line by outsmarting and out-bidding opponents. Ages 5+. At major retailers.
11. Operation: Cars 2 Edition
Operation: Cars 2 Edition is a classic game where players use a small set of tweezers to perform mid-tow repairs on Mater. Be sure to use a steady hand. If the tweezers touch the tow truck, warning noises will sound. Children 6+. At major retailers.
12. WWF Canada Adoption Program
WWF stuffed toys offer the chance to symbolically adopt a threatened species and support work to protect nature at the same time. Toys include a caribou, polar bear, grizzly bear, snow leopard, Arctic fox, monarch butterfly, Atlantic cod, northern leopard frog, common loon, blue shark, walrus and the black-footed ferret. Popular international species – including the tiger, orangutan, emperor penguin, meerkat, and giant panda – are also available. The $40 price includes a $30 tax receipt. Visit wwf.ca or call 1-800-26-PANDA.